US Forces Korea contractor tests positive for coronavirus after weeks in quarantine
by
Kim Gamel
April 12, 2020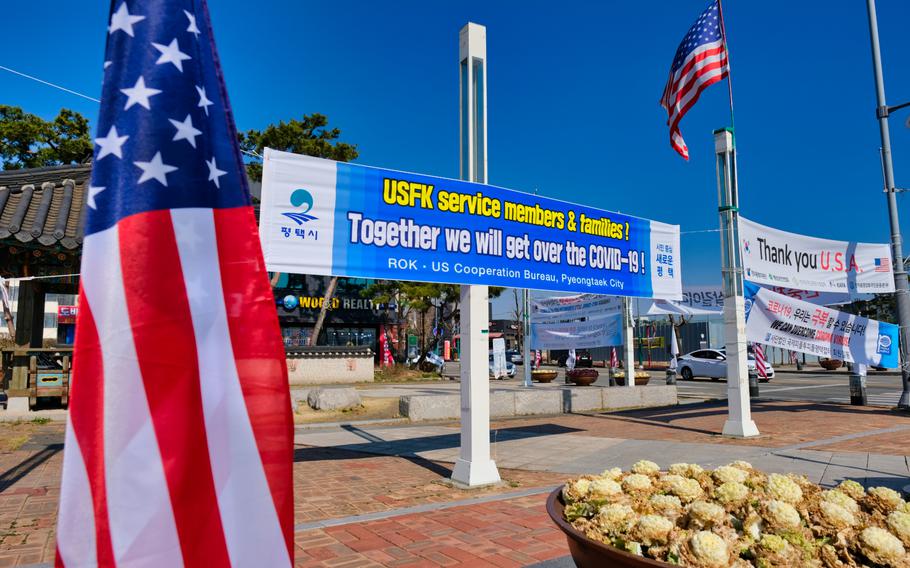 Stars and Stripes is making stories on the coronavirus pandemic available free of charge. See other free reports here. Sign up for our daily coronavirus newsletter here. Please support our journalism with a subscription.
SEOUL, South Korea — An American contractor who works at Camp Humphreys tested positive for coronavirus Sunday after more than two weeks in quarantine, the military said.
It was the 22nd case affiliated with U.S. Forces Korea since the pandemic took hold in South Korea in late February.
The military also announced Saturday that the wearing of face masks is mandatory in on-base shopping facilities, post offices and food courts, and is encouraged for people who cannot stay six feet apart in other public areas and workspaces.
People affiliated with USFK also were encouraged to wear masks when outside in local communities "as a courtesy and sign of solidarity" in the fight against the virus.
The contractor had not visited Camp Humphreys since March 26 and had been directed by supervisors to self-quarantine since March 30 because he had been in direct contact with another person who tested positive, USFK said.
It didn't give more details. However, that was the week that two other contractors and an American soldier who worked at Eighth Army headquarters tested positive, prompting the garrison to further restrict access and order most service members and others to shelter in place except for essential activities.
"This confirmed case stands as a testament to USFK's standing policy to immediately quarantine anyone who had direct contact with a known person who tested positive for COVID-19," the command said in a press release. "Due to this policy, the patient minimized his exposure and interaction with others and helped contain the virus' spread."
The latest contractor was tested as part of a new process implemented for high-risk cases coming of quarantine, garrison commander Col. Michael Tremblay said in a community update via Facebook live.
The contractor has been brought to an isolation unit on the garrison, officials said.
Tremblay confirmed he had remained in quarantine, so no additional contact tracing or cleaning was required at the garrison, which is home to the USFK headquarters and more than 37,000 people.
Camp Humphreys has had more cases than any other U.S. military installation in South Korea, with 10 of 22.
Only two active-duty service members on the divided peninsula have tested positive. The others were military dependents, contractors and U.S. and South Korean civilian employees.
USFK said it continues to share information and discuss response measures with South Korean health authorities.
Despite the enhanced restrictions aimed at preventing the spread of coronavirus, the military said it remains "at a high level of readiness" and maintains "a robust combined defense posture" to protect South Korea.
More than 28,500 U.S. service members are stationed in South Korea, which remains technically at war with the North after their 1950-53 conflict ended in an armistice instead of a peace treaty.
South Korea, meanwhile, reported 32 cases nationwide on Saturday, the seventh day that the daily count has hovered at about 50 or fewer. That raised its total to 10,512, with 214 deaths.
Coronavirus patients have had a 70% recovery rate, but 111 of those have tested positive for the virus again after being released from quarantine, according to the Korea Centers for Disease Control and Prevention.
KCDC director-general Jeong Eun-kyeong said most cases over the past two weeks have been imported from the United States or Europe or transmitted in nursing homes and other crowded facilities.
She warned against complacency as the weather turns warm.
"If we were to loosen up on the social distancing then there could be a risk of rapid increase in the number of confirmed cases and massive infections," she said.
gamel.kim@stripes.com Twitter: @kimgamel