US will send mechanized units to Syria's oil fields, Esper says
---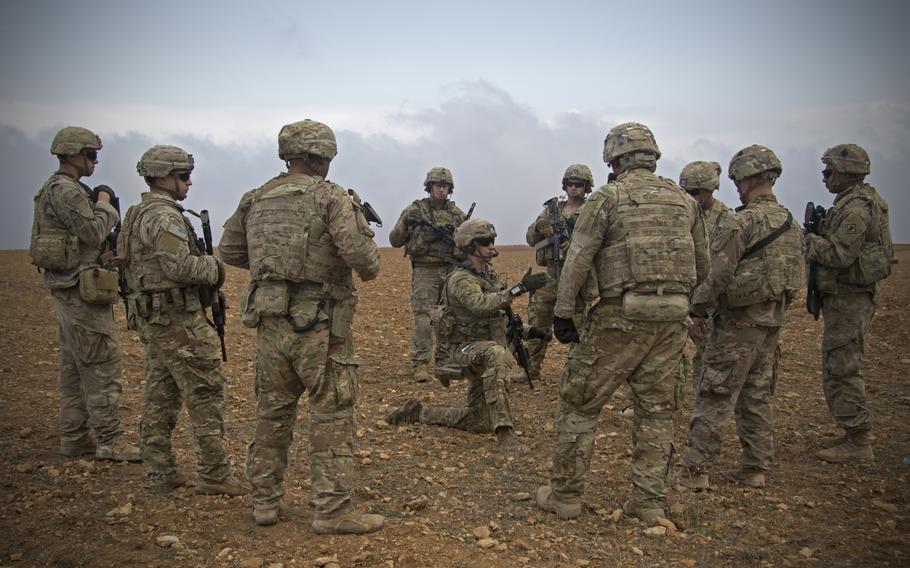 The U.S. will send armored reinforcements into eastern Syria to guard oil fields that President Donald Trump said could serve as a safe area for Kurds who fought alongside American troops before Turkey's incursion into the country.
Defense Secretary Mark Esper said Friday in Brussels that "some mechanized forces" would help reinforce positions in the oil-producing region around Deir al-Zour, where U.S. troops were involved in a deadly 2018 clash that killed up to 200 pro-Syrian government fighters, including some Russian mercenaries.
Esper did not elaborate on the composition of the U.S. reinforcements.
Newsweek, citing an unnamed senior U.S. official, reported this week that the Pentagon had drafted plans to deploy half of an Army armored battalion, which could include as many as 30 Abrams tanks, to protect the fields from a resurgent Islamic State.
It's not clear whether the White House has signed off on the proposal or plans a smaller force.
Esper also urged Ankara to investigate allegations that Turkish-supported militias committed war crimes against Syrian Kurds during the incursion.
The decision to send tanks and other armored vehicles to the oil fields is the latest twist in a changing American response to the crisis in Syria.
After a conversation Thursday with the commander of the mostly Kurdish Syrian Democratic Forces, Gen. Mazloum Abdi, Trump tweeted "perhaps it is time for the Kurds to start heading to the Oil Region!"
It was unclear whether Trump was referring to the Kurds who had fought with the Americans against ISIS or the Syrian Kurdish population as a whole, which numbers in the millions.
"The U.S. is committed to reinforcing our position, in coordination with our SDF partners, in northeast Syria with additional military assets to prevent those oil fields from falling back into the hands of ISIS or other destabilizing actors," a U.S. defense official told reporters Thursday.
The comments came after troops convoyed out of Syria earlier this week, bound for Iraq.
The Washington Post, citing unnamed U.S. officials, wrote several options were under discussion. One called for a company of American troops, a handful of Abrams tanks and support equipment, the newspaper reported.
The Post said discussions also included the possibly sending other heavy equipment, such as Bradley Fighting Vehicles.
CNN reported more troops are expected to move into Syria's oil area relatively soon, and in addition to safeguarding oil fields they will fight remnants of the ISIS in coordination with the SDF.
Positioning armored forces in Syria could be designed to send a signal to Russian forces operating in the region to stay clear of oil fields. But the move also runs the risk of escalating tensions with Moscow and Ankara.
On Tuesday, Turkish President Recep Tayyip Erdogan and Russian President Vladimir Putin reached a deal to conduct joint patrols in the border region of Syria vacated by U.S. troops.
Earlier this month, the White House ordered U.S. troops to pull back from their positions on the Turkish border, which critics say served as a green light for the Turkish military to invade and attack Kurdish forces that helped defeat ISIS.
Esper has condemned Turkey's invasion but also has defended Washington's decision to step back. Esper on Thursday said Erdogan was intent on invading, regardless of the U.S. presence.
"I think President Erdogan was fixated on making this incursion for one reason or another and there was not a possibility that we were going to start a war with a NATO ally," Esper said during a speech in Brussels, where he is taking part in talks at NATO headquarters.
Critics have countered that even a small U.S. presence would have been enough to prevent Turkey from risking a direct confrontation with the U.S. and would have prevented subsequent bloodshed.
In Brussels, NATO Secretary-General Jens Stoltenberg declined to comment Friday on the possibility of the U.S. sending armored vehicles and troops into Syria.
vandiver.john@stripes.com Twitter: @john_vandiver
---
---
---
---