US will not cooperate with Russia on Syrian campaign, Carter says
---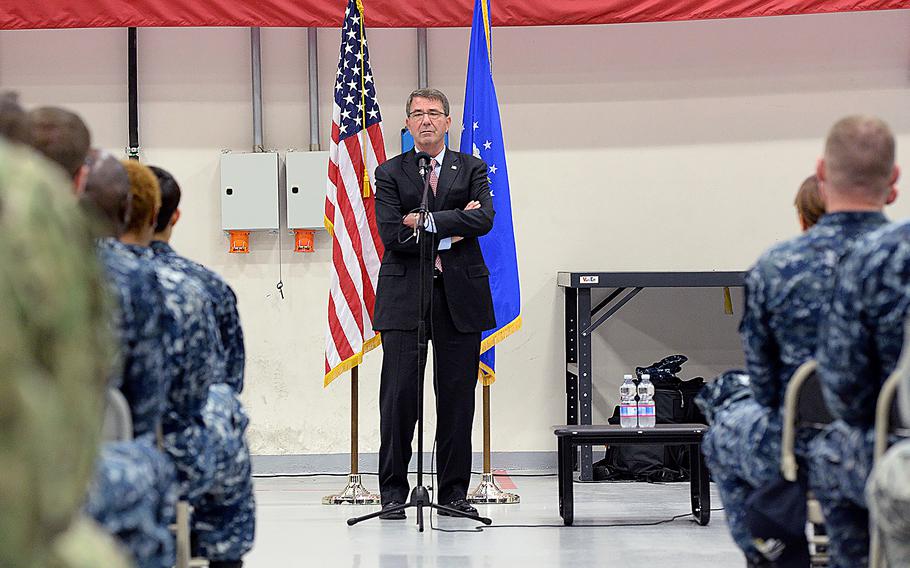 ROME — The United States will not cooperate with Russia on a Syria air campaign beyond ensuring the safety of U.S. pilots, Defense Secretary Ash Carter said Wednesday.
The U.S. will "continue basic, technical discussions on the professional safety procedures for our pilots flying above Syria," said Carter, who was in Rome meeting with Italian Defense Minister Roberta Pinotti as part of a 5-day trip through Europe. "That's it."
Carter's hard line comes as the Pentagon confirmed Russian jets are flying in close proximity to U.S. drones over Syria.
The distances between Russian aircraft and the U.S. drones was described as a handful of miles by a senior defense official on background. He stopped short of calling the encounters "incidents."
The official said the rate of U.S. airstrikes in Syria has not been affected by Russia's air campaign. In the last two days, U.S. and coalition aircraft have conducted 10 airstrikes in Syria.
Pentagon spokesman Capt. Jeff Davis said Russian and coalition pilots are not communicating, but the coalition is "aware of what's in the airspace."
The U.S. official said the encounters underscore the need for an agreement that outlines safe flight operations over Syria between Russian and U.S. and coalition aircraft. The agreement would identify what frequency channels and languages pilots would use, and other operating guidelines, such as distances between aircraft.
But the official said whether Russia agrees to safe-flight procedures will not stop U.S. aircraft from flying airstrikes over Syria.
Russian Defense Minister Sergei Shoigu said Russia was ready to coordinate its actions in Syria with the United States, the TASS news agency reported.
"Without each other's support, we will not likely solve this problem," Shoigu told President Vladimir Putin, according to the agency.
The U.S. official said a discussion on pilot safety with Russia will not include a discussion on United States-Russian cooperation in Syria.
Carter said Wednesday the Russians have not responded to the U.S. proposal on safe flight operations over Syria.
"We will keep the channel open because it's a matter of safety for our pilots," he said.
copp.tara@stripes.com Twitter: @taracopp
---
---
---
---