US ships return to Persian Gulf from shadowing mission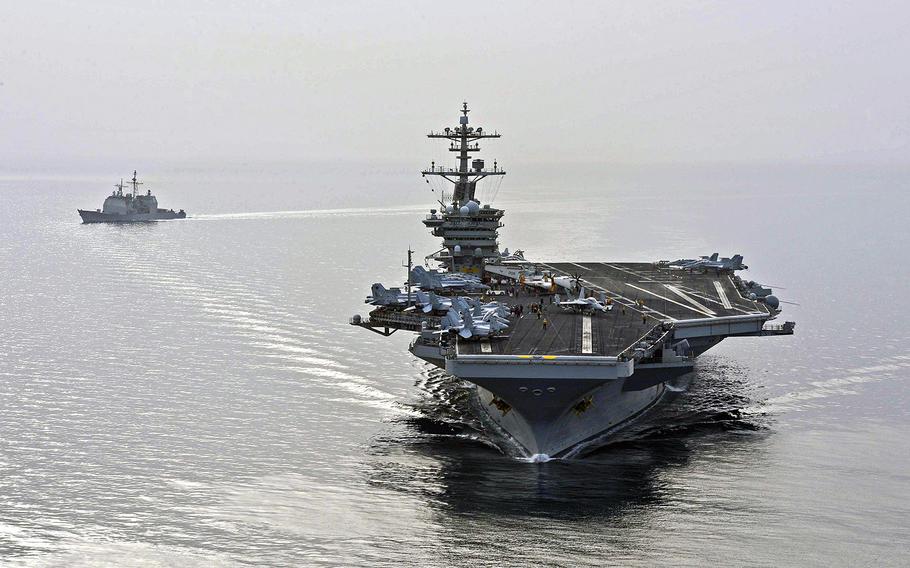 MANAMA, Bahrain — The aircraft carrier USS Theodore Roosevelt transited the Strait of Hormuz, rejoining other U.S. and coalition forces supporting Operation Inherent Resolve in the Persian Gulf, U.S. 5th Fleet Officials said Saturday.
The Roosevelt had been operating in the Arabian Sea near Yemen since April 19, while Pentagon officials were tracking a nine-ship Iranian convoy heading towards the Yemeni port of Aden. The Iranian convoy was suspected of carrying arms to support the Houthi rebels there.
The convoy turned around and headed back in the general direction of Yemen, Pentagon officials said Friday.
Along with the Roosevelt, the U.S. Navy had positioned about eight other U.S. warships in the area, including the Iwo Jima Amphibious Ready Group, a cruiser and two destroyers and two mine countermeasures ships.
It is not uncommon for the U.S. Navy to position its forces in those areas requiring more attention in order to ensure the freedom of navigation, the U.S. Navy said in a statement.
The Roosevelt was escorted into the Arabian Sea and back into the Persian Gulf by the guided missile cruiser USS Normandy.
---
---
---