US ship neutralizes tons of Syria's sarin-related chemicals in Med Sea
by
Steven Beardsley
August 14, 2014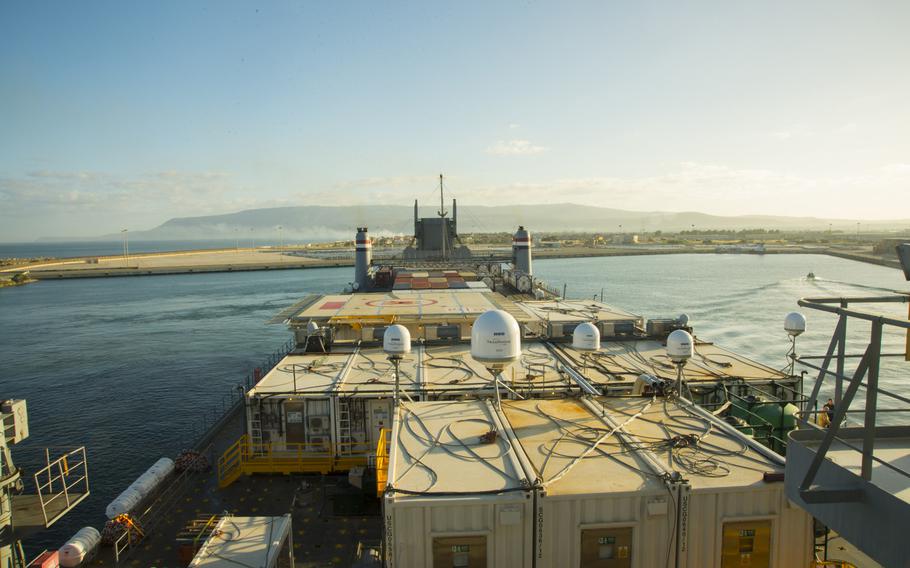 A U.S. ship in the Mediterranean Sea has neutralized more than 580 tons of chemical ingredients for the nerve agent sarin as part of the international effort to destroy Syria's chemical weapons program, according to the U.N. organization running the effort.
The MV Cape Ray, a former merchant ship loaded with Syria's most dangerous chemical precursors in early July to dilute them at sea, will now begin work on almost 20 tons of sulfur mustard, a blistering agent, according to the Organization for the Prohibition of Chemical Weapons. Once finished, it will deliver the diluted solutions to land-based facilities in Finland and Germany for disposal.
Two large hydrolysis systems installed on the ship detoxify chemicals by pumping in fresh water and heating the solution. The remaining, less-toxic effluents are kept on board.
The international effort to destroy Syria's stockpile, which was estimated at more than 1,000 tons of chemical ingredients, as well as armaments and production facilities, began last fall in the wake of a suspected chemical weapons attack by the Syrian government against the rebel-held town of Ghouta nearly a year ago. Hundreds of civilians were killed in the attack, which employed sarin-filled rockets.
Russia and the U.S. brokered a deal to dismantle the program to avert possible U.S. missile strikes against the regime. Under the deal, Syria renounced its program, joined the 1992 Chemical Weapons Convention and agreed to transfer chemicals for destruction. Tons of less-toxic chemicals have been taken to Germany, the U.K. and U.S. for destruction, while the most dangerous, or "priority one," chemicals were loaded at the port of Latakia for transport to the Cape Ray.
As of last week, 60 percent of the country's chemical weapons program had been destroyed, according to an Associated Press story citing a report made to the U.N. Security Council by the head of the joint OPCW-U.N. mission.
Remaining challenges include destroying 12 production facilities in Syria. The OPCW is also investigating claims that the Syrian government used chlorine gas against rebels. Some Western officials, meanwhile, have questioned whether the regime of Bashar Assad turned over its full chemical stockpile for destruction.
Twitter:@sjbeardsley