US says it has seized large cache of Iranian-made missiles in the Arabian Sea
by
Corey Dickstein
February 13, 2020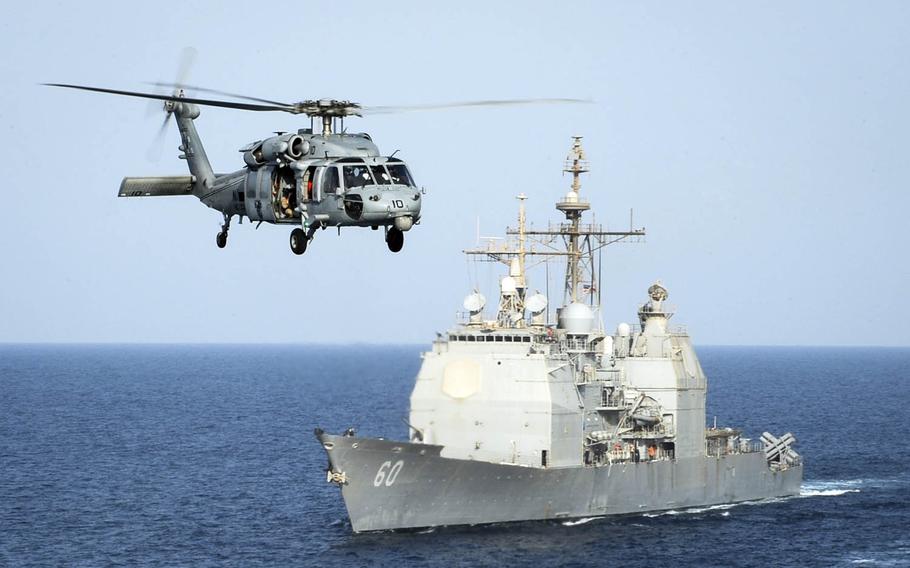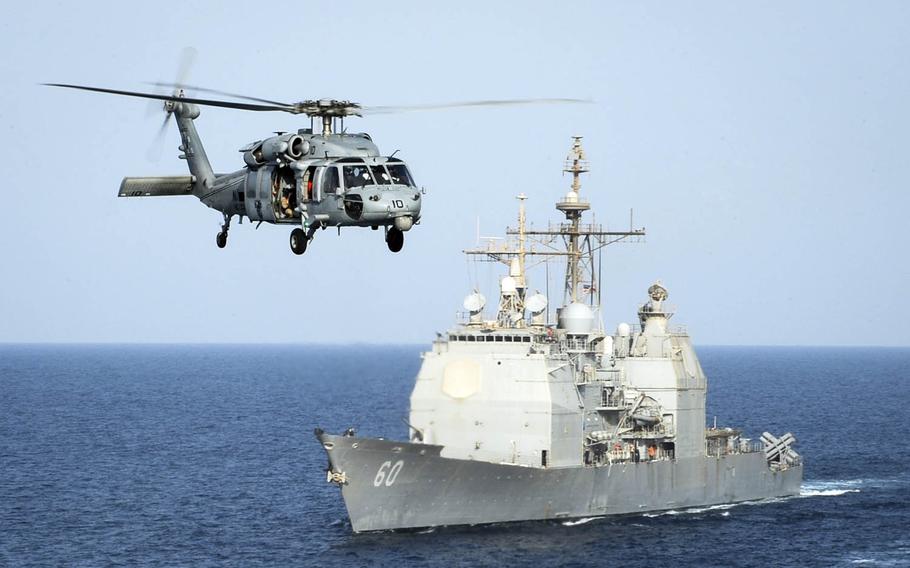 WASHINGTON — The Navy on Sunday captured a cache of illegal, Iranian-made weapons, including about 150 anti-tank missiles, from a small sailing vessel in the Arabian Sea, U.S. Central Command announced Thursday.
The supply of weapons captured was nearly identical to another cache seized in November, which was assessed to be a shipment from Iran on the way to Houthi fighters in Yemen, CENTCOM said in a statement. Defense officials said Thursday that they had not determined definitively where this most recent supply of weapons was being delivered.
The weapons seized by sailors aboard the USS Normandy, a Ticonderoga-class guided-missile cruiser, included about 150 "Dehlavieh" anti-tank guided missiles — Iranian-made versions of the Russian Kornet anti-tank missile. Also seized from the dhow sailing vessel were Iranian-built surface-to-air missiles, thermal imaging weapon scopes, components to build Iranian-designed drones and boats, and other advanced weapons parts and munitions, CENTCOM said.
The Normandy stopped the vessel and sailors boarded it while conducting regular maritime security operations, CENTCOM said.
The officials said the operation that resulted in the capture of the weapons was ongoing Thursday. They said the U.S. retained custody of the weapons, which would be assessed through an interagency-and-international effort.
Weapons shipments from Iran to Yemen are barred by a U.N. Security Council resolution, which sought to restrict Iranian support for the Houthi rebels. The Shiite fighters triggered a devastating civil war when they overran Yemen's capital Sana'a in March 2015. The war has sparked the world's worst humanitarian disaster, according to the U.N., and has resulted in near-famine. The Houthis continue to fight against the U.N.-recognized Yemeni government, backed by a Saudi-led military coalition and supported by the U.S.
U.N. experts in a report this month to the Security Council said Iran has maintained its efforts to supply the Houthis weapons through overland and sea-based smuggling routes.
Those weapons have been used not only in the civil war in Yemen but also in attacks on Saudi Arabia, including ballistic missile strikes, U.S. and Saudi officials have said.
The Houthis claimed responsibility for a drone-and-cruise missile attack on critical Saudi oil infrastructure, but the U.N. experts said in their report that it was unlikely the attacks originated from Yemen. The U.S. has blamed Iran directly for that attack, as well as a series of attacks last year targeting commercial ships in the region.
Tensions between the U.S. and Iran have grown in recent years, partially because of Iran's support of proxies throughout the Middle East, including the Houthis. Those tensions rose to an all-time high early this year after the U.S. on Jan. 3 killed Iran's top military leader, Maj. Gen. Qassem Soleimani, who commanded the Quds Force, which has trained and directed Tehran's proxy forces.
Iran retaliated by launching more than a dozen ballistic missiles into a key Iraqi base that hosts more than 1,000 American troops. More than 100 U.S. service members suffered traumatic brain injuries in the attack. But President Donald Trump did not retaliate militarily, keeping the tensions from rising further.
Nonetheless, the U.S. has maintained a beefed-up military presence in the Middle East, where it now has some 80,000 troops.
This week, the USS Bataan, an amphibious assault ship, transited the Strait of Hormuz with other ships in its amphibious readiness group carrying 2,600 Marines, the Navy said. That transit was meant to reassure Gulf allies and to ensure security for commercial maritime operations in the region, the service said.
dickstein.corey@stripes.com Twitter: @CDicksteinDC