US Navy expands capabilities in 5th Fleet with new ship
by
Chris Church
February 4, 2016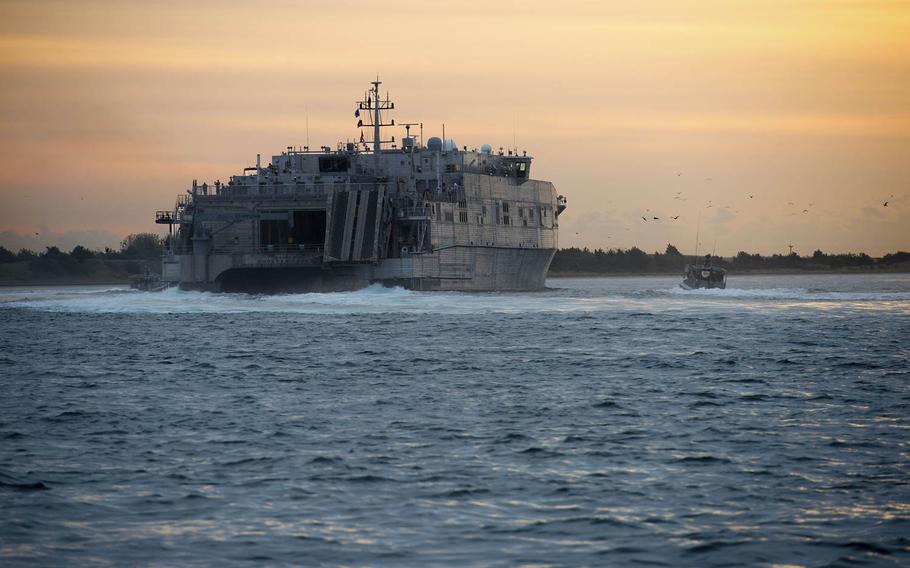 MANAMA, Bahrain — The USNS Choctaw County is the first auxiliary expeditionary fast transport ship to be forward deployed to the 5th Fleet area of operations, the Navy said Wednesday.
Formerly known as a joint high-speed vessel, the noncombatant ship, operated by a small civilian crew, can deliver cargo and personnel faster than previous platforms, 5th Fleet spokesman Lt. Ian McConnaughey said.
"The ship has the capability to embark a complement of military personnel and mission configurations for a wide range of missions, including counterillicit trafficking, theater security cooperation, humanitarian assistance, disaster relief and noncombatant evacuation operations," McConnaughey said.
The Choctaw County will operate under Commander, Task Force 53, which provides logistical support to the 5th Fleet area of operations, including underway replenishments by Military Sealift Command-operated ships.
"I'm thrilled to have Choctaw County in the 5th Fleet," said Capt. Edwin D. Kaiser, commanding officer of Commander, Task Force 53. "The ship gives us tremendous capacity and operational flexibility."
The 5th Fleet's area of responsibility covers some 2.5 million square miles, including the conflict-prone Persian Gulf. Naval operations in the 5th Fleet aim to ensure the free movement of ships throughout the region, which includes the strait, through which about one-fifth of the world's oil supply flows.
"The presence here in Bahrain is constant and here to stay," McConnaughey said. "In the coming years you are going to see more new platforms coming to the area of operations. This is just a little taste of what's to come."
Twitter: @CChurchStripes