US-led coalition in Iraq suspends training mission, sends some personnel to UK
by
Chad Garland
March 19, 2020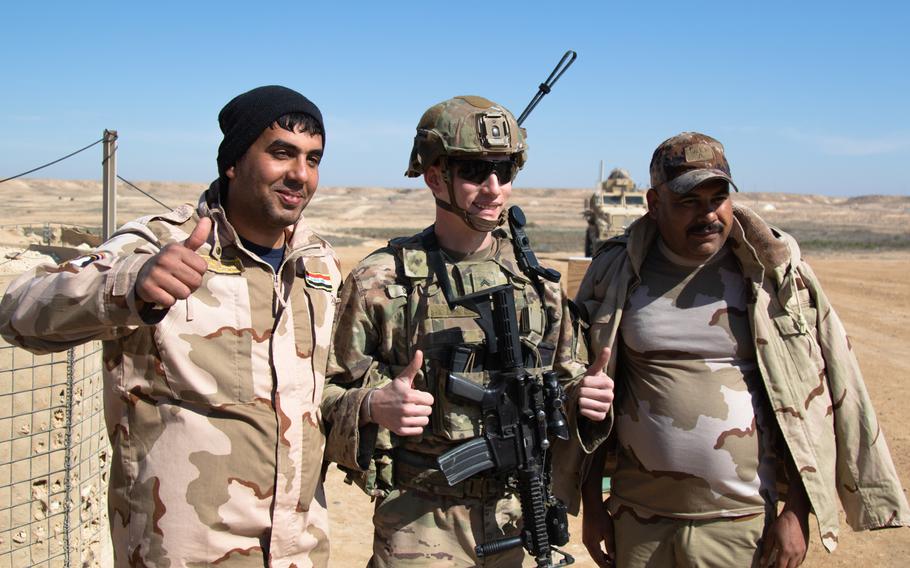 • Stars and Stripes is making this story and other coverage of the coronavirus pandemic available free of charge. See other stories here, and sign up for our daily coronavirus newsletter here.
The U.S.-led coalition in Iraq has paused training activities and begun pulling some international troops from the country because of concerns about the rapidly spreading coronavirus, military officials said Thursday.
A "reduced requirement for training" and a pause in Operation Inherent Resolve and NATO training missions in Iraq following the outbreak has led the United Kingdom to redeploy some of its personnel, that country's defense ministry said in a statement.
The Inherent Resolve training mission has been paused for 60 days, it said.
Despite the unspecified number of troop reductions, "the UK will retain key military personnel throughout the country to ensure the Iraqi Government, Global Coalition and UK national interests are appropriately supported," it said.
Iraq has had about 150 coronavirus cases and 12 deaths, but neighboring Iran has been hard hit by the virus, behind only China and Italy, with more than 17,300 reported cases and some 1,130 deaths, the latest World Health Organization data show.
The Iraqi government has suspended flights to airports in the country through Tuesday and instituted curfews to keep residents of Baghdad, Irbil and elsewhere in their homes to try to stall the spread of the virus. Exceptions are made only for emergencies or exempted work such as security and health care, a U.N. humanitarian agency in the country has said. Religious gatherings also have been banned.
Military personnel would be sent out of Baghdad to Kuwait or home, a coalition security official said on condition of anonymity because he was not authorized to discuss the plans.
The U.K. also is adding 10,000 troops to those already on a higher state of readiness and putting its reserves on standby to help provide public services, such as driving oxygen tankers, as part of a response to the pandemic at home, a separate statement said.
The drawdown in Iraq comes in the wake of an attack that killed two Americans and a British soldier at a base north of Baghdad last week, and as coalition troops began a long-planned consolidation of the international alliance's troop presence in the country.
The U.S.-led coalition has been assisting Iraq in the fight against ISIS and training security forces since the militants seized large swaths of Syria and Iraq as they swept through the two countries in 2014. Although the last ISIS-held territory near the Iraq-Syria border was liberated a year ago, the terrorist group continues to wage an insurgency in both countries.
Last week, two Marine Raiders were killed in a joint raid with Iraqi commandos on an ISIS stronghold and training camp in the rugged mountains of northern Iraq.
But the coalition's successes against militants have allowed it to begin pulling out of several bases across the country. Earlier this week, Inherent Resolve officials handed over a base and equipment in al-Qaim, near the country's western border with Syria.
garland.chad@stripes.com Twitter: @chadgarland