US fighter jet shoots down 2nd Iranian-made drone over Syria
by
Tara Copp
June 20, 2017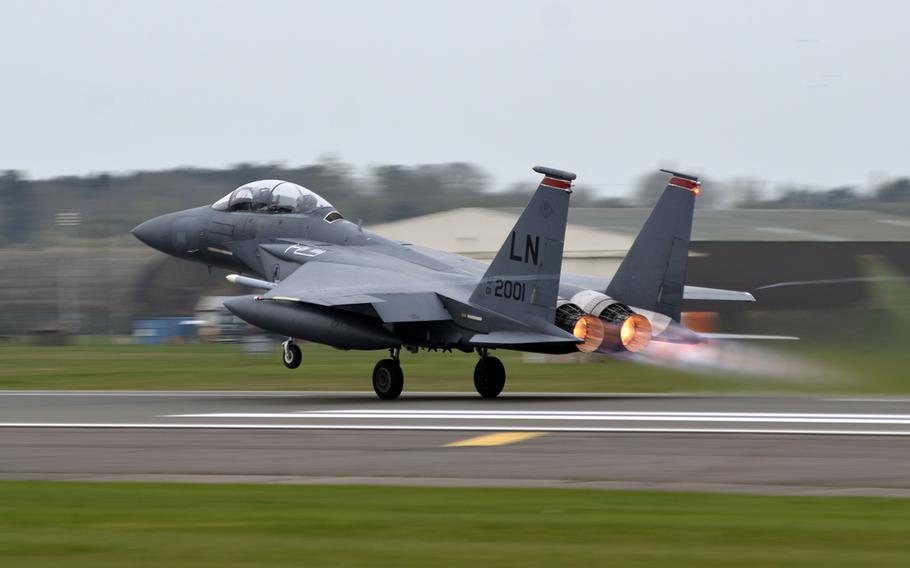 WASHINGTON — A U.S. F-15E Strike Eagle has shot down a second Iranian-made drone in two weeks that was threatening U.S.-led coalition forces in southern Syria, a Pentagon official said Tuesday.
The attack took place at about 12:30 a.m. local time Tuesday after an Iranian-made Shahed 129 drone, which is similar in size to a U.S. Predator drone, exhibited "the actions and intent similar to what happened in the first" shoot down, said a U.S. defense official who spoke on the condition of anonymity.
On June 8, an F-15E Strike Eagle shot down another Shahed 129 after the drone released a munition on coalition forces patrolling near Tanf, where the United States maintains a training base.
In that attack, "the F-15E intercepted the armed [drone] after it was observed advancing on the coalition position. When the armed [drone] continued to advance on the coalition position without diverting its course, it was shot down," according to a Pentagon statement released from Operation Inherent Resolve.
It's the third air-to-air strike in less than two weeks as tensions continue to rise between U.S., Russian and Syrian forces. On Sunday, a U.S. F/A-18E Super Hornet shot down a Syrian Su-22 fighter-bomber that had been firing on U.S. allies south of Tabqa in northern Syria after U.S. military personnel attempted to warn off the aircraft through a communication channel with the Russians and through a show of force. In response, Russia announced it would no longer use the communication line and warned that it would shoot coalition aircraft in its area of operation.
The United States has taken precautions to reposition its aircraft in response. But the Pentagon said it would continue to shoot down drones that appear to be a threat to coalition or partnered ground forces.
"Given recent events, the coalition will not allow pro-regime aircraft to threaten or approach in close proximity to coalition and partnered forces," according to the Pentagon statement.
copp.tara@stripes.com Twitter: @TaraCopp