ANALYSIS
US airstrikes play key role in Afghan fight
by
Josh Smith
August 31, 2015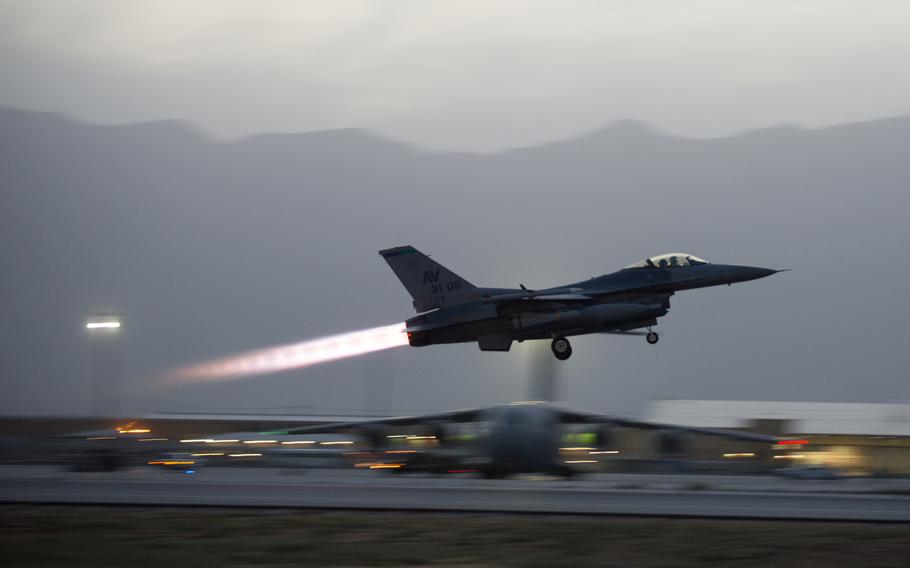 KABUL, Afghanistan — Afghan troops facing concerted attacks by resurgent Taliban forces are increasingly backed by American airpower, signaling more aggressive U.S. involvement than the defensive posture outlined when the NATO-led coalition formally ended its combat mission last year.
Coalition officials said they reserved the right to use force against terrorism targets and to protect their own troops, the vast majority of which are American, when they scaled back this year to a small train, advise and assist mission. Coalition forces were not meant to be involved in combat, as the Afghan National Security Forces took sole responsibility for the country's security.
But with the Afghan air force still in its infancy and Afghan troops finding themselves up against a still-powerful insurgency, the coalition policy on using offensive force has been broadly interpreted, said Stephen Biddle, an international affairs professor at The George Washington University in Washington.
"The ANSF is having a harder time holding than American commanders had hoped, and given that, they've needed more support," he said. "For a variety of reasons the administration has been keen to declare an end to the combat mission, but the definition of what they're doing is combat, under any understanding."
Since President Barack Obama declared a "responsible conclusion" to America's combat role in Afghanistan at the end of 2014, U.S. aircraft have flown at least 2,435 close air support sorties, deploying some kind of weapon during at least 198 missions, according to the latest data released at the end of July.
That doesn't include at least 18 airstrikes by manned aircraft that the coalition conducted in recent days to assist Afghan troops fighting desperately to retake the Musa Qala district center that had been captured by the Taliban in Helmand province.
Those strikes were carried out against "individuals threatening the force," Col. Brian Tribus, spokesman for the coalition's Resolute Support mission, said in a statement.
"Resolute Support is training, advising and assisting elements of the ANDSF involved in counterinsurgency operations in Helmand. While Resolute Support is a noncombat mission, we do maintain the right to use lethal force to protect our personnel," he said.
In Washington, American officials went further, saying they reserve the right to help Afghan forces that may be in extremely difficult situations.
"The commander [in Afghanistan] does have the ability to provide air support to the Afghan defense forces when they're in extremis, and we have exercised that option," Col. Pat Ryder told reporters at the Pentagon. "There has been an increase in airstrikes in support of counterterrorism efforts and in support of Afghan forces in extremis."
And at a news conference during a trip to a military base in California last week, Secretary of Defense Ash Carter said such aid had always been a possibility.
"When there are special circumstances, wherein assistance by the coalition could make a material difference, we have said since we began the transition, that we would be prepared to intervene," he said.
While the U.S. continues to deploy airstrikes, the number this year is a fraction of what it was at the height of American involvement in 2010 and 2011.
American airstrikes in Afghanistan this year have been generally carried out quietly, especially compared to the near daily updates from the high-profile campaign against the Islamic State group in Iraq and Syria.
Some airstrikes have made headlines in Afghanistan, however. In July, drone strikes reportedly killed top leaders and dozens of fighters of the nascent Islamic State affiliate here. Also in July, American helicopters mistakenly fired on an Afghan army position, killing at least seven soldiers.
Afghan President Ashraf Ghani has been more welcoming of American use of airstrikes than his predecessor, Hamid Karzai, who was a staunch critic of the civilian casualties sometimes caused by coalition bombs.
Biddle, who says he supports a more liberal use of airstrikes in Afghanistan, said it makes sense for the coalition to intervene with measures that are useful for Afghan forces and relatively low-risk for the pilots.
"One of the things that airstrikes can do is prevent mass attacks," he said. "That's a very valuable asset because, when the Taliban have been successful, it's been when they could mass. With airstrikes, the West is able to make those kind of tactics very expensive for the Taliban."
That was an assessment confirmed by a Taliban commander in Helmand who told Stars and Stripes that coalition airpower has been the deciding factor in recent battles.
"If the ANSF didn't have foreign air support they would not be able to spend even a night in Helmand," he said in a phone interview on condition he not be named for his own security. "The drones, the big airplanes that drop bombs, and the gunship helicopters are the biggest obstacle to the mujahedeen."
Many times the Taliban fighters and government units are nearly equally matched, he said, but the use of airstrikes changes that equation. "Fighting the ANSF would be easy otherwise, but for now we are really careful of our movements so we are not caught by the drones."
Formally changing the stated policy of limited support is unlikely to happen as it would look like an admission of error by officials in Washington who have expressed optimism about the situation in Afghanistan, Biddle said.
But because airstrikes can be such a useful tool in helping Afghan forces fight off Taliban attacks, the Obama administration is likely to continue to allow military commanders in Afghanistan to "push the envelope" in their use for now, Biddle said.
"It remains to be seen if the administration will go through with its promise to completely end airstrikes in the coming years," he said, arguing that a negotiated settlement with the Taliban is the only way to end the conflict and reduce Western involvement. "It is a pipe dream to completely disengage from an ongoing war and expect it will end happily. Realistically, even the ANSF ability to maintain a stalemate without Western airpower looks pretty dicey at this point."
Zubair Babakarkhail and Stars and Stripes reporter Tara Copp contributed to this report.
smith.josh@stripes.comTwitter: @joshjonsmith