US airstrikes in Afghanistan near record high after Trump vows to hit enemy hard
---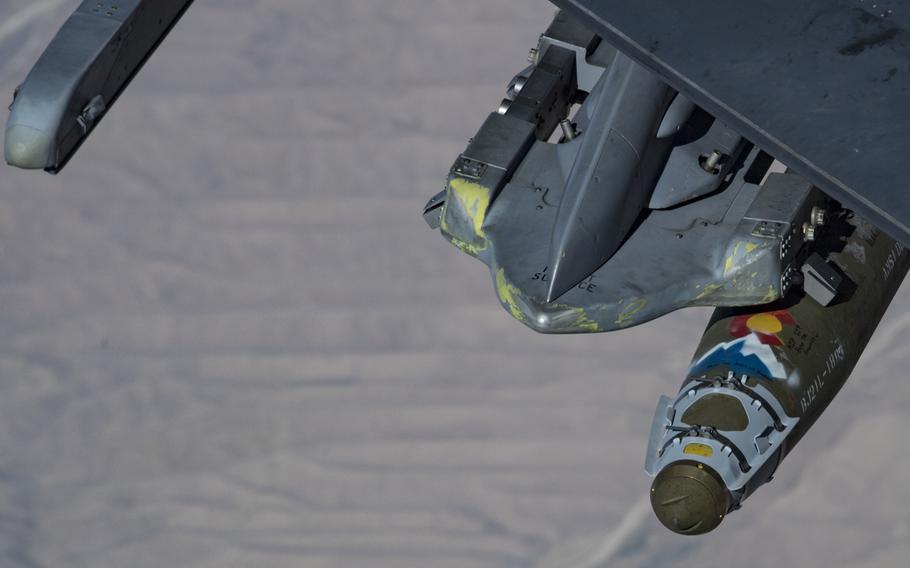 KABUL, Afghanistan — The United States dropped more bombs and other munitions in Afghanistan last month than any other month in nearly a decade, Air Force data released Tuesday showed.
The increase in bombing followed the collapse of peace talks between the United States and the Taliban in early September and a vow by President Donald Trump "to hit our enemy harder" than ever before.
Manned American aircraft and drones released 948 munitions in Afghanistan throughout September, according to U.S. Air Forces Central Command. Only two other months have had a higher tally since 2006, when regular figures were first published.
Since international combat operations in Afghanistan ended about five years ago, the United States has been the only foreign NATO partner known to conduct airstrikes in the country.
American aircraft have flown about 800 sorties so far this year, of which about 290 included strikes, AFCENT said.
Speaking last month on the anniversary of the Sept. 11, 2001 attacks on the United States, Trump said, "We have hit our enemy harder than they have ever been hit before, and that will continue."
The announcement came days after Trump ended nearly a year of peace negotiations between the insurgents and American officials. Trump cited a Taliban attack that killed an American servicemember in Kabul as a reason for the cancelation.
"We did step up our attacks on the Taliban since the talks broke down," Defense Secretary Mark Esper told reporters in Washington last week.
September's uptick added to a bombing campaign that had already accelerated under Trump.
Last year, the U.S. dropped a record high 7,362 munitions in Afghanistan. The United Nations has blamed the increase for causing more civilian deaths.
Airstrikes, most of which were conducted by U.S. forces, were the leading cause of noncombatant deaths in Afghanistan during the first half of the year, killing more than 360 people, the U.N. said in a July report. The U.S. military routinely disputes the methodology and sourcing of the U.N.'s findings.
wellman.phillip@stripes.com Twitter: @pwwellman
---
---
---
---