US Air Force pilot safe after plane crashes in northern Afghanistan
by
J.P. Lawrence
July 10, 2020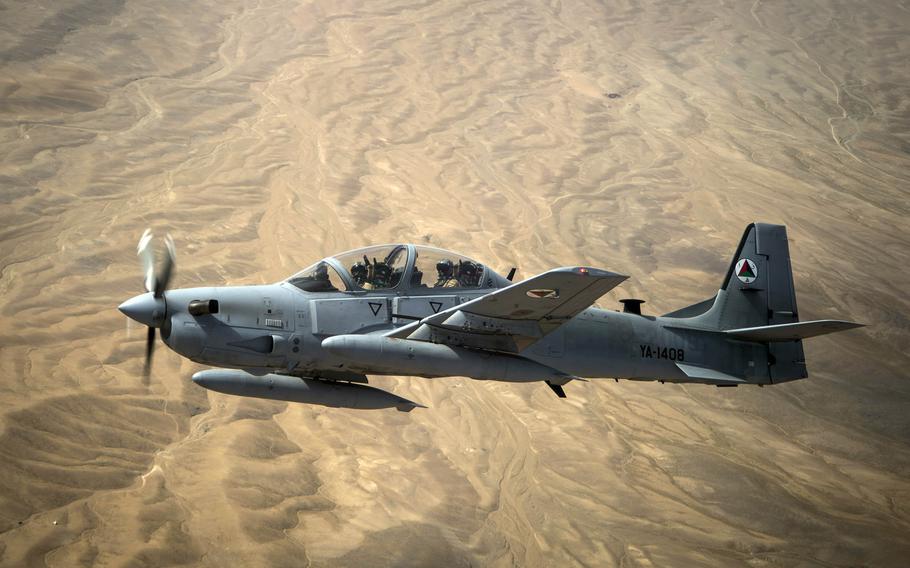 KABUL, Afghanistan — A U.S. Air Force pilot is safe after ejecting from an Afghan light attack plane before it crashed in northern Afghanistan, U.S. and Afghan officials said.
The pilot, who has not been identified, was on a training flight in an A-29 Super Tucano on Thursday when the crash occurred, a spokesman for U.S. Forces-Afghanistan said in a statement.
It was unclear if the American was flying alone or with a member of the Afghan air force. The A-29 has two seats but can be flown by one pilot.
Aircraft quickly arrived in the remote valley in Baghlan province where the crash occurred and rescued the pilot, said provincial spokesman Javed Basharat. USFOR-A confirmed the successful rescue operation but did not provide details on the pilot's condition.
Preliminary indications are that mechanical issues caused the crash, USFOR-A said.
The crash could be heard throughout Baghlan's mountainous Doshi district, one local said.
"I was working on the roof of my house and a big sound echoed in the mountains," said Mohammad Kabir.
The Embraer/Sierra Nevada Corp.-made A-29 turboprop is the Afghan air force's main light attack aircraft. Twenty-nine Afghan pilots are qualified to fly the 15 A-29s in the country, a Pentagon report to Congress said last month.
Training for Afghan A-29 pilots shifted from Moody Air Force Base in Georgia to Afghanistan this fall, and continues to be led by U.S. Air Force instructors, the report said.
Zubair Babakarkhail contributed to this report.
lawrence.jp@stripes.com Twitter: @jplawrence3