U.S. troops in Afghanistan sad, angry over deaths in downing of chopper
By
kuzm@estripes.osd.mil Martin Kuz shean@estripes.osd.mil Neil Shea
August 7, 2011
---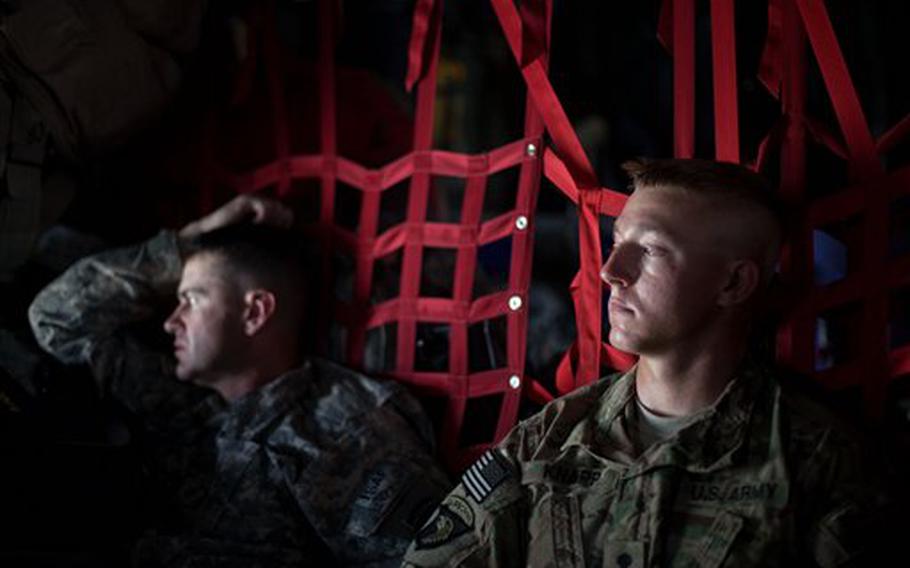 KIWI BASE, Afghanistan — On Sunday evening, the small contingent of U.S. troops stationed at Kiwi Base in Bamiyan, one of Afghanistan's calmest places, stood in the vanishing light and considered the news emerging from one of the war's worst battlefields. It seemed a world away.
Maj. Richard Ojeda, 40, smoked a cigarette and thought of a hard and intimate detail: informing the families of the dead.
"Right now, there's ... families that are just gonna be heartbroken," he said. "That's what I think of first."
Thirty U.S. servicemembers, including Navy SEALs, and eight Afghans were killed when their helicopter was shot down in the Tangi Valley in neighboring Wardak province.
Ojeda knew the sadness of it first-hand. He is now a security forces assistance team member with the Headquarters and Headquarters Company, 4th Brigade, 10th Mountain Division, but he once served as a casualty notification officer in the U.S.
"I have had to knock on doors and I have seen that pain," he said. "Units like that, the SEALs, the aviation guys, they're very close-knit communities. They all know each other. This is huge."
Beside him, Sgt. 1st Class William Hutt, 37, remembered the violent Tangi itself. He had been stationed there for three months, beginning in November 2010.
"The biggest question in my mind when I heard was, who was it?" he said.
Hutt, now of HHC 2-4 Infantry, 4th Brigade 10th Mountain Division, had been a platoon sergeant in the valley. He said he was saddened by the disaster — but not surprised.
"If I went out during the day, I got shot at. Every single village shot at us. And it was very hard to get into a position to go after them. It's a bad place."
At COP Garda in Wardak's Jalrez Valley, not far from the Tangi, 2nd Lt. Branden Irvine said in an email that he and the men of Blue Platoon, Bravo Troop, 3/89 Cav, 4th Brigade of the 10th Mountain Division, were simply very sad.
Just over a week before, they and the rest of their company had packed into Chinooks for a nighttime air assault into the Araband Valley, another Taliban stronghold in Wardak. Irvine said he and his men had heard rumors of helicopters being shot at in the region. As they flew in darkness toward their landing zone, some of them wondered if it would happen to them. That time, it didn't.
At Forward Operating Base Torkham, where troops are primarily involved in patrolling the Afghanistan-Pakistan border along the Khyber Pass, a half-dozen soldiers approached by a Stars and Stripes reporter Sunday afternoon had yet to hear of the attack.
Those who knew about it expressed frustration, sadness and a determination to press on.
"We're not trying to do anything except help this country get better, so you get kind of angry when our guys lose their lives," said Sgt. Henry Murray of the 3rd Brigade Combat Team, 3rd Battalion, 7th Field Artillery Regiment, 25th Infantry Division.
"But we're soldiers — we know the risks," added Murray, 41, of Marrero, La. "You have to keep going out there and doing your job."
The border patrols conducted by the 3-7th require little in the way of air support — most of its work happens on the ground. Nonetheless, Saturday's attack deepened concerns about traveling by helicopter in Afghanistan, even as the number of troops killed by improvised-explosive devices on the country's roadways dwarfs the number of those who have died in air-related incidents.
"You never know if you're going to be on the bird that gets blown out of the sky," said Sgt. Jesus Nino, 32, of Odessa, Texas, who served two deployments in Iraq before coming to Afghanistan this spring with the rest of the unit. "You're never 100 percent sure of your safety."
shean@estripes.osd.milkuzm@estripes.osd.milTwitter:@martinkuzMartin Kuz reported from Forward Operating Base Torkham
---
---
---
---