U.S. encouraged by Afghans banding together to protect villages
by
Drew Brown
July 9, 2010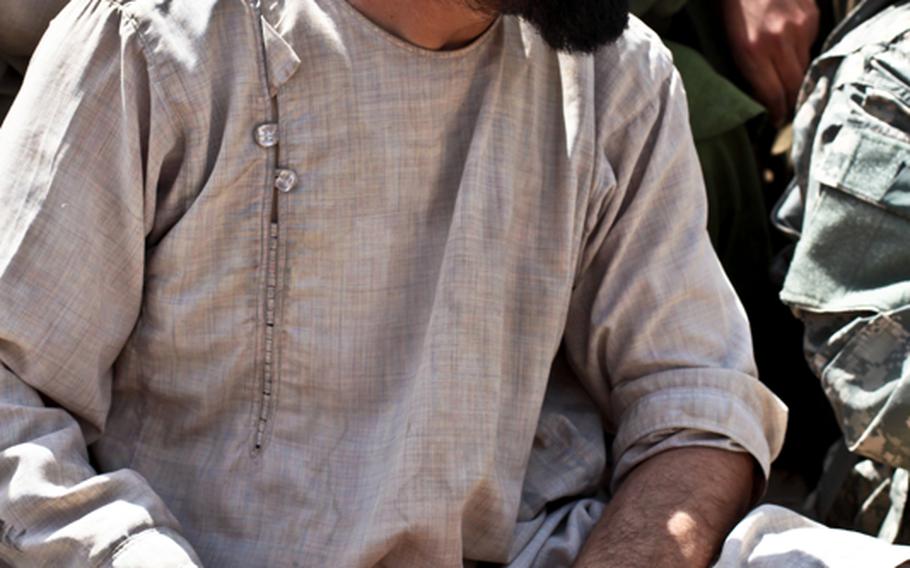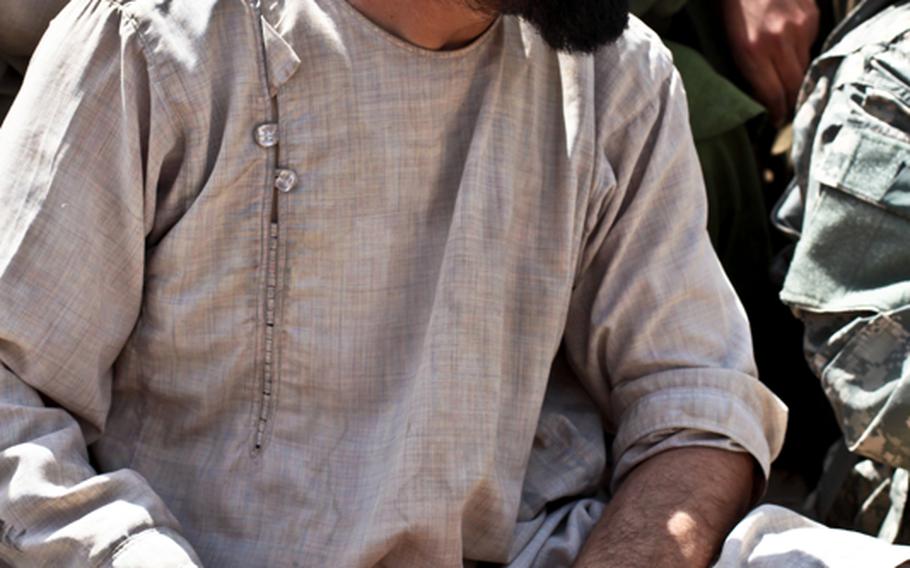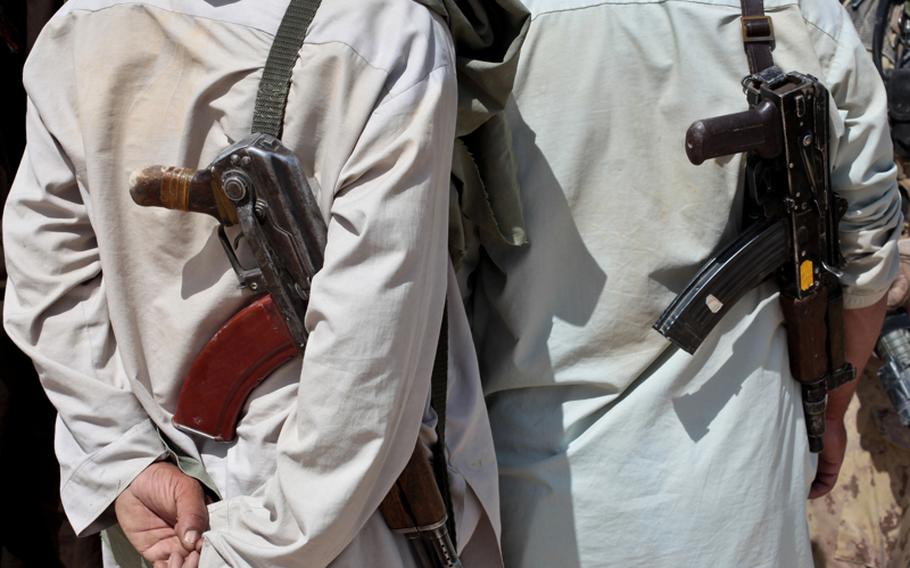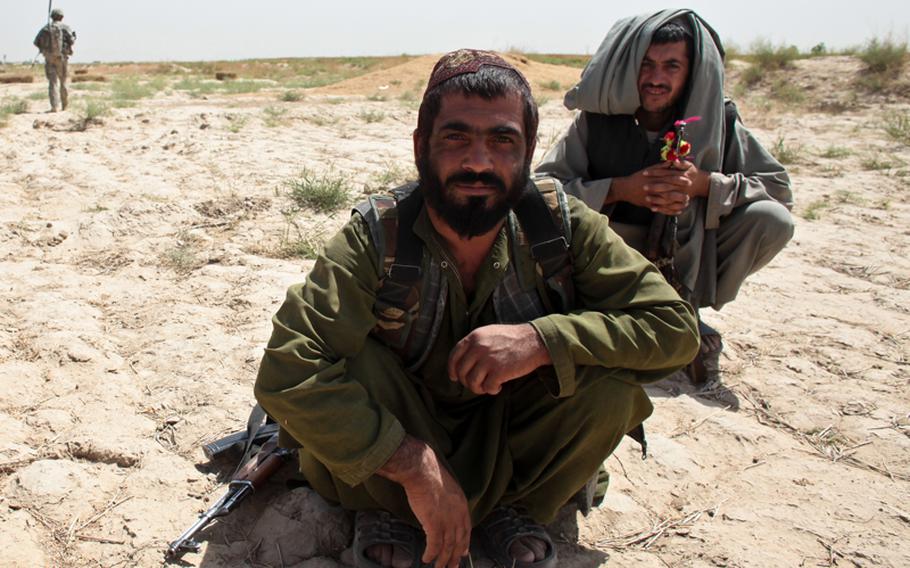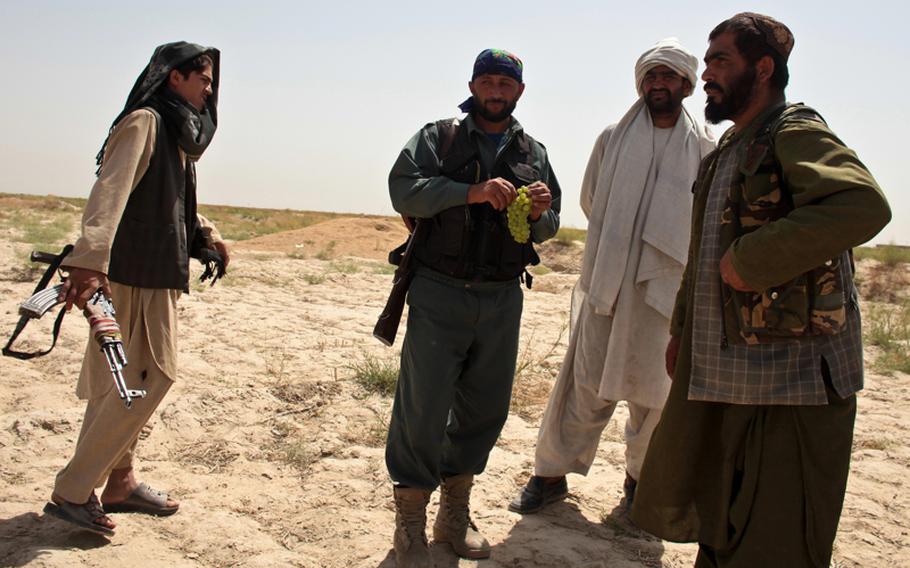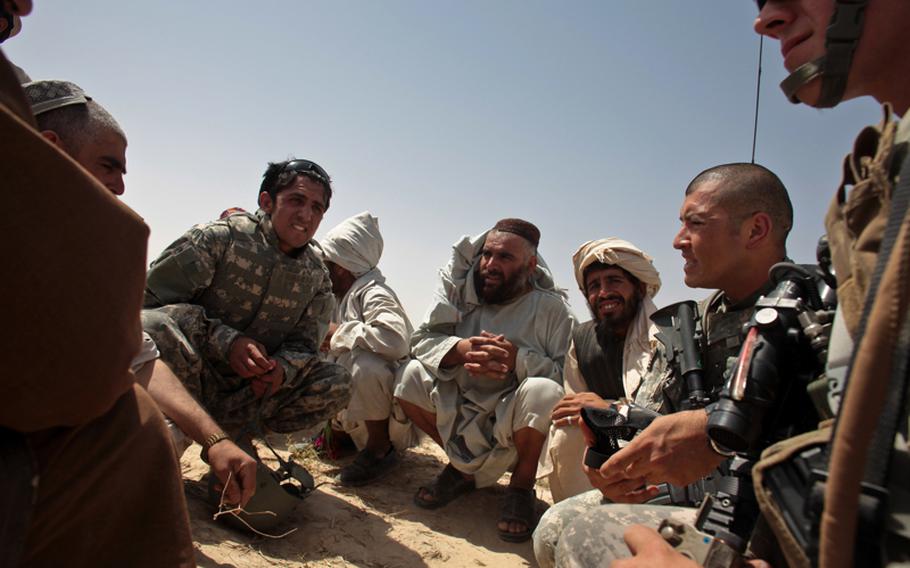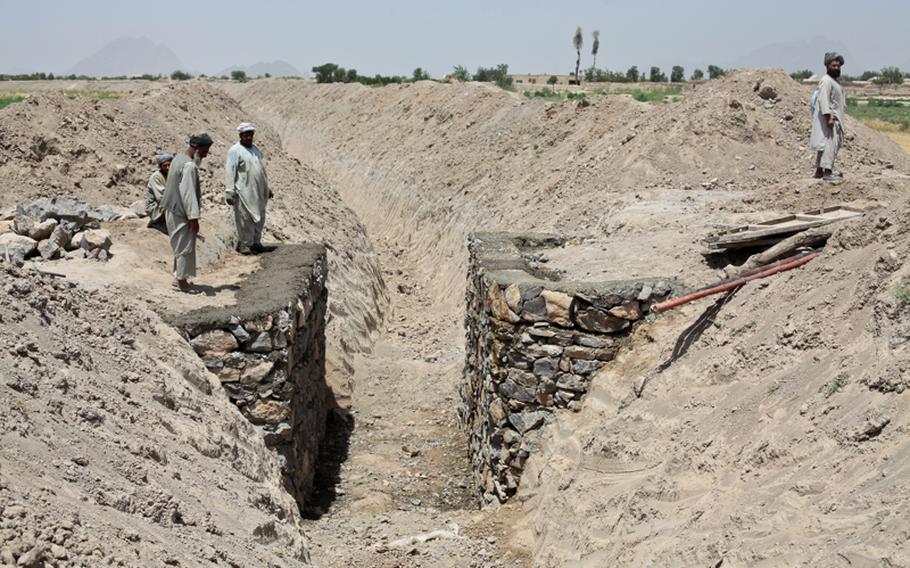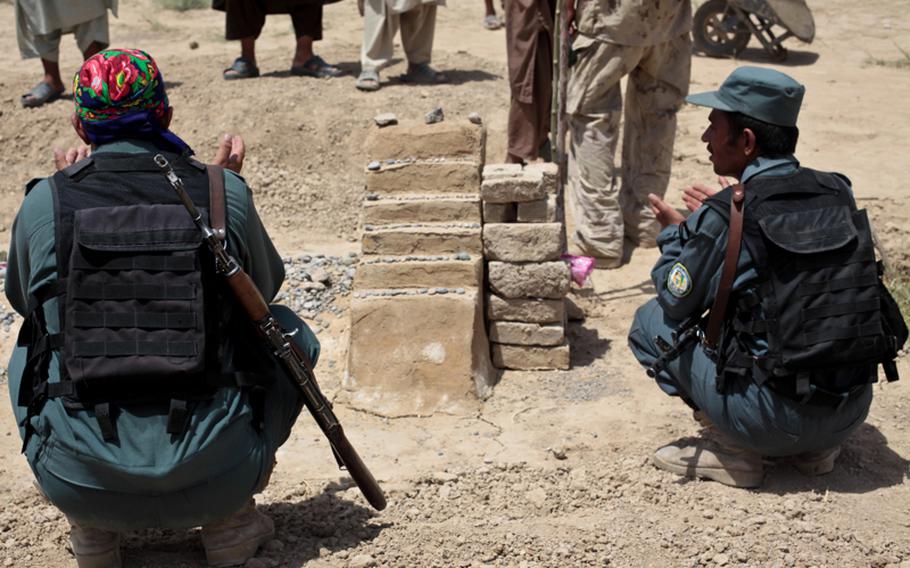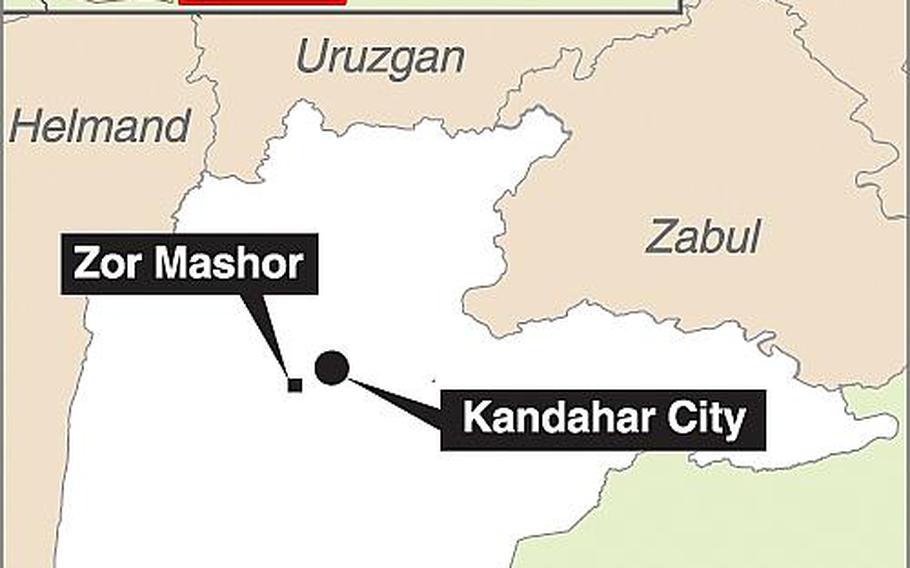 ZOR MASHOR, Afghanistan — Some of his men appeared to be baked out of their skulls on hashish, but the Afghan village commander was deadly serious about their purpose.
"We are not afraid of the Taliban. Some of us have been killed by them," said Ghosadeen, who identified himself by only one name. "[But] if the Taliban come to our village, we will kill them."
The commander, armed with a Makarov pistol, and several other men with Kalashnikov rifles were guarding two backhoe operators digging an irrigation canal outside this village in Dand district, south of Kandahar city. U.S. and Canadian soldiers stopped by to check on the project, funded with U.S. and Canadian development money.
"It makes us happy to see that you are taking care of your area," 1st Lt. Nate Derrick told the commander. "Because you take care of your village on your own, we're able to do good projects like this."
Unable so far to turn the tide against the Taliban in any decisive fashion, U.S. troops and the Afghan government are increasingly looking to local militias to provide security for their villages, especially in rural areas, to keep the insurgents from gaining more ground.
Some of these irregular forces are operating with the sanction of the Afghan government and under the tutelage of U.S. special operations troops, but in other cases, they have taken up arms without any official approval. After years of civil war, the nation is awash in weapons.
Although U.S. military officials refuse to call them "militias" because of the term's negative connotations, they welcome their creation, saying they fill a security vacuum in areas that U.S. troops and Afghan forces cannot reach.
"The local communities who are trying to protect themselves and stand up against the enemy — [that] is another indication they are starting to take things into their own hands," Lt. Gen. David Rodriguez, who oversees operations for U.S. and other international forces in Afghanistan, said in a recent interview with Stars and Stripes. "It is part of empowering local leaders to protect themselves from the things they don't want, and all of those are initial indicators that there is some good potential to make a difference in the Afghan people of the area."
The Wall Street Journal reported last week that Afghan President Hamid Karzai is expected to soon enact legislation worked out by U.S. and Afghan officials that would authorize the creation of armed village forces across Afghanistan. Any such forces would be placed under the authority of provincial officials and the Afghan National Police under a program called Village Stabilization.
Lt. Col. John Dorrian, a spokesman for the Combined Forces Special Operations Component Command-Afghanistan, said that compared to its predecessors, the new effort would establish more of a link to district and provincial governments.
After establishing security, the program would deliver governance and promote development, he said.
Concerns persist
Previous attempts by U.S. forces and the Afghan government to organize village militias have failed, and concerns persist that the Afghan government would be unable to control the forces or prevent them from waging war on other villages and tribes.
While there is no official figure on the number of village militias, Dorrian said special operations forces are seeing a trend toward local defense.
It's unclear at this point whether Afghanistan will be able to foster a program as robust as the Sons of Iraq, in which armed civilians — many of them former insurgents — defended their towns and neighborhoods after tribal sheiks, fed up with al-Qaida's excesses, switched sides to back U.S. forces. Afghans are more splintered along tribal and ethnic lines.
The Ministry of Interior started the Afghanistan National Auxiliary Police program in 2006 to create community policing in rural villages and ended up incorporating existing militias into its ranks. The ministry shut it down after just two years because of concerns over logistical support, the vetting of new recruits, command and control, and loyalty, according to a study published in May by Mathieu Lefevre, a former United Nations political officer and independent researcher with the Afghanistan Analysts Network, a policy research group in Kabul.
A second effort, the Afghan Public Protection Program, which started in Wardak province in 2009, recruited more than 1,100 local men. The program has survived, but has not been considered successful enough to try in other areas, according to Lefevre.
Also since last year, U.S. special operations forces have embedded teams with armed village groups in about a dozen locations, mostly in southern and eastern Afghanistan, as part of an effort known as the Local Defense Initiative. But these groups have had mixed results, according to observers.
Martine van Bijlert, director of the Afghanistan Analysts Network, said that support by outside special forces "could easily disrupt local balances and exacerbate local conflicts."
The Village Stabilization concept was developed under Gen. Stanley McChrystal. But its implementation has been delayed for months. with Afghan officials and U.S. Ambassador Karl W. Eikenberry pushing for more oversight by the Afghan Ministry of Interior.
Who is fighting whom?
In some instances, it's unclear whom these groups are actually fighting. In Farah province, villagers in Dizak mobilized 75 men to chase a group of Taliban into the mountains and force them to release five villagers they had kidnapped, according to U.S. military officers and Afghan police officials.
But the fighting in Dizak appears to have resulted from a tribal dispute, according to Brig. Gen. Mohammed Faqir Askar, the police chief of Farah province.
In remote Purchaman district, in eastern Farah, ethnic Aimak tribal fighters, under a warlord named Salim Pacha, battled a group of Taliban for more than a week in June, with the Afghan army flying in ammunition by helicopter to help the warlord prevail.
Hostilities erupted after Pacha confiscated lands of minority Pashtuns.
"The people had no choice but to contact the Taliban for help," Askar said in a June interview. "They had no choice but to come together and attack Salim and his force."
Lt. Col. Mike Wawrzyniak, commander of the 82nd Airborne Division's 4th Squadron, 73rd Cavalry Regiment, which is partnered with Afghan police in Farah, said some anti-Taliban fighters in his area are motivated by sectarian reasons more than anything else.
"It's complicated," he said. "When you say people are fighting the Taliban, sometimes it's for tribal reasons, sometimes it's for ethnic reasons."
The group in Zor Mashor, in Kandahar province's Dand district, formed about two months ago after Nasr Mohammed, an anti-Taliban village malik, or leader, started working with U.S. forces.
Because the group was anti-Taliban, U.S. forces and Afghan officials tolerated it. Mohammed was later shot dead in Kandahar, but it is unclear whether he was killed by the Taliban.
"The Taliban were coming here at night and planting mines and bombs," said Ghosadeen, the group's commander. "So we are here to provide security for our village."
The soldiers refer to the group as a "village security team" because the squadron's standing orders specify that U.S. troops will not stand up militias in the district.
"It's like a major neighborhood watch on steroids," said Capt. John Villasenor, commander of Troop B, which is posted in the nearby village of Belanday. "They know who belongs in their village and who doesn't. If they see a strange car, they won't even let it into the village, they'll turn it back."
The district governor, Amadullah Nazek, has authorized two dozen men for the group, but they have yet to be issued weapons permits, and they receive no pay, weapons or ammunition from U.S. troops or Afghan officials. Villasenor said they are intended solely as a defensive force for their village.
"They fill a huge gap because I can't be in their village 24 hours a day," he said.
Lt. Col. John Paganini, the commander for 1st Squadron, 71st Cavalry Regiment, said the plan is to absorb the militias into the Afghan police or disband them.
About 70 men from another militia in Dand district, coming from the clan of former governor Gul Agha Sherzai — whom U.S. special operations forces backed in 2001 to oust the Taliban from the city of Kandahar — have been trained as police. A new plan for the district would add 100 police to the 150-man force, if approved by the government in Kabul. The Sherzai militia is estimated at 500 men.
"The plan for those guys is to legitimize them and stand down their weapons," Paganini said.
The district chief of police and district governor will have to decide whether to allow armed village protection forces in accordance with Afghan laws, he said.
"[They] are ultimately responsible for security, and I'm going to back their play," he said. "But what we're going to do is ensure that Afghan National Police are the sole agent for security in this district."
Stars and Stripes reporter Dianna Cahn contributed to this story.