Tweet by Air Force spouse brings latest Avengers movie to Afghanistan and Qatar bases
by
J.P. Lawrence
May 3, 2019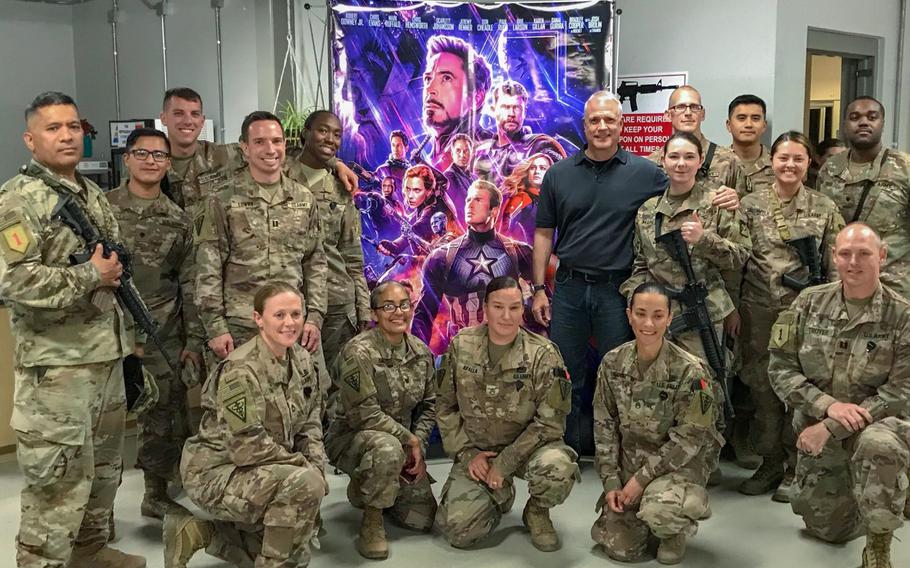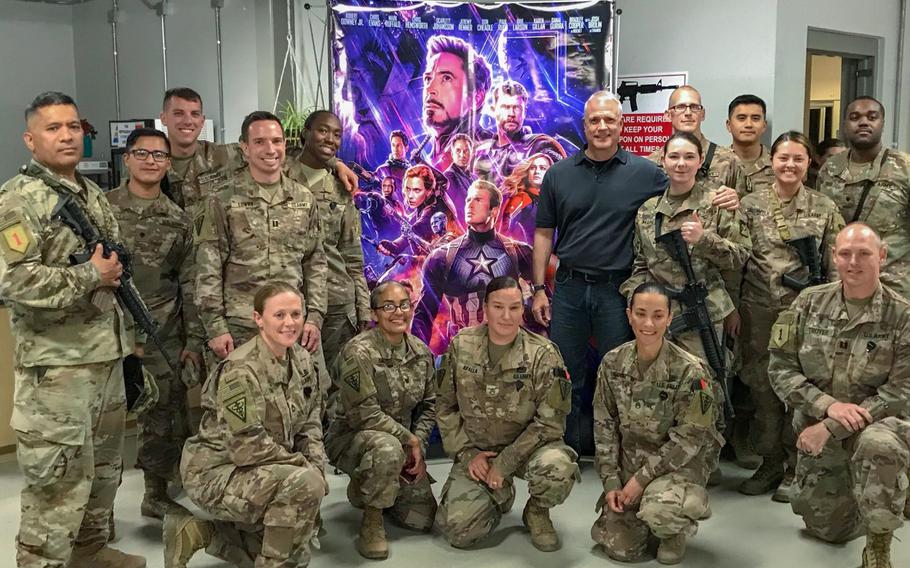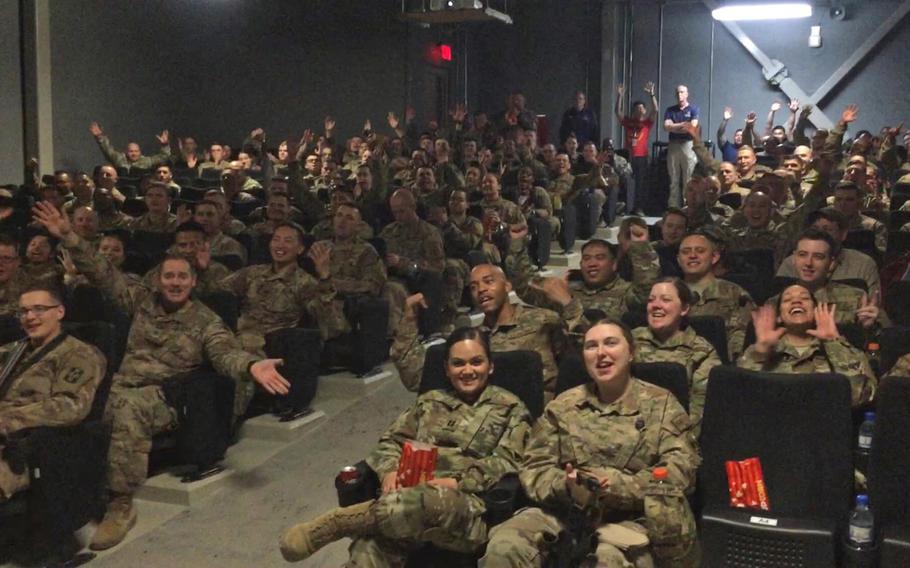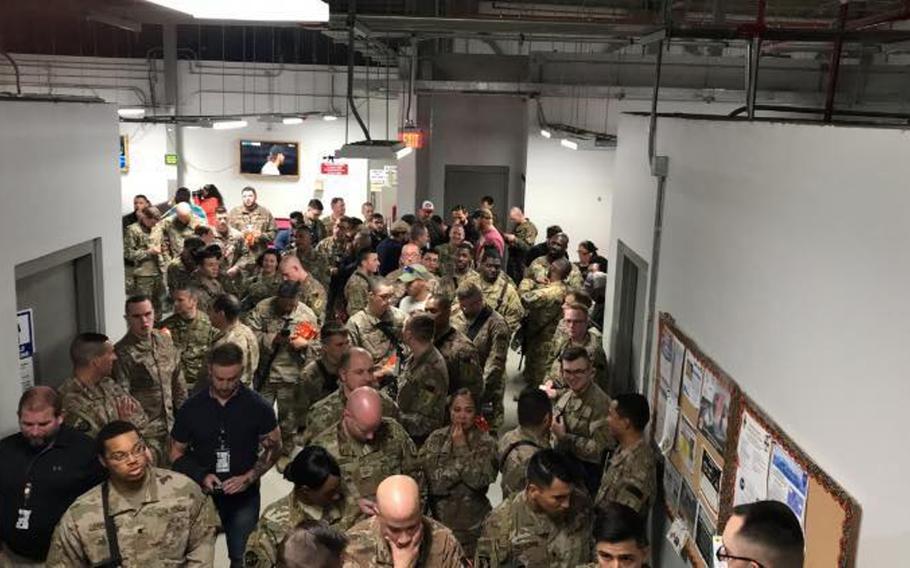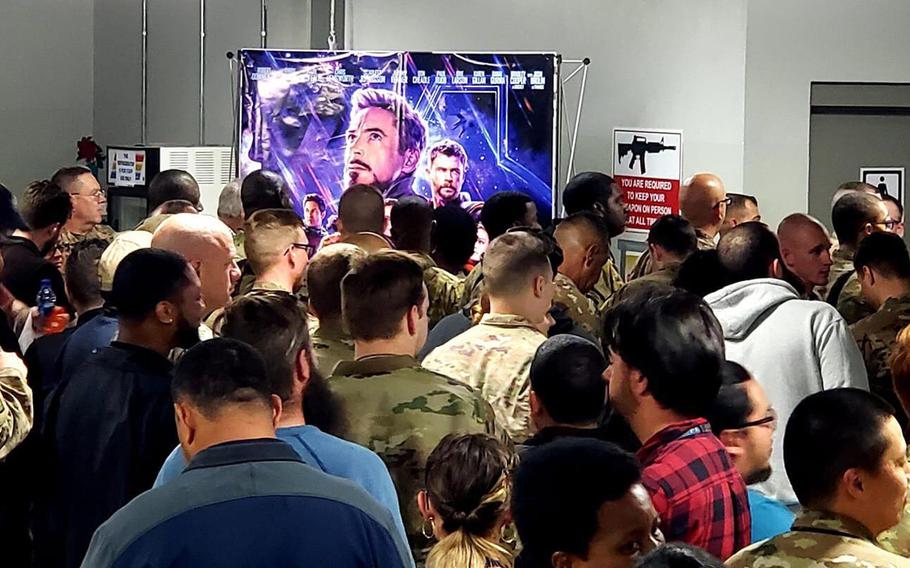 KABUL, Afghanistan – The recent spate of superhero movies often features warriors fighting for what they believe in.
For troops deployed to Afghanistan and Qatar, their hero arrived in the form of a sleepy military spouse whose tweets helped convince one of the world's largest corporations to bring the latest Avengers movie downrange.
The "Avengers: Endgame" movie shattered the record for biggest opening weekend with an estimated $350 million in domestic ticket sales and $1.2 billion globally.
Those deployed to Bagram Air Field and Al Udeid Air Base, however, had been resigned to not seeing the megahit until returning to America, as previous announcements stated there were no plans to screen the film downrange.
That changed when Kat Lancaster tweeted to the CEO of the Walt Disney Company.
Lancaster, 36, a Disney fan who often tweets under the handle @KatAtDisney, had spoken with her husband, Air Force Maj. Joshua-Lee Lancaster, 36, about missing the film while deployed in Qatar.
The two are both fans of the Marvel superhero movies and TV series such as "Game of Thrones."
Kat Lancaster said she'll often wait for her husband to come back from overseas before watching something. She said over the phone that she'd avoid spoilers for months so she and her husband could experience a movie or show together.
On Saturday, with her husband in mind, Lancaster tweeted to the CEO of Disney, Bob Iger. She wrote: "Hey Bob, any chance you could get Endgame to the troops deployed overseas sooner than later? I know Al Udeid and Bagram both have theaters and our folks in uniform could use a morale boost!"
Then Lancaster took a nap. When she woke up, the notifications on her phone were going crazy, she said. At first, Iger tweeted simply "will check!" But half an hour later, the deal was done.
Iger reached out to the Army and Air Force Exchange Service, headquartered in Dallas, about how to bring the movie to the biggest American bases in Afghanistan and Qatar. "We're going to get @Avengers Endgame to Al Udeid and Bagram next week!" Iger's account tweeted. "Thanks @KatAtDisney for suggesting this!"
"When people say this is silly or just a movie – I think small gestures like that can really benefit our troops," Lancaster said. "It shows our troops people are thinking about them."
At Bagram Air Field, the film had eight showings over Wednesday and Thursday, with some troops "Hulking out" by doing their best impressions of the green superhero during trivia contests before the movie.
The movie arrived in a disk that required a special code to unlock, which was guarded by AAFES employees and Ken Caldwell, Disney's senior vice president of North American theatrical distribution.
Disney has previously coordinated with AAFES for screenings of Marvel and "Star Wars" movies at bases in Afghanistan, Iraq and other U.S. Central Command locations, sometimes just ahead of their U.S. releases.
In March, they had teamed up to show "Captain Marvel" for troops in Afghanistan, but tensions that followed a late February airstrike on Pakistan by India nearly forced a cancellation. In the end, the showings were only delayed.
The sudden appearance of "Avengers: End Game" this week was a welcome surprise to Don Baumgartner, the Morale, Welfare and Recreation director at Bagram.
"We've had several people here around Bagram asking for some time if we were going to get the movie here and up until this weekend, the answer was 'no,'" Baumgartner said. "So the fact that Bob Iger wanted to make this happen and as short notice as he did — it was definitely really cool, and I think thousands here in Bagram are grateful for this opportunity."
The film was also playing at the U.S. Embassy in Kabul, a weekly schedule of activities there showed.
Although bootleg versions of the movie had been available online, troops such as Spc. Wilson Wu had decided the movie needed to be experienced on the big screen.
Before finding out Bagram would show the film, Wu, 21, said he had been planning to stay away from social media where he might find spoilers about the film until he got home – in March of 2020.
Being able to watch the film on Wednesday was a huge relief to Wu, a combat medic with the 349th Combat Support Hospital and a Marvel fan who said he had recently watched all 21 preceding movies in the series, in correct narrative order.
"Getting 'Endgame' out here was the biggest morale boost, ever, in Afghanistan," Wu said.
lawrence.jp@stripes.com Twitter: @jplawrence3