Trump renews threat to Iran after rockets land in Baghdad's Green Zone
by
Chad Garland
January 5, 2020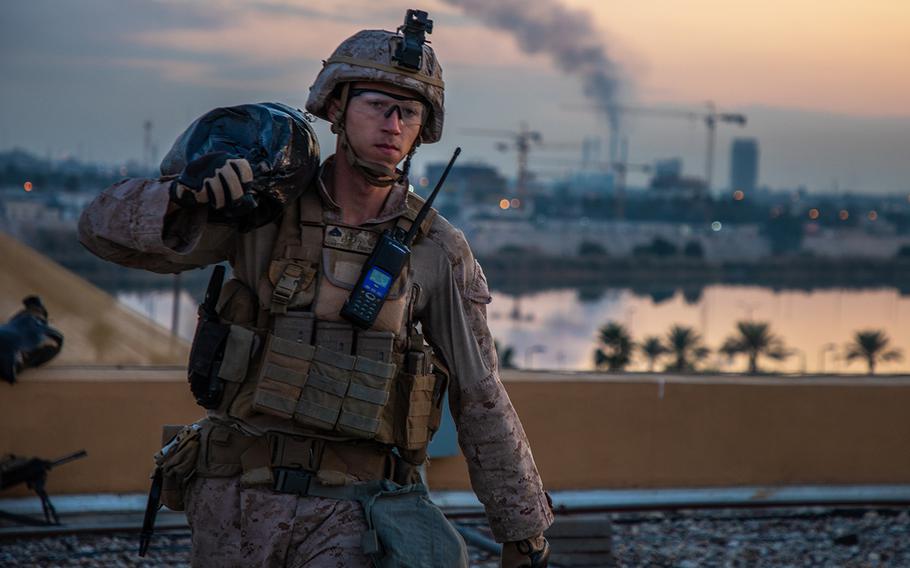 IRBIL, Iraq — President Donald Trump again threatened to strike Iran in response to any attack on American targets for the second night in a row Sunday as rockets again fell on an area of Baghdad near where the U.S. Embassy is located.
"These Media Posts will serve as notification to the United States Congress that should Iran strike any U.S. person or target, the United States will quickly & fully strike back, & perhaps in a disproportionate manner," Trump said on Twitter.
Iran and its proxies have pledged to retaliate for the U.S.'s killing on Friday of influential Iranian military commander Qassem Soleimani and a key leader of Iraq's Shiite militias, Abu Mahdi al-Mohandis. They've also pledged to drive the Americans out of Iraq and the region.
The U.S.-led coalition has halted training Iraqi security forces and supporting their anti-Islamic State operations in order to focus on beefing up security at bases hosting coalition troops.
Less than an hour before Trump's tweet, sirens had sounded in the heavily fortified Baghdad international zone, or Green Zone, where government buildings and foreign diplomatic compounds are located, the regional news outlet Al-Arabiya reported. Several members of a civilian family were wounded, it reported.
Three rockets had hit the area, the Iraqi government's security media cell said. Two of the rockets struck inside the Green Zone, it said.
Army Maj. Charlie Dietz, a spokesman for the coalition's Iraq task force, said the strike outside the Green Zone hit a house.
"I know I'm late, but after the kind of day it's been here, Twitter was the last thing I wanted to see as we crowded in the bunker," he wrote.
The new rhetoric and rocket fire came a little more than 24 hours after a series of strikes hit the same area of Baghdad, wounding several civilians. Other strikes also hit Balad Air Base, where U.S. troops are housed, and a soccer field in Mosul, but caused no casualties.
Trump had tweeted after those attacks that the U.S. was prepared to strike 52 sites in Iran, some of which he said were important to the culture there, which some critics read as a threat to target cultural sites illegally.
The bellicose language comes amid a series of escalations that began when a rocket strike on a base in Iraq's Kirkuk province killed a U.S. civilian contractor and wounded four troops.
The U.S. blamed Iran-backed militia Kataeb Hezbollah for that and other similar rocket strikes, and American warplanes struck five of group's sites last week in response.
Upset over what some called an American infringement on Iraqi sovereignty, the country's parliament voted earlier in the day to approve a nonbinding resolution calling on the government to expel the U.S.-led coalition, supported largely by Shiite lawmakers, including a bloc with ties to the militias.
Iraq's foreign ministry also summoned U.S. Ambassador Matthew Tueller on Sunday for a meeting with Undersecretary Abdul Karim Hashim Mustafa.
The ministry condemned the strikes as "illegal military operations" that were heightening tensions when the U.S. should be working assist Iraq in reducing pressures and resolve the crises afflicting the region.
garland.chad@stripes.com Twitter: @chadgarland