Trump: No Americans harmed in attack by Iran, which 'appears to be standing down'
by
Caitlin M. Kenney Corey Dickstein
January 8, 2020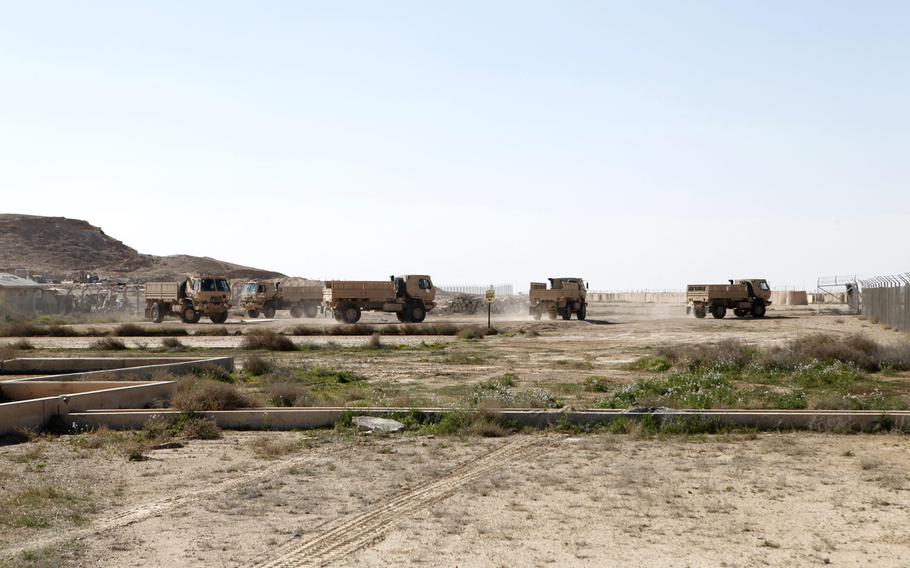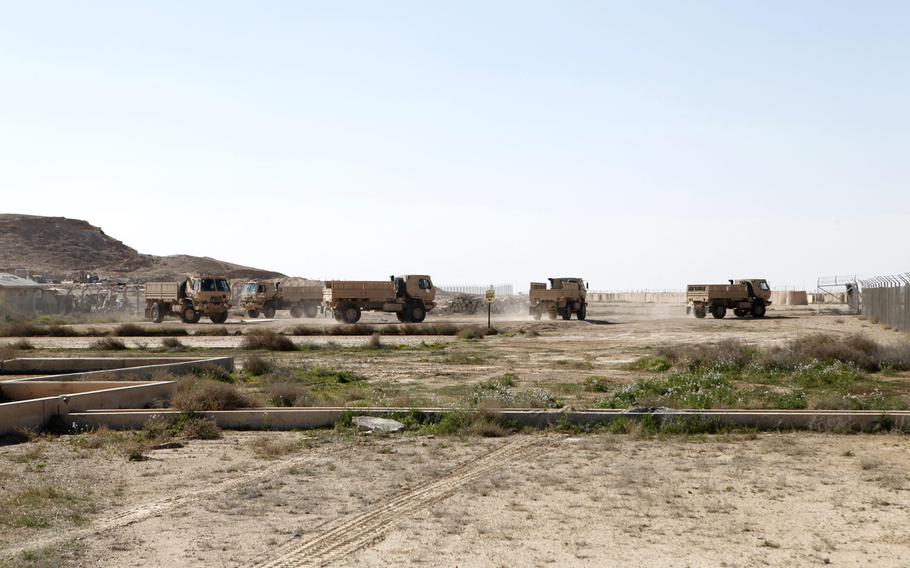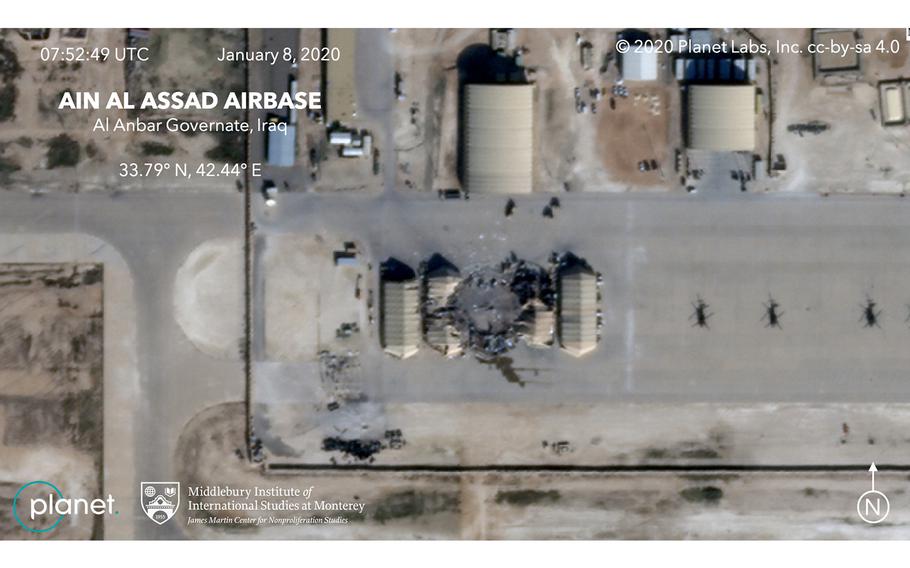 WASHINGTON — President Donald Trump said no American troops were injured or killed in an attack Tuesday night by Iran, which launched more than a dozen ballistic missiles at Iraqi bases hosting American troops in retaliation for the United States killing one of Iran's top military leaders.
"I am pleased to inform you, the American people should be extremely grateful and happy no Americans were harmed in last night's attack by the Iranian regime," Trump said Wednesday morning in a brief White House address, flanked by his top national security officials. "We suffered no casualties – all our soldiers are safe and only minimal damage was sustained at our military bases."
No Iraqis were harmed or killed in the attacks either, Trump said, touting a successful "early warning system" that allowed troops to disperse ahead of the bombardment.
"Iran appears to be standing down, which is a good thing for all parties concerned and a very good thing for the world," Trump said, seeming to indicate the U.S. military would not retaliate for the Tuesday missile strike. But the president announced he would impose new, "punishing economic sanctions" on Iran until it "changes its behavior."
Trump vowed Iran would not be allowed to pursue nuclear weapons, touting the strength of U.S. forces and calling on other nations to disown and renegotiate the 2015 agreement that limited Iran's nuclear programs, which he chose to walk away from in 2018.
"We must work together to make a deal with Iran that makes the world a safer and more peaceful place," Trump said. "We also must make a deal that allows Iran to thrive and prosper and take advantage of its enormous untapped potential. Iran can be a great country."
The president said he would ask NATO to increase its involvement in the Middle East.
On Tuesday about 5:30 p.m. EST, more than a dozen short-range ballistic missiles struck the two Iraqi bases that house American troops, according to Pentagon officials. But Iraqi and other officials said they had received early warning that the Iranians would launch the attack, providing U.S. and other military troops at the bases time to prepare.
Despite apparent measures to limit the impact of the missile strikes, Iran claimed high casualties in the attacks, which targeted al Asad Air Base and U.S. troops in Kurdish northern Iraq. Its elite military force, the Islamic Revolutionary Guard Corps, which launched the missiles, claimed 80 American troops were killed and another 200 injured, according to Fars News, an Iranian state-run news service closely tied to the IRGC.
The Iranians named the attack "Martyr Soleimani," claiming responsibility for it immediately and announcing it was the promised retaliation for the death of Maj. Gen. Qassem Soleimani, the commander of Iran's elite Quds Force, who was among the closest advisers to Ayatollah Ali Khamenei, Iran's supreme leader, and was revered among Iran-backed forces across the Middle East. Soleimani, who was killed by a drone-fired missile Jan. 3 at the international airport in Baghdad, was responsible for Iran's operations outside its borders, including the training and coordination of Tehran's proxy forces in nations including Iraq, Syria, Yemen and Lebanon.
Trump on Wednesday described Soleimani as the "world's top terrorist," who was responsible for hundreds of American deaths on battlefields in Iraq during the last two decades. Trump repeated other top U.S. officials' recent assertion that the strike was necessary to at least partially thwart an imminent attack that the Iranian general was planning on Americans in the Middle East.
"But we stopped him," Trump said during his nearly 10-minute speech. "Solemeini's hands were drenched in both American and Iranian blood. He should have been terminated years ago."
In Iran, Khamenei called the missile attacks a "slap across the face" to America in an address to his nation Wednesday, according to Iranian media. He said the military strike alone was "not sufficient" to avenge Soleimani's death and vowed to expel American troops from the Middle East. Khamenei also threatened Israel in his speech.
But Iranian Foreign Minister Javad Zarif wrote in a tweet late Tuesday that Iran had launched and concluded the attack, describing it as a "proportional measure" in response to Soleimani's death.
"We do not seek escalation or war, but will defend ourselves against any aggression," Zarif tweeted, seeming to indicate additional attacks might not come if Trump did not order U.S. retaliation for the missile strike.
Meanwhile, Iran-backed Shiite militia groups in Iraq vowed their own retaliation for the deaths of Soleimani and Abu Mahdi al-Muhandis, the leader of a key Iraqi Shiite militia aligned with Iran, who died in the strike alongside the Quds Force leader.
Trump warned against further attacks, touting increased Pentagon spending under his administration.
"U.S. armed forces are stronger than ever before. Our missiles are big, powerful, accurate, lethal and fast," Trump said. "The fact that we have this great military equipment, however, does not mean we have to use it. We do not want to use it."
Lawmakers on Capitol Hill and policy analysts said Wednesday that Trump's apparent decision not to launch a military response could ease tensions between Washington and Tehran.
Sen. Lindsey Graham, R-S.C., tweeted praise for the president's speech, calling it "measured and firm."
"All Americans should support President Trump's efforts to resolve the threat from Iran peacefully and fully understand the Maximum Pressure campaign must continue with a credible military component," he wrote.
Another Republican, Rep. Matt Gaetz of Florida praised Trump as advancing "peace through mindful restraint."
"Our strength will not be weakened by Iran's provocations," he said in a tweet. "I am thankful that @realDonaldTrump will keep us out of another forever war."
Richard Fontaine, the chief executive officer of Washington think tank Center for a New American Security, called Trump's apparent restraint after the attack "a welcome sign."
"Iran's Supreme Leader does not seek an all-out war with the United States, and President Trump does not want a new war in the Middle East," Fontaine said after the president's speech. "This reality, combined with the pause following last night Iranian missile attack, opens up possibilities for de-escalation."
The Iranian attack targeted two Iraqi bases that house American forces – at least six missiles struck al Asad Air Base in western Iraq's Anbar province and another hit in Irbil in northern Iraq's semi-autonomous Kurdish region. Several missiles failed to hit their target, U.S. officials said Wednesday on the condition of anonymity because damage assessments were ongoing.
Iraq's outgoing Prime Minister Adel Abdul-Mahdi announced Wednesday he had been notified by Iran that retaliation for Soleimani's death "was starting or would start soon" more than an hour before missiles struck the Iraqi bases. Military officials from Finland and Lithuania also reported receiving information that an attack was coming in time to take shelter. Those countries have some military personnel at al Asad Air Base.
Defense Secretary Mark Esper and Army Gen. Mark Milley, the chairman of the Joint Chiefs of Staff, were at the Pentagon during the Iranian attacks and spoke by phone with Trump, Vice President Mike Pence and national security officials, according to a defense official who spoke on the condition of anonymity to discuss the attacks. Esper and Milley later went to the White House to brief Trump and Pence further on the attacks and discuss the situation, the defense official said.
Pentagon officials on Wednesday reaffirmed the United States had not intentions to withdraw its forces from Iraq, and Trump called on Iran to work with his administration to rid the world of Islamic State, which American troops are in Iraq to fight.
Despite Trump's insistence that ISIS had been "100% defeated" in Iraq and Syria, U.S. officials have said the terrorist group retains capable underground networks.
"ISIS is a natural enemy of Iran," Trump said. "The destruction of ISIS is good for Iran, and we should work together on this and other shared priorities.
"The United States is ready to embrace peace with all who seek it."
The Associated Press contributed to this story.
Dickstein.Corey@stripes.com @CDicksteinDC
Kenney.Caitlin@stripes.com @caitlinmkenney
---
---
---