Truman Strike Group extended
By
Chris Church church.chris@stripes.com
April 30, 2016
---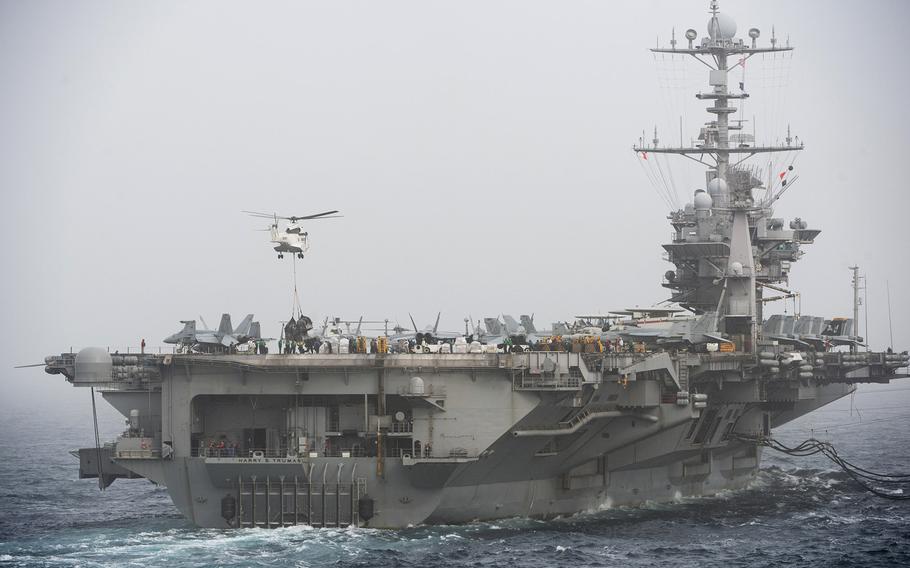 MANAMA, Bahrain — The Harry S. Truman carrier strike group's deployment will be extended 30 days to support Operation Inherent Resolve and other counterterrorism efforts, the Navy announced Friday.
"This decision is central to our ongoing effort to dismantle and roll back terrorist networks in Syria, Iraq and elsewhere," Chief of Naval Operations Adm. John Richardson said in a statement.
The Truman strike group has played an important role in the campaign to destroy the Islamic State in Iraq and Syria as well as going after al-Qaida, Richardson said.
As of April 15, the strike group had delivered the most carrier-base ordnance during Operation Inherent Resolve. Carrier Air Wing 7, which is embarked on the aircraft carrier USS Harry S. Truman, completed 1,407 combat sorties, delivering 1,118 precision-guided munitions equaling more than 580 tons of ordnance.
The Strike group was originally to be the first to complete a seven-month deployment for a carrier group since the Navy announced their goal in 2014. Amphibious ships and submarines have already met that goal.
"Before deviating from our seven-month deployments, we consider each combatant commander's request to ensure the readiness of our naval forces," said Richardson. "We will do everything we can to mitigate the impact on our families and execute planned seven-month deployment lengths going forward."
---
---
---
---