Townsend marks Iraqi victory in Mosul, pledges continued coalition support against ISIS
---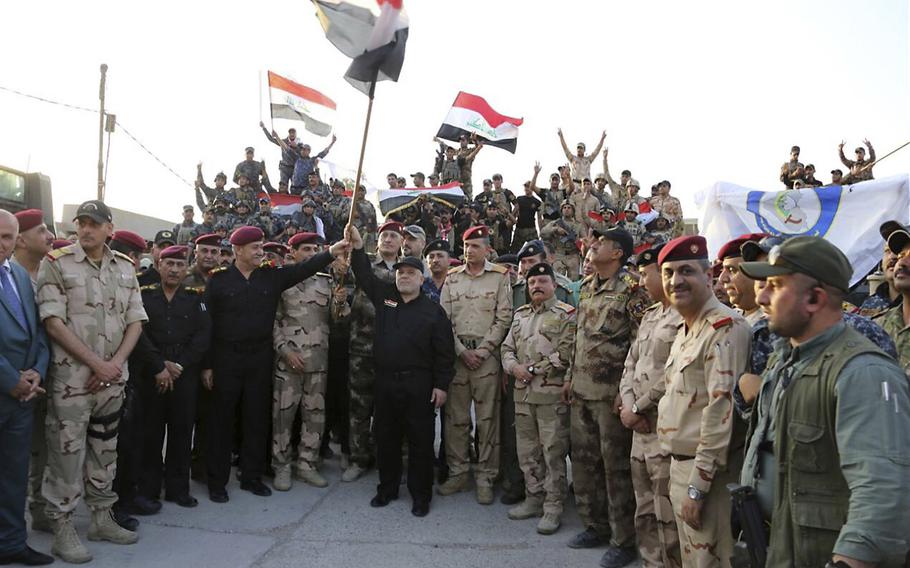 Army Lt. Gen. Stephen J. Townsend, commander for the anti-Islamic State coalition, congratulated Iraqi security forces Monday for liberating Mosul, a "jewel of [ISIS's] so-called caliphate" in Iraq and pledged continuing support in the fight against the terrorist group.
"Make no mistake, this victory alone does not eliminate ISIS, and there's still a tough fight ahead," Townsend, commanding general of Operation Inherent Resolve, said in a recorded video address from Baghdad.
Iraqi Prime Minister Haider al-Abadi declared victory Monday, after more than 250 days of fighting for the city, which was held by ISIS for three years and was once home to about 2 million Iraqis. The Mosul campaign, one of the largest in modern history, was led by Iraqi forces supported by Kurdish forces, sectarian militia groups and the U.S.-led coalition.
"I announce from here the end and the failure and the collapse of the terrorist state of falsehood and terrorism, which the terrorist Daesh announced from Mosul," al-Abadi said in a televised speech, using an Arabic acronym for ISIS.
Townsend called the defeat of ISIS in Mosul -- Iraq's second largest city and the largest population center that the group controlled in the world -- a "decisive blow."
"Mosul would have been a challenging fight for any army, and the coalition is proud to stand side-by-side with our Iraqi partners as they celebrate their hard-fought victory," he said.
Townsend said Iraqi militia groups, Kurdish forces -- known as peshmerga -- and the coalition also deserve credit for their sacrifices in the campaign.
Earlier in the day, Brett McGurk, special presidential envoy for the Global Coalition to Defeat ISIS, said on Twitter that he met with Kurdish President Masoud Barzani to discuss the Mosul recovery effort and "new surprises in store for ISIS." The United States is supporting fighters battling the terrorist group in Syria as well.
In Mosul, areas of the densely packed Old City need to be "back-cleared of explosive devices and possible ISIS fighters in hiding," the coalition said in a statement.
ISIS also has sanctuaries in western Iraq, near the border with Syria in al-Qaim and Tal Afar, and in Hawija, an area west of Kirkuk, according to the Institute for the Study of War, a nonpartisan think tank in Washington that tracks the group's territorial control.
Townsend called on Iraqis to unite to ensure that ISIS is defeated throughout the country and to prevent a return of the conditions that allowed the group's rise.
"The coalition will continue to support our Iraqi partners until ISIS is defeated in Iraq," he said.
garland.chad@stripes.com Twitter: @chadgarland
---
---
---
---