To U.S. troops, German soldiers' plight was 'very personal for us'
by
Marcus Kloeckner
June 13, 2010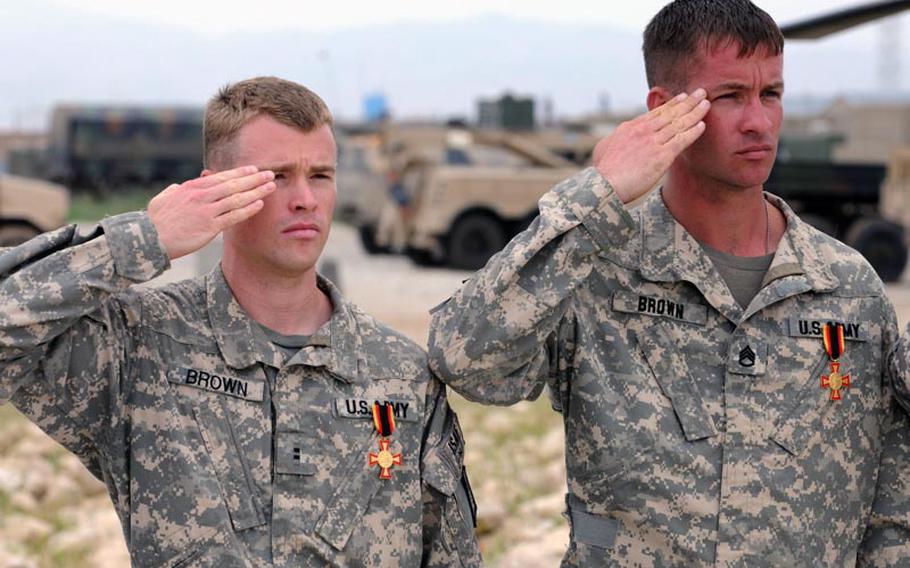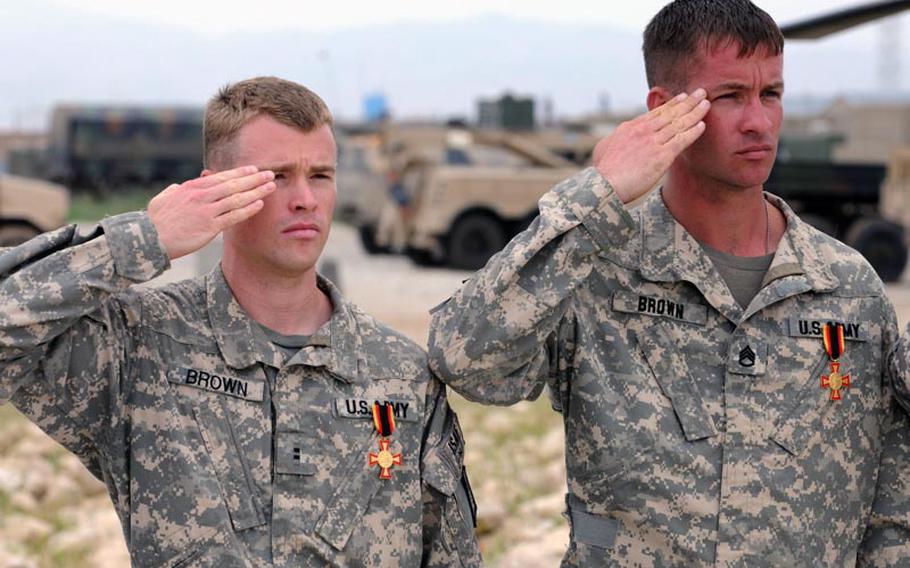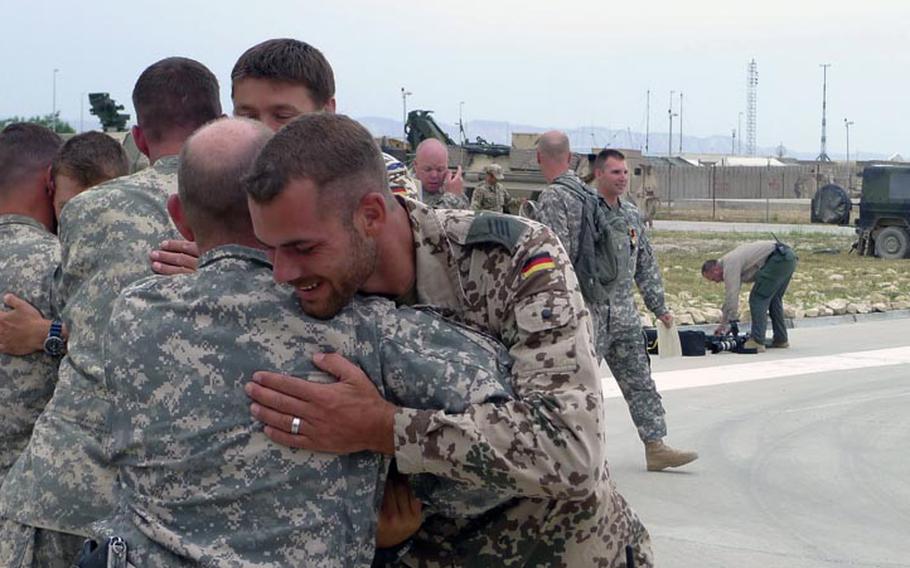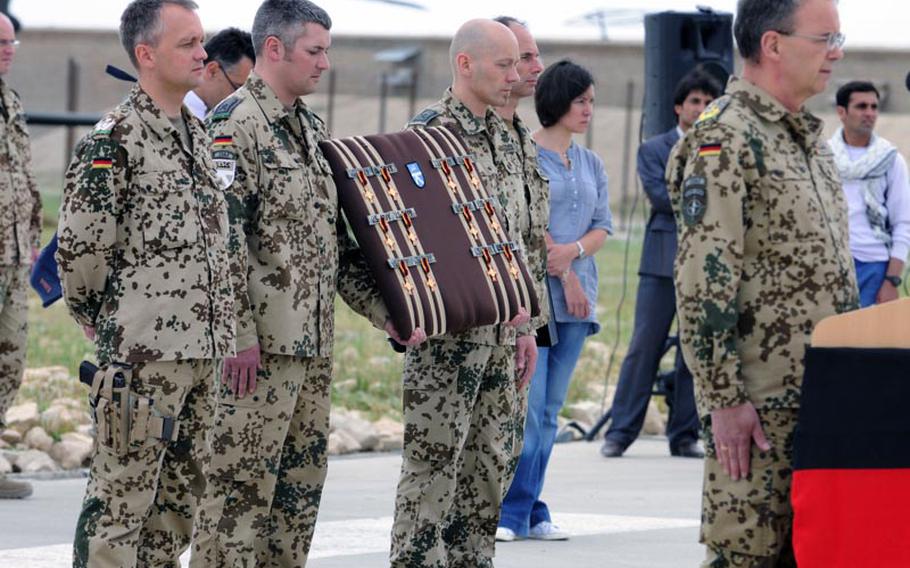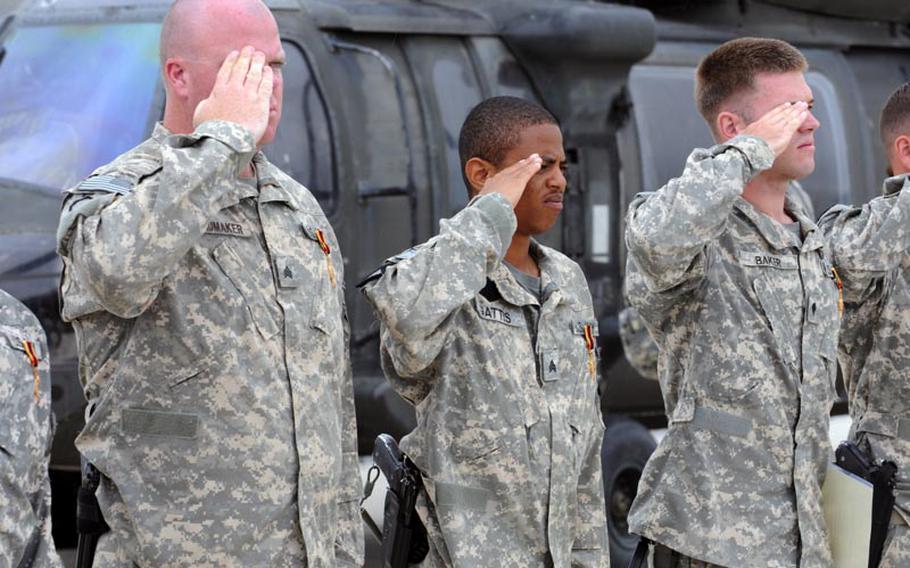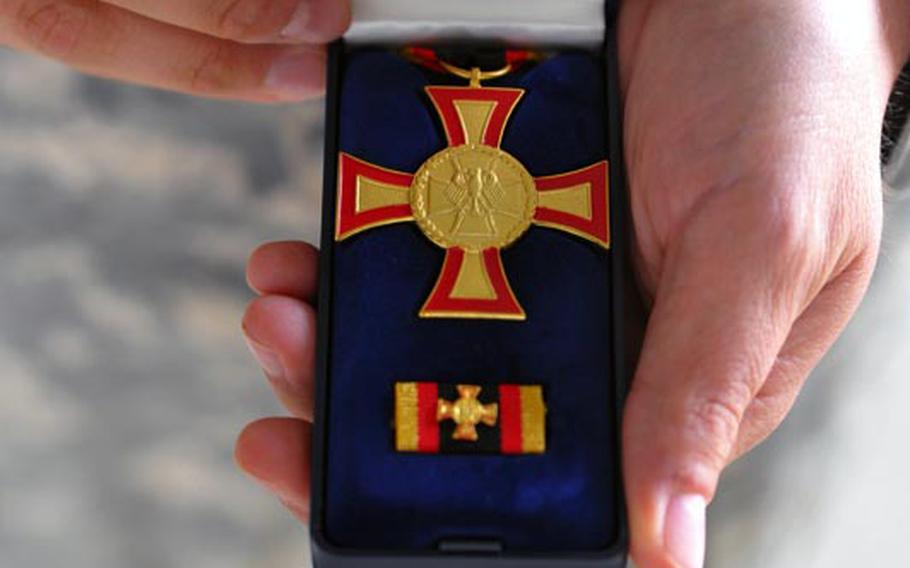 Chief Warrant Officer 3 Jason LaCrosse was chatting with a fellow soldier about a famed German fighter pilot from World War II when a radio call came into their base in Kunduz, Afghanistan: German soldiers needed help.
Over the next few hours, members of the 12th Combat Aviation Brigade evacuated dead and wounded Germans from an intense firefight that a German air controller said was the worst for his army since World War II. The Americans, who performed the rescues under heavy fire, became the first foreign troops to receive the Gold Cross, the German army's highest medal for valor, and ensured that their exploits will likewise be talked about for years to come.
Sgt. Antonio Gattis, a medic who received one of the medals, said they felt a kinship with the Germans, who live on the same compound. That made the mission personal.
"Kunduz is a small community," he said. "We drink with these guys, we eat with these guys, we work with these guys; it is very personal for us if something happens to them."
Germans ambushed
The German platoon was on a routine mission on April 2 in the Chahar Darah district, southwest of the city of Kunduz. The area was known to be hostile, but as platoon members spread out to secure the village, one group was greeted by friendly children, German Pfc. Dennis recalled. (The German army would allow only the soldier's first name for this story.)
But before long, shots rang out from the other side of the village. As Dennis and others tried to reach their fellow soldiers, they also took fire. Shots came from mud houses in the village and a nearby valley, as well as from trenches surrounding the village.
"You could barely see them," Dennis said. "You should not think these are simply farmers. They know how to fight."
Dennis' group returned fire as it worked toward the site of the original gunfire. On the way, the soldiers came across a group of German soldiers, including one who was receiving medical treatment — he later died. Moving closer to the fighting, they saw a soldier who was shot in the legs. They moved him to a safer place before continuing.
Americans arrive
When LaCrosse, the pilot and air mission commander, Staff Sgt. Travis Brown and two others flew in by Black Hawk, they found 25 Germans pinned down. Dennis and his comrades were fighting for their lives.
To LaCrosse, it "was like flying into a hornet's nest, with 200 Taliban shooting at us.
"They were shooting at us from compounds, they were shooting at us from an open field, they were shooting at us from a tree line. Heavy fire came from all directions. I had two [rocket-propelled grenades] crisscross underneath my tail as we were coming in to land, and the aircraft was getting hit so much by small rounds ricocheting that you could see sparks flying off of our tail."
The helicopter drew the Taliban's fire, allowing the unhurt German troops to flee. The crew aborted its first landing attempt amid the fire, but ultimately managed to land three times and carry out three wounded Germans to the NATO hospital in Kunduz.
As they flew back to Kunduz for the third time, Brown warned that a wounded German was in rough shape. "We need to get there now," he told LaCrosse.
When the Black Hawk touched down, the wounded soldier was quickly rushed to the hospital. He survived.
Roadside bombs
By this time, the Germans had reunited and prepared to leave the village. But a German armored vehicle, a Dingo, hit a roadside bomb on its way out and several soldiers who were walking next to it needed help, including Pfc. Dennis.
"My lungs were burning, but I quickly moved behind a tree because I thought they would fire with rocket launcher to destroy the Dingo completely," he said.
He lost his weapon and pulled out a handgun. When he had time to take stock of his situation, he realized he was bleeding from fragments of rock that had struck his arm. This time, two Black Hawks, including LaCrosse's, came to the rescue.
But the wounded soldiers were still being treated on the ground by Germans and were not ready to be picked up. The helicopters, airborne for almost two hours, were low on fuel and couldn't linger. They raced back to Kunduz to quickly refuel.
When the Americans returned, Dennis was lying on the ground, being treated for his injuries.
"I saw this guy who walked to me wearing a helmet like Darth Vader," he said.
It was Brown, there to help.
After returning Dennis and others to the base, the Americans returned for one last run, to pick up a German who was killed and three who were wounded when a second German vehicle struck a bomb.
By the end of the day, Americans had evacuated 11 German soldiers, including three who were killed.
Brown said he didn't expect to receive a medal.
"We were just glad we could help," he said.
---
---
---
---