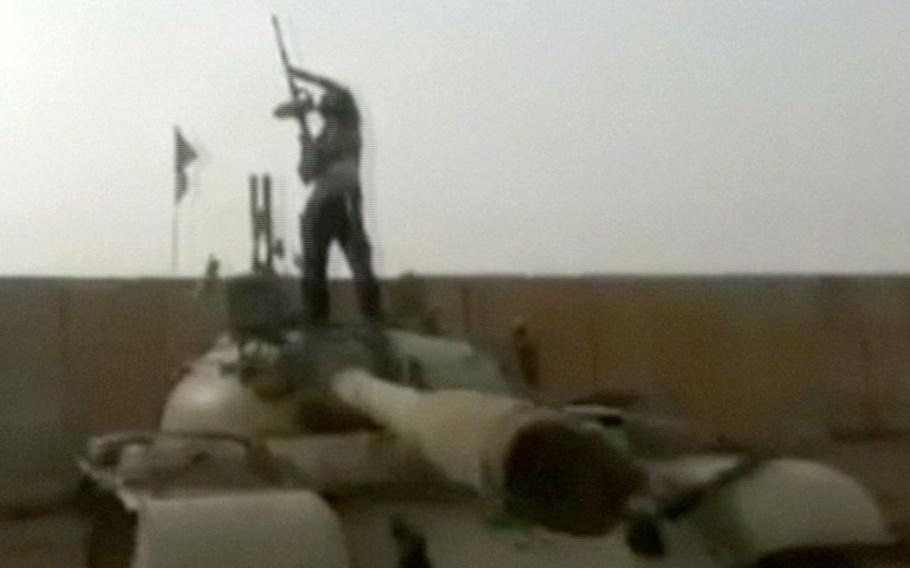 This timeline reflects snapshots along the course of the more than seven-year war in Iraq. It is not meant to be a complete annotated guide to important moments.
2003March 19: Bombs start to fall on Iraq, quickly followed by a ground attack launched from Kuwait. War begins.
April 5: U.S. forces enter Baghdad.
April 9: Hundreds of jubilant Baghdad residents take to the streets, tearing down posters of Saddam Hussein and looting government buildings as U.S. forces fan out to the north and west. U.S. Marines help topple a statue of Hussein and a Shiite Muslim leader tells his followers: "The tyrant of the world is finished, thanks to the coalition."
May 1: Just 43 days after announcing the start of the war in Iraq, President George W. Bush tells the nation that "major combat operations in Iraq have ended," speaking on the deck of the aircraft carrier USS Abraham Lincoln in front of a banner proclaiming "Mission Accomplished."
July 27: Uday and Qusay Hussein Saddam, sons of Saddam, killed in a gun battle in Mosul.
Aug. 19: Huge explosion devastates the United Nations compound in Baghdad, killing 22 people including a top U.N. aide.
Aug 29: Explosion near the main Najaf mosque kills more than 90 including Shiite leader Ayatollah Mohammad Baqir al-Hakim, setting off a power struggle within the Shiite community.
Oct. 22: Rockets strike the al-Rashid Hotel in Baghdad's Green Zone, killing a U.S. lieutenant colonel and wounding 17 others.
Nov. 2: Thousands of U.S., British and Iraqi forces storm Fallujah, regaining control of the city.
Dec. 14: Saddam found in a hole in the ground near Tikrit.
2004Jan. 17: Death toll of US troops hits 500 as fighting spreads throughout the "Sunni Triangle" north and west of Baghdad.
March 31: Fallujah mob kills four contractors, whose bodies are burned, dragged through town and hanged, prompting a U.S. assault on Fallujah that is called off under political pressure from Iraqi political leaders. Extremists remain in control.
April 30: Abu Ghraib prison photos surface, showing abuse of prisoners by their U.S. captors.
June 28: U.S. officially transfers power back to Iraqis.
Sept. 7: Death toll of U.S, troops surpasses 1,000.
Nov. 7: Thousands of U.S., British and Iraqi troops storm Fallujah in a seven-week operation that claims 95 U.S. lives but succeeds in capturing the city.
Dec. 21: Suicide bomber kills 22 at forward operating base Marez in Mosul. One of the deadliest days for U.S soldiers.
2005Jan. 27: 31 Marines die in helicopter crash and six die elsewhere. Deadliest day of the war for U.S.
Jan. 30: About 8.5 million Iraqis vote, which is 58 percent of those eligible.
April 7: Shiite-led government installed and Ibrahim al-Jaafari becomes prime minister.
Sept. 14: More than 150 killed in Baghdad. Al-Qaida in Iraq claims responsibility.
Oct. 19: Saddam Hussein goes on trial.
Oct. 25: U.S. death toll: 2,000.
Dec 15: General election for Iraqi National Assembly.
2006Feb. 22: Shiites' most revered shrine, Askariya mosque in Samarra, is bombed by insurgents, triggering massive reprisal attacks against Sunnis and plunging the country to the brink of civil war.
March 19: Time magazine reports that Marines killed 15 Iraqi civilians in Haditha after a member of their unit is killed in a bombing. Total dead from the Nov. 19, 2005, attack was 24.
May 20: After protracted negotiations, Shiite politician Nouri al-Maliki becomes prime minister.
June 7: 500-pound Air Force bomb kills Abu Musab al-Zarqawi, leader of al-Qaida in Iraq.
July: Country is on the verge of civil war. 3,000 Iraqis killed, mostly in sectarian massacres.
October: More than 3,700 Iraqi civilians die during the month.
Nov. 5: Saddam Hussein found guilty and sentenced to death.
Nov. 8: Defense Secretary Donald Rumsfeld resigns; Robert Gates takes his place.
Dec. 30: Saddam Hussein hanged.
Dec. 31: 3,000 U.S. troops dead.
2007January: 20,000 more troops going to Iraq through June. The surge begins.
April: 12,000 more National Guard troops sent to Iraq.
Aug. 14: Four suicide bombs kill at least 500 Iraqis and wound more than 1,500 – the deadliest suicide bombing to date.
September: President George W. Bush announces plan to withdraw 39,000 troops by July 2008.
Dec. 16: British troops hand over control of Basra province to Iraqis.
2008Jan. 1: Suicide bombing kills more than 30 in worst attack in months.
Feb. 10: Car bombs kill at least 11 in southern Baghdad during a visit by Defense Secretary Robert Gates.
Feb. 22: Turkey sends tanks and troops into northern Iraq after cross-border attacks by Kurdish rebels. Turks withdraw a week later
March: 19 U.S. troops killed; lowest monthly U.S. death toll of the war as Iraqi forces take the lead in fighting.
March 17: Vice President Dick Cheney makes a surprise visit to Baghdad, saying that U.S. soldiers would "not quit before the job was done."
March 19: Five-year anniversary of the war.
March 23: 4,000 U.S. troops dead.
March 25: Against advice of U.S. commanders, Prime Minister Nouri al-Maliki launches attacks against Shiite rivals in Basra. The attack bogs down, U.S. intervenes with airstrikes in support of al-Maliki.
March 31: Cease-fire in Basra.
April 20: Battles end in Baghdad's Shiite district of Sadr City.
April 23: Army Gen. David Petraeus, the top U.S, commander in Iraq, is chosen to lead U.S, Central Command. Army Lt. Gen. Raymond Odierno will take over in Baghdad.
July 22: The U.S. troop surge in Iraq ends, leaving just under 147,000 American soldiers in Iraq.
Sept. 9: President Bush announces that 8,000 troops will be withdrawn from Iraq by February, with 4,500 being sent to Afghanistan.
Nov. 17: Iraq's Cabinet approves plan for all U.S. troops to leave Iraqi cities by the end of June 2009 and withdraw from the country by the end of 2011.
Dec. 31: The deadliest year for U.S. troops ends, with 899 dead.
2009Feb. 6: President Barack Obama weighs withdrawal options as he considers a new Iraq strategy.
March 22: The release of hundreds of prisoners from Camp Bucca, a U.S.-run prison in southern Iraq, is said to have facilitated the revival of Shiite militias and Sunni insurgents in Basra, Baghdad and along the Euphrates.
March 31: British forces hand over command of Basra province to U.S., marking the first step in the withdrawal of most of Britain's 4,100 remaining troops.
April 7: President Barack Obama visits Iraq for the first time as commander in chief.
April 24: Two suicide bombers kill at least 75 people outside a revered Shiite shrine in northern Baghdad.
May 17: Tensions between Sunni Arabs and Kurds boil over in Nineveh, the northern Iraqi province that includes Mosul.
June 30: The U.S, withdraws its remaining combat troops from Iraq cities and turns over security to Iraqi police and soldiers. More than 130,000 U.S. troops remain in the country.
July 9: Attacks in Baghdad and a city in northern Iraq kill at least 41 people and wound dozens more, the worst violence since Iraq celebrated the withdrawal of American troops from cities and towns.
Aug. 19: A string of attacks in Baghdad kill at least 95 people and wound more than 530.
Oct. 3: Huge crackdown in north Iraq snares 150 insurgents in northern Nineveh province, the most violent region.
Oct. 25: Twin car bombs in central Baghdad are the deadliest attack in the country in more than two years. 132 dead; more than 500 wounded. Sunni extremist group Islamic State of Iraq, the rebranded al-Qaida in Iraq, claims responsibility.
2010Jan. 1: Judge dismisses charges against five Blackwater Worldwide security guards accused of killing 14 Iraqi civilians in a controversial shooting in a Baghdad square two years ago. The decision is met by bitter resentment of the American occupation.
Jan. 2: U.S. commanders announce a first month without a combat death since the war began.
March 7: Iraq parliamentary election hit by insurgent attacks, with at least 35 killed. No coalition wins enough votes for a majority in parliament. Iraq remains without a new government three months later.
April 19: U.S. forces kill the two leading al-Qaida figures in Iraq.
May 5: Iraq's two top Shiite blocs merge under pressure from Iran, almost two months after the national elections. Prime Minister Nouri al-Maliki wins new term.
Aug. 31: Operation New Dawn set to begin, with 50,000 U.S. troops remaining in Iraq. President Barack Obama declares an end to the seven-year American combat mission in Iraq, saying the U.S. has fulfilled its responsibility to the country.
2011Aug. 19: Last U.S. combat brigade leaves Iraq. About 52,000 U.S. troops remain.
Sept. 1: Operation Iraqi Freedom renamed Operation New Dawn, reflecting reduced U.S. role.
Oct. 17: U.S. and Iraq fail to come to agreement on legal immunity for residual training force to remain in Iraq after the troop withdrawal.
Oct. 21: President Barack Obama announces all U.S. troops will leave Iraq at year's end.
Dec. 15: U.S. formally ends with a flag casing ceremony in Baghdad.
Dec. 18: The last U.S. convoy rolls across the border into Kuwait, bringing down the curtain on the U.S. war in Iraq.
SOURCES: Stars and Stripes, CNN.org, mideast.org, Associated Press; xtimeline.org; the BBC, AOLNews.com, New York Times
---
---
---
---