Three Americans killed in Afghanistan identified, flown out
By
Josh Smith smith.josh@stripes.com
August 13, 2013
---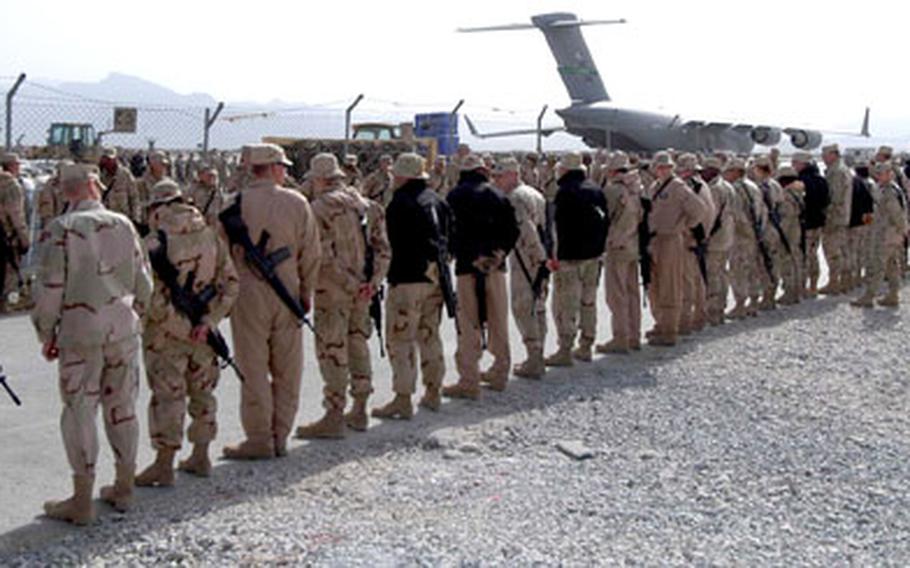 FORWARD OPERATING BASE SALERNO, Afghanistan — The open ramp of the C-130 aircraft sent a beam that split the night.
It was late — nearly 2 a.m. — but hundreds of soldiers stood in the rain-soaked mud of the runway, forming two long lines that stretched into the darkness.
Hours earlier, on Sunday, three of their fellow soldiers had died defending an outpost from incoming fire. Now, three flag-draped stretchers were solemnly carried onto the aircraft, beginning the long series of flights that would take their remains home to their families. After them came their wounded comrades.
The soldiers killed were Staff Sgt. Octavio Herrera, 26, of Caldwell, Idaho; Sgt. Jamar A. Hicks, 22, from Little Rock, Ark.; and Spc. Keith E. Grace, Jr., of Baytown, Texas, according to a Defense Department news release.
Several others were wounded when they were hit by indirect fire, which usually consists of mortars or rockets. Herrera and Grace died at their base in Paktia province, while Hicks died after being evacuated to FOB Salerno in neighboring Khost province, the DOD release said.
Members of 4th Battalion, 320th Field Artillery Regiment, they were assigned to serve in Paktia province as part of the 4th Brigade Combat Team, 101st Airborne Division, based in Fort Campbell, Ky.
Sunday's casualties brought the total to seven deaths for the 4th Combat Brigade since it deployed in the spring.
In a statement released to Idaho media, Herrera's family said he wanted to serve in the Army since a young age.
"It seemed his calling was for a life of public service, and he told us he wanted to continue his public service after he left the military… We feel this calling was a noble thing," the statement said of Herrera, who was married.
More than 60,000 American troops remain in Afghanistan. Since 2001 at least 2,260 Americans have died, according to iCasualties.org.
Twitter: @joshjonsmith
---
---
---
---