Terminator meets with troops while filming documentary in Kuwait
---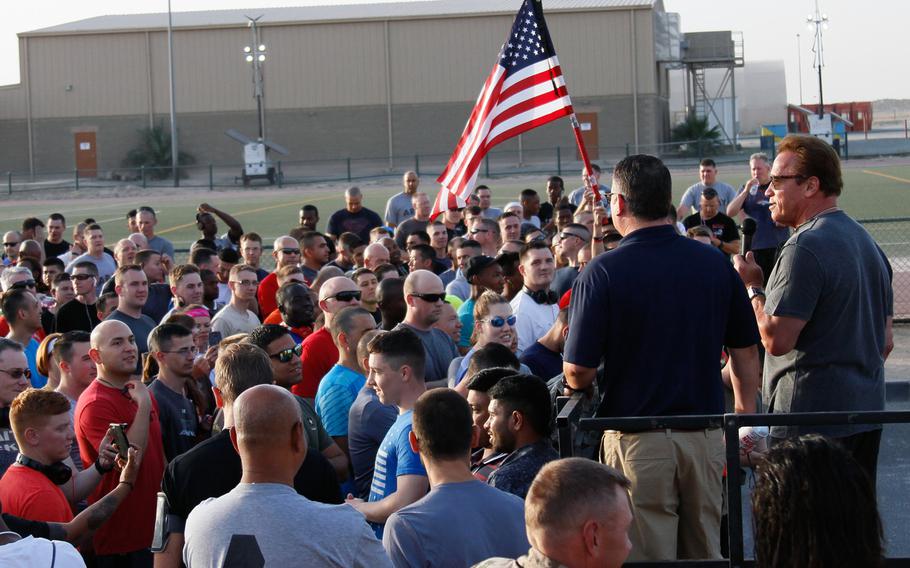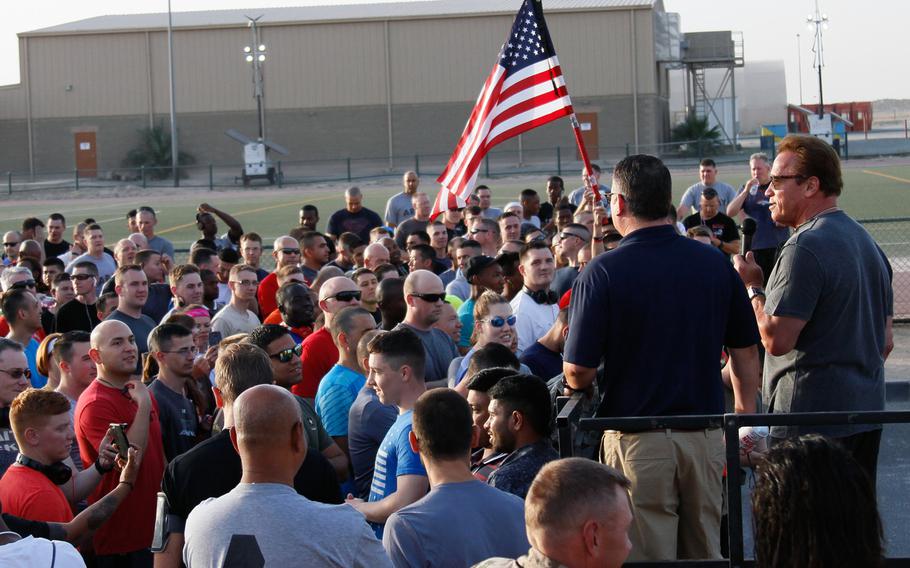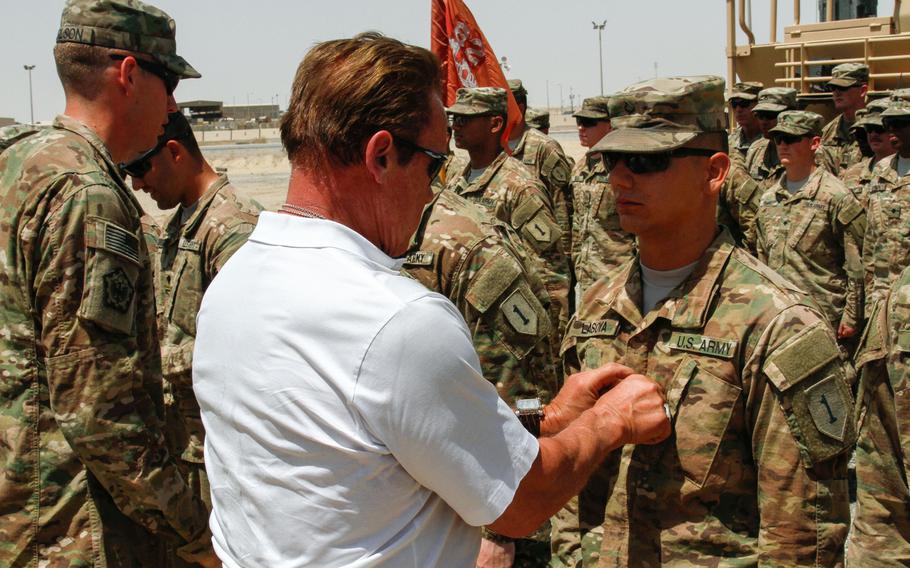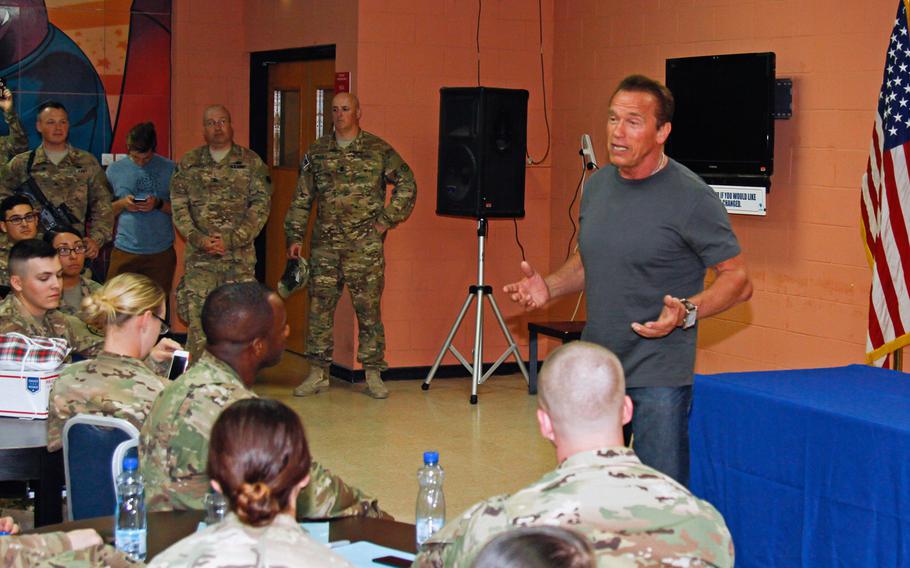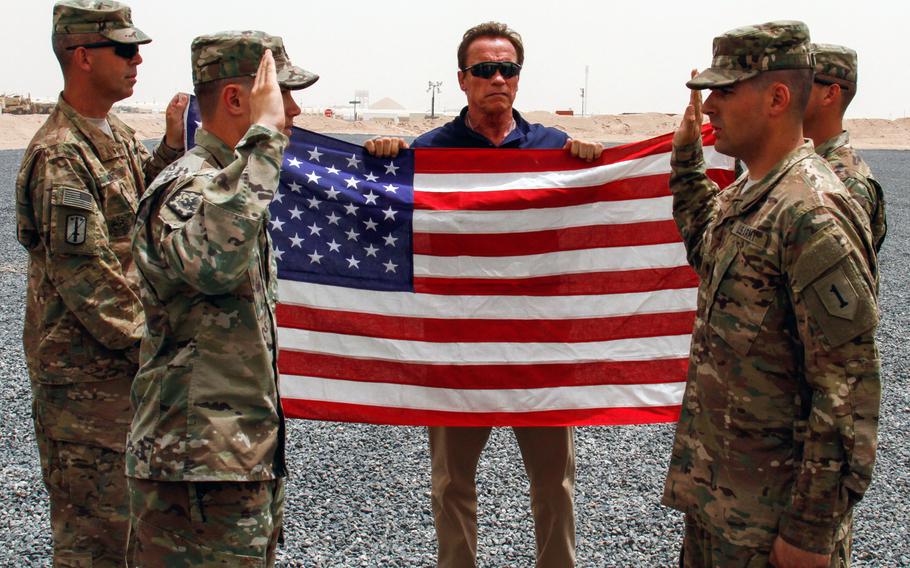 A television project on climate change brought Arnold Schwarzenegger to two of the hottest U.S. military posts on earth, where the Terminator took some time out for the troops.
"I think it is really unbelievable and so fantastic that the military is now thinking about making some of the bases green," Schwarzenegger told troops during a two-day tour of bases in Kuwait. "But while I am filming, I also want to visit the troops. I want to say hi to them, I want to tell them, 'Thank you, thank you, thank you' for the great work they're doing protecting our country."
On Wednesday and Thursday, the film star and former California governor visited Camp Buehring, a key staging area for U.S. troops in Kuwait, and U.S. Army Central's Camp Arifjan.
Green energy efforts at the bases will be part of an episode of "Years of Living Dangerously," a National Geographic television series and Internet project focused on climate change.
Schwarzenegger is an executive producer of the series, along with "Titanic" director James Cameron. Movie stars such as Matt Damon and Jessica Alba also are part of the project, which explores different aspects of climate change.
During the film shoot in Kuwait, U.S. Army Central showcased a range of efforts to become more energy efficient in the Persian Gulf monarchy, where the blistering heat means heavy air-conditioning usage.
"The USARCENT operational energy program showcased initiatives to conserve energy and resources, including installing solar power light towers, implementing solar panels and modular energy efficient structures", said Col. Wayne Marotto, U.S. Army Central spokesman, in a statement.
During his tour, Schwarzenegger spoke with officers and noncommissioned officers about leadership development, drawing on his experience as governor of California.
The film star also took part in one soldier's re-enlistment ceremony.
"I re-enlisted for two more years of active-duty service, and he was a part of the ceremony," said Spc. James Berg, a mechanic with 2nd Armored Brigade Combat Team, 1st Infantry Division, in an Army statement. "He helped hold the flag and congratulated me on making the choice to further serve my country."
Besides lauding troops, Schwarzenegger gave high marks to the chow halls.
"We're having a great time, I am trying out all of the different vehicles, driving around in these monster trucks, and having some food, delicious food by the way, on the base," he was quoted as saying in the statement.
---
---
---
---