Taliban confirm Mansour's death, appoint new supreme leader
---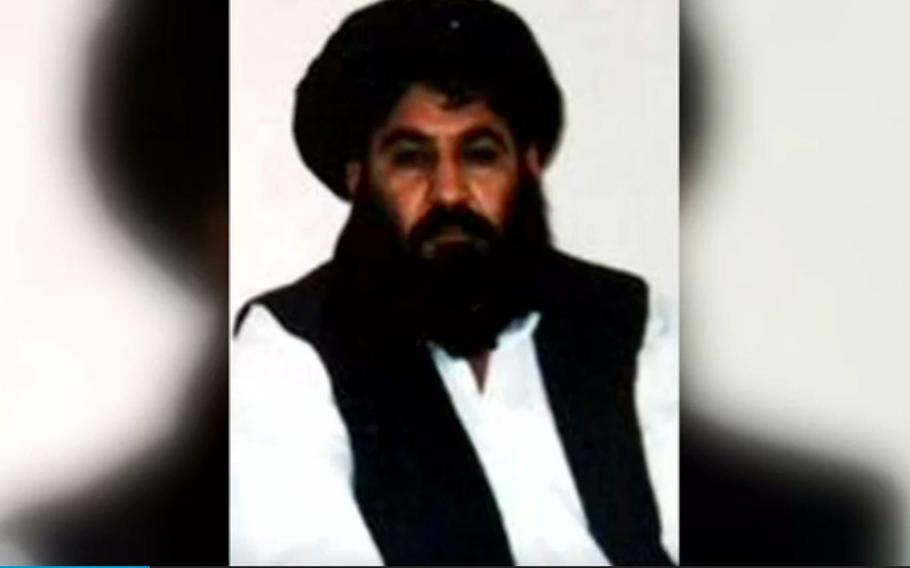 KABUL, Afghanistan — The Taliban have confirmed the death of their supreme leader, Mullah Akhtar Mansour, and announced the appointment of his successor.
In a statement issued Wednesday, the insurgent group named Mullah Haibatullah Akhundzada, one of Mansour's two deputies, as its new leader "after long discussions by the leadership council, jihadi leaders, political experts and tribal leaders."
Meanwhile in Kabul on Wednesday, a suicide bombing targeting a bus carrying Afghan court workers reportedly killed at least 11 people and wounded 10 others. The Taliban claimed responsibility for the bombing, the first major attack in the Afghan capital since Mansour's death.
Mansour was killed in a remote area of Pakistan's Baluchistan province on Saturday when a car in which he was traveling was targeted by a U.S. drone. Western intelligence agencies have long believed that Pakistani authorities have harbored Taliban leaders since the group's ouster from Afghanistan in 2001 and that many remain in the Pakistani border town of Quetta and the port city of Karachi.
In their statement, the Taliban praised Mansour's rejection of the peace talks, initiated by a four-country group comprising Afghanistan, China, Pakistan and the United States.
"During his leadership in a very difficult time and situation … (Mansour) didn't accept anyone's imposed request about a fake process and the internal and foreign pressures didn't change his mind."
President Obama has said that Mansour was involved in plots targeting U.S. and coalition forces and that he was an obstacle to the faltering peace process.
The Taliban have been fighting to overthrow the Kabul government since 2001. Mansour formally assumed leadership of the group last summer, after it was revealed Taliban founder and longtime leader Mullah Muhammad Omar had died in a Karachi hospital in 2013. Mansour had concealed this fact while leading the group covertly for two years.
The Islamist militant group said Mansour's deputy, Sirajuddin Haqqani, leader of the deadly Haqqani network, and Maulavi Mohammad Yaqub, Taliban founder Omar's son, had been appointed as Akhundzada's deputies.
Some analysts and observers had feared Haqqani would be appointed to head the insurgent group. The son of a veteran mujahedeen commander, he leads the most disciplined and sophisticated branch of the Taliban, which is believed to be behind many of the deadliest attacks, including last month's suicide bombing in Kabul that left nearly 70 civilians dead and hundreds more wounded.
In 2011, then-Chairman of the Joint Chiefs of Staff Adm. Mike Mullen called the Haqqanis a "veritable arm of Pakistan's Inter-Service Intelligence agency."
Akhundzada, a former judge under the Taliban regime, became head of the Taliban shadow courts after the Taliban were ousted from power. He was responsible for issuing fatwas, or religious edicts, justifying military and terrorist operations.
The cleric comes from southern Afghanistan and lived much of his life in Kandahar, where he has influence over madrasas, or religious schools, according to Afghan media reports.
The naming of the new Taliban leader so soon after Mansour's death surprised some analysts. Michael Kugelman, a South Asia expert with the Washington-based Woodrow Wilson International Center for Scholars, said the quick announcement may have been meant to demonstrate unity within the movement.
While not the "nightmare scenario" the appointment of Haqqani might have been, the naming of Akhundzada is still troubling, he said.
"There's no such thing as a good Taliban leader," said Kugelman, who expressed concern that Akhundzada, as a religious legal scholar, could institute the most retrograde interpretations of Islam and Islamic law. Close to Taliban founder Omar, he brings similar "religious undertones" to his leadership and could also be a unifying force, Kugelman said.
Akhundzada and his two deputies are all hardliners, said Rahimullah Yusufzai, a veteran Pakistani journalist who has covered the Taliban since the 1990s. The new leader is likely to maintain his predecessor's policy of rejecting peace talks, he said.
"I think he is the most unlikely person to enter into peace talks," Yusufzai said.
Taliban spokesman Zabihullah Mujahid told Stars and Stripes the insurgent group has a "broad and concrete policy" regarding the peace talks that "doesn't get changed with the martyrdom of a person. It will remain the same."
Despite losing a leader, Kugelman said, the realities on the ground remain the same for the militants, who have demonstrated their ability to inflict damage on Afghan security forces and take territory. That makes them unlikely to reconsider their policy, he said.
But Akhundzada may also feel the need to show his strength and gain "street cred," Kugelman said, meaning he could authorize more violent attacks and offensives.
The Taliban on Wednesday announced three days of mourning for Mansour, including prayer ceremonies, starting Thursday.
Mujahid said Wednesday's suicide bombing was a reprisal for the government's execution of six convicted insurgents earlier this month. He vowed that the "process (of revenge) will be continued."
The bus that was targeted was transporting officials from the judiciary department of neighboring Wardak province when it was attacked during the morning rush hour, an Interior Ministry spokesman said.
The last major attack in Kabul claimed by the Taliban was on April 19, when a massive bomb killed 64 people and wounded hundreds, many of them civilians.
Zubair Babakarkhail contributed to this report.
garland.chad@stripes.com Twitter: @chadgarland
---
---
---
---