Syrian government backs decision to oust Egypt's Muslim Brotherhood
By
Slobodan Lekic lekic.slobodan@stripes.com
August 18, 2013
---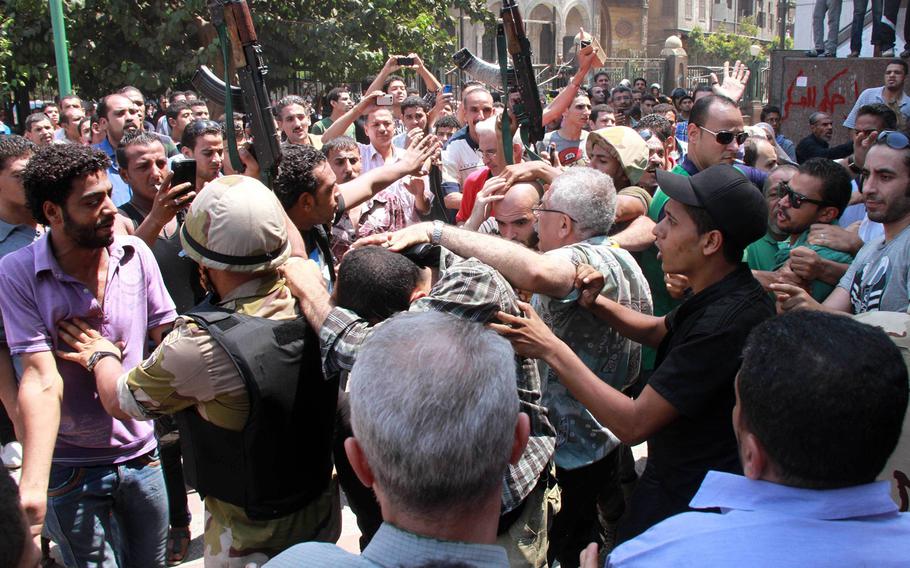 DAMASCUS, Syria — Syria's embattled government applauded Egypt's security forces for their crackdown against the Muslim Brotherhood, saying Damascus wanted to restore diplomatic ties cut by Egypt's former Islamist regime.
Also on Sunday, a team of U.N. inspectors arrived in Damascus to begin probing reports that chemical weapons were used in the Syrian civil war that has so far claimed 100,000 lives.
Speaking about the situation in Egypt, Syrian Deputy Foreign Minister Faisal Mekdad condemned the Muslim Brotherhood and ousted former President Mohamed Morsi, saying "the Brotherhood never believed in democracy. Everybody knows this."
Nearly 800 people have died across Egypt in the last four days in bloody clashes between the security forces and protesters demanding the Morsi's reinstatement.
Morsi, who was removed from office by the armed forces on July 3 after just a year in the presidency, had earlier cut diplomatic ties between Cairo and Damascus in a show of support for the Syrian opposition coalition, which includes strong Islamist elements.
"We believe that the tens of millions who came out on June 30 to denounce the Muslim Brotherhood reflect the real intentions and the real aspirations of the Egyptian people," Mekdad said in an interview with Stars and Stripes.
He praised the Egyptian military for moving against the Muslim Brotherhood, saying it was forced to act "against these fanatics ... who under the presidency of Morsi tried to control all aspects of life in Egypt."
The burning of churches across Egypt that followed the bloodshed of recent days reflected what is happening in Syria, Mekdad said, where armed jihadists are increasingly targeting the country's Christian minority, which makes up about 10 percent of Syria's 23 million people.
"Our main concern is to restore relations that existed between Egypt and Syria," he said. "Once Egypt and Syria are in the leading seat, stability and prosperity will return to the (Middle East)."
Mekdad welcomed the arrival of the U.N. inspectors in Damascus, and denied that Syria had ever used chemical weapons.
Inspectors from the Organization for the Prohibition of Chemical Weapons and the World Health Organization, will be checking on reports that the banned weapons were used at Khan al Assal, a village on the southwestern outskirts of the embattled city of Aleppo. The government and the rebels accuse each other of using chemical weapons in that area on March 13.
Two other sites will also be investigated, Mekdad said without naming them.
The United States, Britain, and France have accused the government side of using chemical weapons in Homs, Damascus and elsewhere. Syria has strongly denied the accusations, and Russia has said it had evidence that it was the insurgents who had used home-made chemical weapons.
---
---
---
---