State Department calls on Iraqi, Kurdish forces to 'restore calm'
by
Chad Garland
October 21, 2017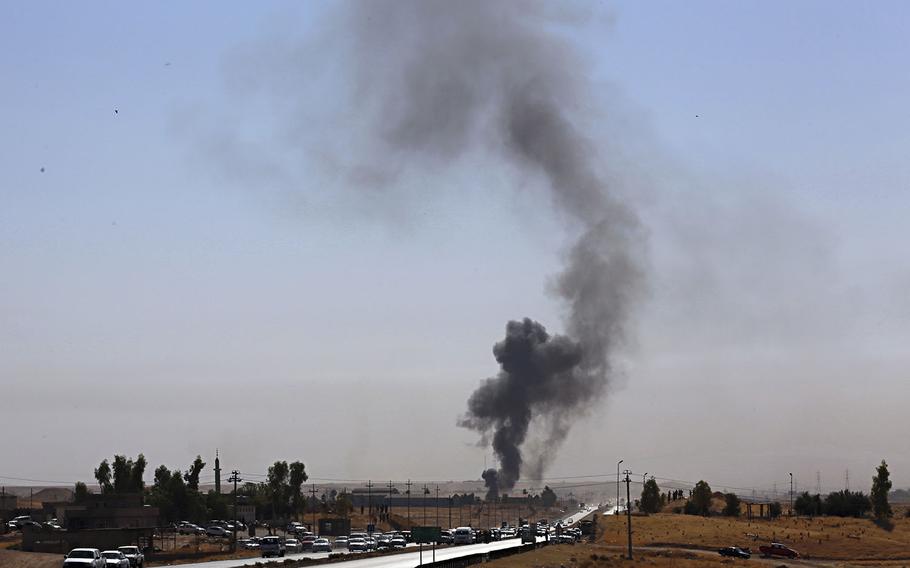 As Iraqi and Kurdish forces clashed in northern Iraq on Friday, the U.S. State Department called on all parties to "restore calm" and avoid provocative movements.
The plea came at the end of a turbulent week in which the Iraqi government reasserted its authority over areas seized by Kurdish forces since 2014, during the country's ongoing battle against the Islamic State.
In their latest effort to retake territory, Iraqi forces gained control of the town Altun Kupri, though Kurdish forces, known as the peshmerga, continued shelling it Friday evening, The Associated Press reported.
"The United States is concerned by reports of violent clashes around the town of Altun Kupri in northern Iraq," Heather Nauert, a State Department spokeswoman, said in a statement.
"We are monitoring the situation closely, and call on all parties to cease all violence and provocative movements, and to coordinate their activities to restore calm."
Nauert praised Prime Minister Haider al-Abadi's instructions to federal forces to protect Kurdish civilians and avoid provoking a conflict, and urged the federal government to limit its movements "to avoid any misunderstandings or further clashes."
The violence in Altun Kupri is the first case of sustained fighting and shelling since Monday, when Iraqi military, federal police and special operations forces took control of the city of Kirkuk and its oil field. That operation, which saw peshmerga forces retreat from the area, kicked off an effort by Abadi to push back on Kurdish expansion efforts. The U.S.-led coalition said limited clashes at that time were a result of a "misunderstanding."
Oil-rich Kirkuk is among the areas of Iraq disputed by Iraq's federal government in Baghdad. The country's constitution set a date for a 2007 referendum on the status of disputed areas, but the vote was never held.
The U.S. on Friday called on Iraqi and Kurdish authorities to coordinate security and administration of the areas until their disputed status is resolved.
"The reassertion of federal authority over disputed areas in no way changes their status – they remain disputed until their status is resolved in accordance with the Iraqi constitution," Nauert said. "All parties should engage in dialogue now on the basis of the Iraqi constitution."
"We will continue working with officials from the central and regional governments to reduce tensions, avoid further clashes, and encourage dialogue," she said.
garland.chad@stripes.com Twitter: @chadgarland