Siege, starvation left Syrian town in 'grim' state, UN says
---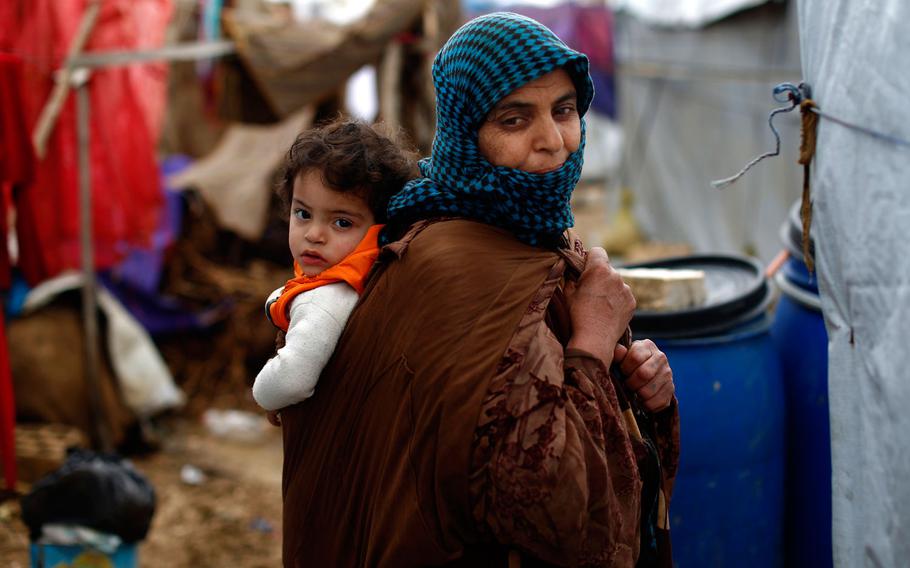 BEIRUT — Siege and starvation have left the rebel-held Syrian town of Madaya in a nightmarish state not seen elsewhere in the country, a U.N. official who traveled there said Tuesday, as some 300 residents fled and desperately needed humanitarian aid arrived.
The former mountain resort, besieged since last summer by forces loyal to President Bashar Assad, came to international attention in recent weeks as reports of starvation emerged and activists shared images of emaciated children and old men widely on social media.
Sajjad Malik, the U.N. refugee agency's chief in Damascus, told journalists that the "very grim" picture was the result of a blockade of food, medicine and other supplies that left the town in a "desperate situation."
"There is no comparison to what we saw in Madaya," he said from Damascus by telephone to Geneva. "It is a place where you could see there are people, but there is no life... What we saw is something that was pretty horrible."
Malik described seeing shivering, malnourished children and young adults, saying "most of them had not had bread or rice or vegetables or fruit for months." He said a kilogram (2.2 pounds) of rice would sell there for $300, and noted one account of one person selling a motorcycle to buy 5 kilos of rice.
A day earlier, the U.N. said that about 400 people in the town's hospital needed to be evacuated immediately for medical treatment as starvation and other factors had left them on the brink of death. Syrian authorities, rebels and aid groups have yet to respond. The U.N. goal was to obtain safe passage to evacuate the 400 later on Tuesday.
U.N. officials said it was too early to determine whether anyone had died of hunger. But the aid group Doctors Without Borders has said that 23 people died of starvation at a health center it supports in Madaya since Dec. 1, including six infants and five adults over 60.
Various U.N. officials have described how locals had been forced to forage for food, such as risking walks in minefields to collect grass or cooking up "leaf soup," and were burning cardboard to stay warm in their homes.
Madaya is not the only place in Syria suffering from siege, an age-old tactic of war that belligerents continue to use despite international laws banning it. The U.N. says some 15 municipalities across Syria are currently blockaded, with no one able to get in or out.
Two Shiite villages in the north, under siege by rebels, face similar circumstances, with food and medicine scarce. Residents are said to be eating grass to survive and undergoing surgery without anesthesia.
On Monday, convoys carrying food, medical and other supplies reached Madaya around the same time as another convoy arrived in the twin Shiite villages — called Foua and Kfarya — which are far more remote and difficult for media to access.
The operation marked a small, positive development in a bitter conflict now in its fifth year that has killed a quarter of a million people, displaced millions of others and left the country in ruins.
Another tiny improvement in Madaya came with the evacuation of some 300 civilians, mostly women and children, who left the town near the Lebanese border on foot and were then transported to government-run temporary shelters.
The Britain-based Syrian Observatory for Human Rights, an opposition group that tracks both sides of the conflict, said the civilians had separately arranged with government forces to leave the city, with some heading to shelters set up in schools and similar places in the area and nearby capital, Damascus.
The harshness of the recent starvation reports have underscored the urgency for new Syria peace talks that the U.N. is hoping to host in Geneva on Jan. 25.
The U.N. says 4.5 million Syrians are living in besieged or hard-to-reach areas and desperately need humanitarian aid, with civilians prevented from leaving and aid workers blocked from bringing in food, medicine, fuel and other supplies.
Elsewhere in Syria, the official state news agency SANA said the army has seized "full control" of a strategic rebel-held town in the northwestern province of Latakia, a stronghold of Assad's minority Alawite sect, an offshoot of Shiite Islam.
SANA said army units backed by pro-government militiamen from the National Defense Forces captured Salma on Tuesday. Salma is in the mountains of Latakia province and is predominantly inhabited by Alawites.
The SANA report, which would mark a significant military victory, could not be immediately confirmed. Opposition activists earlier reported fierce clashes between Syrian pro-government troops and insurgents in and around Salma.
The situation for over 1 million refugees in neighboring Lebanon meanwhile appears to be worsening because of new residency laws.
Human Rights Watch said the Lebanese laws are putting the refugees in danger by preventing them from renewing their residency, arguing that the policies "set the stage for a potentially explosive situation."
The regulations, adopted a year ago, have forced refugees to either return to Syria, where they are at risk of persecution, torture or death, or to stay in Lebanon illegally, leaving them vulnerable to exploitation and abuse, the New York-based rights group said in a report published Tuesday.
Of the 40 refugees interviewed for the report, only two have been able to renew their residencies since January 2015.
Last week, Lebanon forcefully repatriated 407 Syrians after they were left stranded at Beirut airport. Amnesty International called the action "an outrageous breach of Lebanon's international obligations."
___
Keaten reported from Geneva.
---
---
---
---