Show of force in the Middle East continues with Lincoln and Kearsarge joint ops
by
Joshua Karsten
May 19, 2019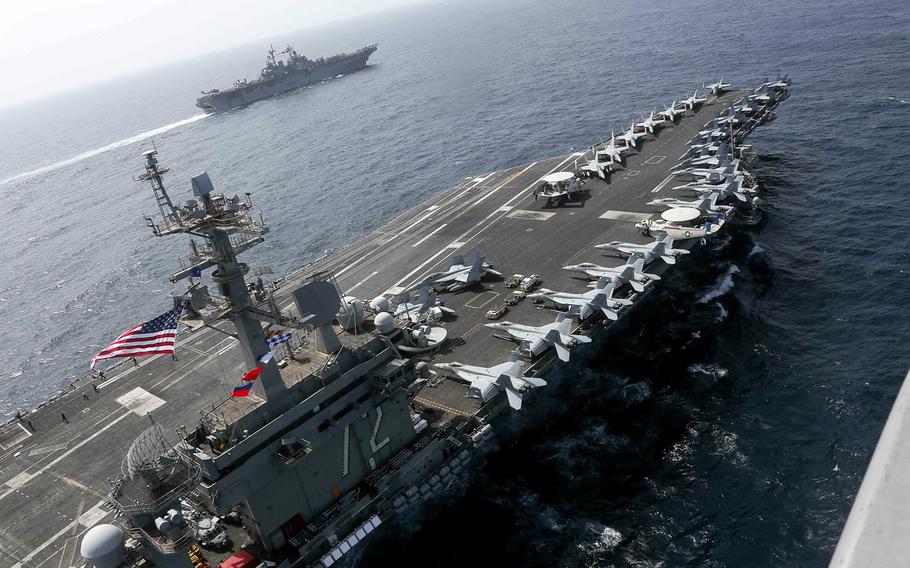 MANAMA, Bahrain — The USS Abraham Lincoln Carrier Strike Group has entered the Arabian Sea and conducted joint drills with U.S. amphibious forces, Navy officials said, as tensions continue to mount following intelligence reports that Iran or its proxy forces planned to harm American troops in the region.
Lincoln joined the USS Kearsarge Amphibious Ready Group and the embarked 22nd Marine Expeditionary Unit for a series of exercises during the past couple of days, according to a 5th Fleet statement Sunday.
Rear Adm. John Wade, Lincoln's strike group commander, said the exercises are "aimed towards increasing our lethality and agility to respond to threats, and deterring destabilizing actions in this important region."
The drills included coordination with the Marines, air-to-air training, ship maneuvering and joint communications designed to "rapidly enable a command and control environment."
Lincoln canceled a port visit to Croatia earlier this month on a scheduled trip around the globe during a homeport swap from Norfolk, Va., to San Diego later this year.
The Lincoln's expedited arrival in the region came following White House national security adviser John Bolton's comments on May 5 that a "number of troubling and escalatory indications and warnings" came from Iran, adding that any attack on U.S. interests would be met with "unrelenting force."
Iranian officials have denied planning any such attack, while also calling for U.S. forces to leave the Persian Gulf. The U.S. maintains that it has the right to transit the waters under generally accepted international law.
On Friday, the State Department directed all nonessential personnel to evacuate Iraq, according to a security message posted on the embassy website and distributed via email.
Servicemembers and families across the Gulf in Bahrain and Qatar have not received any direction regarding possible evacuations, but Navy officials said that any evacuation orders would be a State Department call. The embassy in Doha released a brief travel advisory Sunday for commercial travel cautioning U.S. citizens to "exercise normal precaution for Qatar."
Navy official comments remained standard and mission-oriented following Lincoln's arrival.
Kearsarge skipper Capt. Jason Rimmer described the joint exercises as allowing the group "to efficiently traverse any waters uncontested and readily employ our military assets anywhere," according to the 5th Fleet statement.
U.S. 5th Fleet said the operations "highlight the ability of the U.S. Navy to quickly mobilize assets and aggregate different platforms with a variety of operational capabilities," according to the fleet command's Facebook page.
Meanwhile, Maj. Gen. Hossein Salami, commander-in-chief of the Islamic Revolutionary Guard Corps, said that Iran does not want war with the United States but added that Washington lacks the will" to fight Tehran.
"The difference between us and them is that they are afraid of war and don't have the will for it," Salami said Sunday, according to the Iranian state-backed Fars news agency.
Former CIA director and retired Gen. David Petraeus said that Iran is going to have to be "very careful not to overplay" its hand as tensions with Washington escalate.
"They are going to have to make a decision … they are going to have to really tighten their belt and keep tightening, because it's going to get worse," Petraeus told Martha Raddatz during ABC's "This Week with George Stephanopoulos" on Sunday.
Saudi Arabian diplomat Adel al-Jubeir, the minister of state for foreign affairs, said Sunday that the kingdom does not want war but will defend itself, amid a recent spike in tensions with archrival Iran according to The Associated Press.
"We want peace and stability in the region, but we won't stand with our hands bound," Jubeir said. His comments come a week after four oil tankers were sabotaged of the coast of the United Arab Emirates and just days after Iran-allied Yemeni rebels claimed a drone attack on a Saudi oil pipeline.
karsten.joshua@stripes.com Twitter: @joshua_karsten