Sailor in Iran boat apology video appealing charges against him
---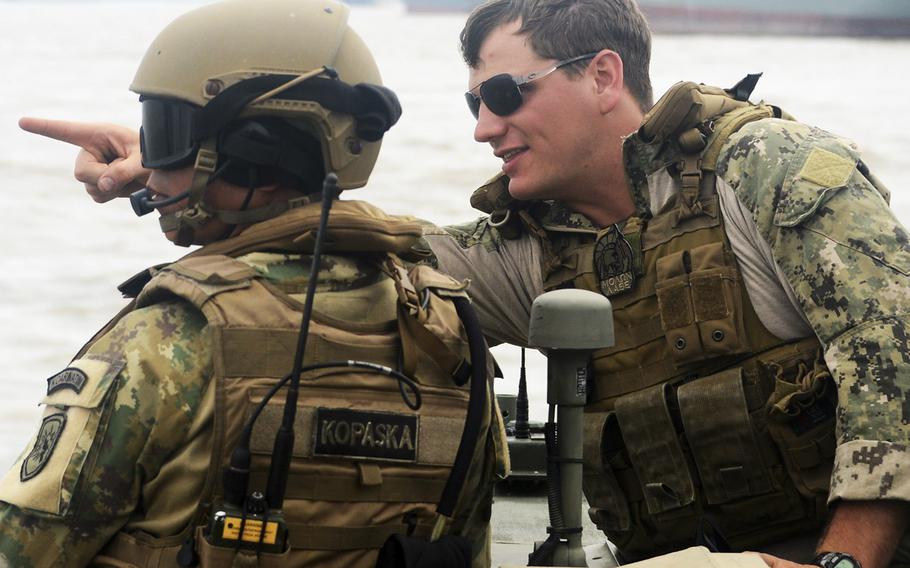 WASHINGTON — Lt. David Nartker, the commander of two U.S. patrol boats captured in January by Iran, will appeal his punishment for his role in the incident, the Navy confirmed Thursday.
Nartker was the most senior of the 10 sailors seized Jan. 12 along with their riverine command boats after the vessels crossed into Iran's territorial waters in the Persian Gulf. During the sailors' overnight detention, Nartker was filmed apologizing for the incident, among other images spread on Twitter and Iranian television for propaganda purposes.
However, the Navy has not said why Nartker is being punished or what punishment he is appealing.
U.S. Pacific Fleet in Hawaii has 30 days to review Nartker's appeal, a defense official said on the condition of anonymity.
Lt. Cmdr. Jennifer Cragg, a spokeswoman for Navy Expeditionary Combat Command, which oversees the riverine boats, said the appeal could alter Nartker's punishment
"Following [non-judicial proceedings] proceedings, members may appeal the findings to a higher authority. The appeal authority may set aside the punishment, decrease its severity, or deny the appeal, but may not increase the severity of the punishment. To comment any further on an ongoing process would be inappropriate," Cragg said.
An investigation by the Navy into the incident was released June 30 and found a string of missteps led to the seizure, including the crews were not prepared for the mission, had recently failed navigation tests, did not have enough sleep and were using boats with broken equipment such as radios. The nine male sailors and one female sailor aboard the boats were detained overnight and interrogated by their Iranians captors.
On Aug. 4, Nartker and another sailor, who was not identified, appeared before Rear Adm. Frank Morneau, commander of the Navy Expeditionary Combat Command, to hear the charges against them, according to the defense official.
All charges were dropped against the unidentified sailor. However, Nartker was notified he would face punishment, which could include confinement to quarters, forfeiture of pay or a career-ending letter of reprimand.
The appearance before Morneau, known more commonly as a Captain's Mast, is a way to discipline officers or enlisted personnel for minor infringements that would not require a court-martial, according to the Navy. Due to the high-profile nature of the incident, the hearings were elevated to an admiral, another defense official familiar with the hearings told Stars and Stripes.
The fallout from the incident has already resulted in the removal of the commodore and executive officer responsible for the vessels, Capt. Kyle Moses and Cmdr. Eric Rasch. A third officer in charge of the detachment in Kuwait, who was not named, was also relieved of command. Nine Navy personnel were considered for various levels of punishment, Cragg said.
In a statement provided to Stars and Stripes, Naval Expeditionary Combat Command outlined the completed hearings and the punishments levied to date:
Four Navy officers went to Admiral's Mast. Two received punitive letters of reprimand for violating Article 90, disobedience of a superior commissioned officer, and Article 92, dereliction in the performance of duties, of the Uniform Code of Military Justice. One Navy officer was found not guilty of violating Article 92 and accountability actions for the fourth Navy officer have not yet been completed. Two enlisted personnel received a punitive letter of reprimand for violating Article 92.copp.tara@stripes.com Twitter: @TaraCopp
---
---
---
---