Remains of two US service members recovered from site of plane crash in Afghanistan
by
Caitlin Kenney Phillip Walter Wellman
January 28, 2020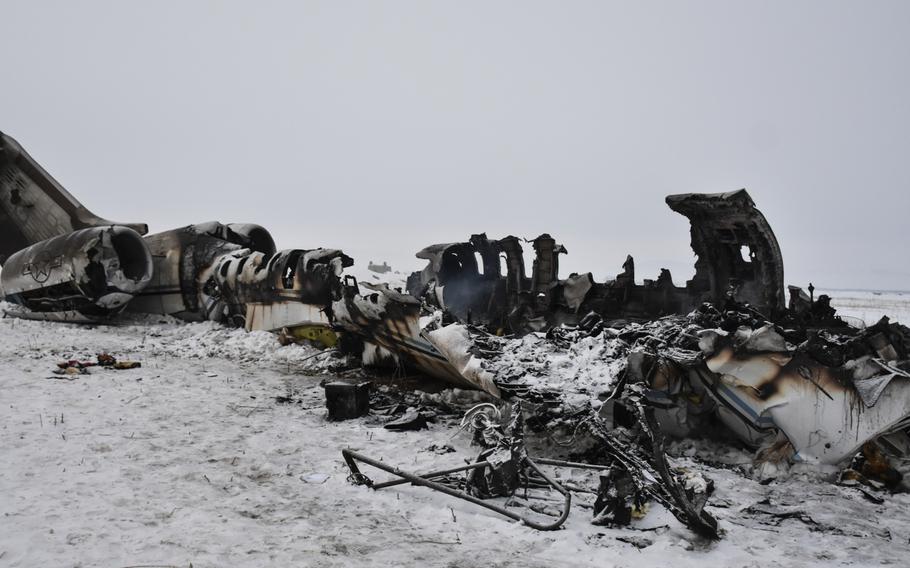 KABUL, Afghanistan — American troops recovered the remains of two U.S. service members killed in the crash of an Air Force aircraft that went down in a Taliban-controlled area of Afghanistan, the U.S. military said Tuesday.
The service members were aboard an Air Force Bombardier E-11A communications aircraft that crashed Monday in Ghazni province. They were the only people aboard the plane at the time of the crash, a U.S. defense official said on condition of anonymity.
The plane's flight data recorder also was recovered from the site, and the remnants of the plane were destroyed by American troops, according to a statement issued by U.S. Forces-Afghanistan. The cause of the crash is under investigation.
No further details were provided about the crash, which occurred about 80 miles southwest of Kabul.
U.S. forces reached the crash site overnight Monday and cordoned off the area, said Arif Noori, a spokesman for Ghazni province's governor. No insurgents were in the area when the U.S. troops arrived, he said.
The remains of the service members "were found near the crash site, treated with dignity and respect by the local Afghan community, in accordance with their culture," according to the U.S. Forces-Afghanistan statement.
The names of the two service members will be released once they have been positively identified and 24 hours have passed after their next of kin has been notified in accordance with Defense Department policy.
The Taliban have claimed responsibility for downing the aircraft, but the U.S. military in Afghanistan said there was no indication the plane was brought down by enemy fire. Afghans near the crash site — about 10 miles from Ghazni city — said the aircraft appeared to be having technical problems before it crashed.
The Air Force's four E-11A aircraft are assigned to the 430th Expeditionary Electronic Combat Squadron and operate out of Kandahar Airfield.
Equipped with the Battlefield Airborne Communications Node, the E-11A helps to ensure communication in a country where mountains and poor infrastructure pose challenges for military operations.
Dubbed "Wi-Fi in the sky," they are in the air every minute of the day, the Air Force has said.
Reporter Zubair Babakarkhail contributed to this report.
wellman.phillip@stripes.com Twitter: @pwwellman
kenney.caitlin@stripes.com Twitter: @caitlinmkenney