Ranger medics save lives in Afghanistan with blood transfusions while under fire
---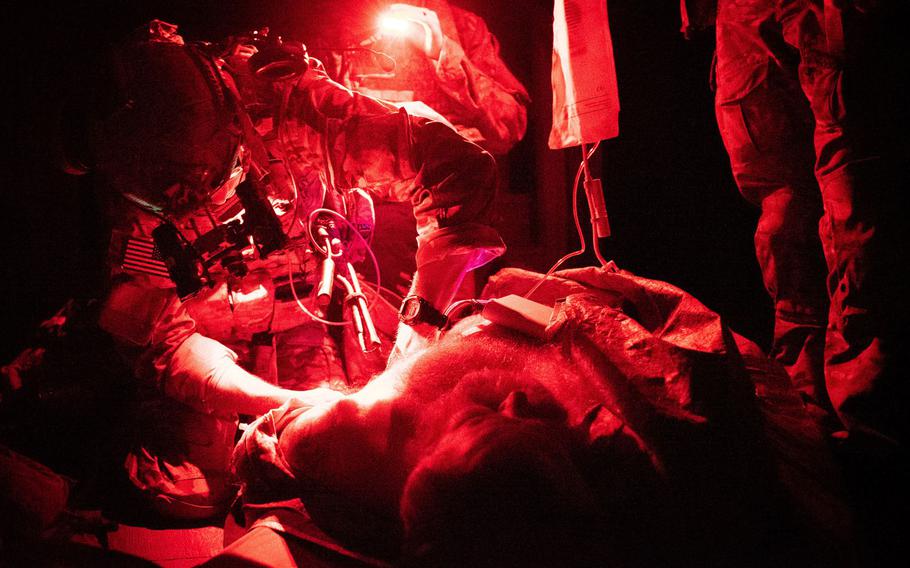 KABUL, Afghanistan — Two Army Rangers are alive today thanks to a program that is changing the way blood transfusions are done in combat.
The service members, one of whom sustained life-threatening injuries during a harrowing battle last summer in Afghanistan, received Type O-negative blood from soldiers who donated on the battlefield and returned to combat within minutes, the 75th Ranger Regiment said.
The case was the first substantial whole blood transfusion to occur at the point of injury in modern warfare, said Lt. Col. Ryan Knight, 75th Ranger Regiment command surgeon.
"Previous transfusions were all stored blood products carried into combat and the previous fresh whole blood transfusions have only occurred at … medical facilities," he said.
Ranger medics put the Ranger O Low Titer Whole Blood Program, or ROLO, into action in Afghanistan last summer during a battle with insurgents in Wardak province, although news of its success was only made public this month.
Under ROLO, members of a unit are screened to see if they have Type O-negative blood with low antibodies, meaning they can donate to any other blood group.
In Wardak, medics ran out of the blood they carry into combat and called on three prescreened donors to give blood to their wounded colleagues.
Blood was drawn from the volunteers and immediately administered to the wounded Rangers, even as "hellfire missiles, 30 mm rounds, and 105 mm rounds were being executed as close as 30 meters from our position," Staff Sgt. Charles Bowen, who with fellow medic Sgt. Ty Able treated the injured during the battle, said in a statement.
One soldier who was bleeding profusely from a chest wound received 10 units of blood, including three from battlefield donations, before he was evacuated to a hospital. He defied the odds and survived.
"No casualty has received such a massive transfusion on the battlefield," Knight said. "ROLO is transforming how we treat battlefield casualties. We now always have blood on the battlefield ... This case demonstrates the absolute need for this technique to percolate across the U.S. military."
Bowen, Able and a Ranger first responder shielded the wounded Rangers at times with their own bodies to prevent further injury.
"(They) had to ignore their own survival instincts and concentrate on their patients. They displayed the highest levels of courage as they repeatedly placed their patients' survival above their own safety," Knight said. "While this is an amazing display of personal courage, medical expertise and the most incredible saves I've ever heard of, it's also Rangers living the Ranger Creed" – to never leave a fallen colleague.
wellman.phillip@stripes.com Twitter: @pwwellman
---
---
---
---