Pockets of resistance in Kunduz as reports of abuses surface
By
Zubair Babakarkhail Josh Smith
October 2, 2015
---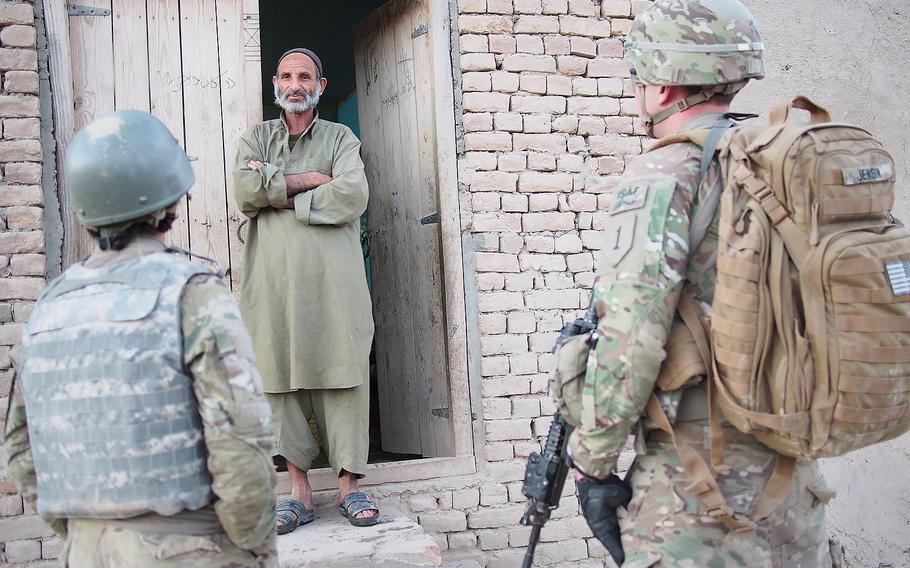 KABUL, Afghanistan — Armed with stolen government dossiers, Taliban "death squads" went door to door hunting for aid workers, government employees, and suspected spies during their three-day occupation of Kunduz, human rights activists and residents said as insurgents retreated from the city Friday.
The reports come as security forces finally appeared to make headway, pushing guerrillas from most of the northern city, which fell to the Taliban on Monday.
Even as the fighting seemed to diminish, aid agencies warned of a continuing humanitarian disaster, especially for the civilians caught up in the fighting.
Residents, especially women, described murder, rape, and other abuses by Taliban in the city, according to a report by Amnesty International.
"The harrowing accounts we've received paint a picture of a reign of terror during the Taliban's brutal capture of Kunduz this week," Horia Mosadiq, Afghanistan Researcher at Amnesty said in a statement.
"The multiple credible reports of killings, rapes and other horrors meted out against the city's residents must prompt the Afghan authorities to do more now to protect civilians, in particular in areas where more fighting appears imminent."
The reported abuse came despite initial pledges by the Taliban that residents had nothing to fear.
The concerns about abuses have grown as insurgents seized or attacked several districts, including government centers in neighboring Baghlan, Badakhshan, and Takhar provinces. Other provinces in the region have also seen escalating violence.
American warplanes carried out two airstrikes Friday in Badakhshan province, one in Warduz district and one in Baharak district, as well as three near Kunduz as government forces tried to drive out remaining insurgents, said U.S. military spokesman Col. Brian Tribus.
After ransacking the offices of government agencies and international organizations in Kunduz for incriminating documents, groups of armed Taliban appeared to target aid workers, activists and government workers with house-to-house searches, investigators said. Several women were gang-raped, then killed after being accused of providing reproductive health services to other women, relatives of the victims told Amnesty.
In a post on Twitter, the Taliban rejected the Amnesty report, calling it "excellent make-believe" that "lost all credibility" when researchers "threw in Western fantasies of gang rape."
But residents told Stars and Stripes of multiple reports of Taliban summarily executing suspected government spies and collaborators. Workers for foreign aid organizations described gunmen using government records to try to track them down.
Shops and government buildings had also been looted, witnesses said, although police said locals also took advantage of the chaos to steal vehicles and pillage stores. Insurgents reportedly burned media facilities, and university and other school buildings.
The office of President Ashraf Ghani, who has faced sharp criticism over his handling of the crisis, released a statement Friday condemning alleged Taliban abuses.
"Preliminary assessment of Kunduz city shows that Taliban and their terrorist collaborators in addition to causing fear and intimidation among the citizens of Kunduz, have resorted to extrajudicial killings of civil and military individuals and residents of Kunduz as well as torturing and harassing them," the statement said.
At least 60 people have been killed and 466 wounded in the fighting, Wahidullah Mayar, spokesman for the Public Health Ministry said in a statement. He did not specify how many were security forces, civilians or insurgents.
Medical staff for the International Committee of the Red Cross reported that fighting was preventing some of them from reaching their clinics, as well as blocking badly needed medical supplies.
As many as 3,000 families were estimated to have fled Kunduz amid the fighting, the Ministry of Refugees and Repatriation reported Thursday night.
After retreating from the city in the face of a swift Taliban offensive on Monday, Afghan troops, aided by coalition military advisers, spent several days fighting off insurgent attacks on the nearby municipal airport, before launching a counterattack late Wednesday night, with street-to-street fighting continuing into Friday.
In an interview with The Associated Press on Friday, Taliban leader Mullah Akhtar Mansoor said the occupation of Kunduz was "celebrated by the ordinary people of the city" and proved the "potential and strength" of the insurgency.
"The victory is a symbolic victory for us, and moreover, it is also a historical event which will be remembered," Mansoor to the AP.
Mansoor was appointed leader of the insurgent group in August, after it was revealed that the group's founder and spiritual leader, Mullah Mohammad Omar had died two years ago. Ensuing disputes about who should lead the Taliban sparked speculation that the group could fracture, but Mansoor recently obtained the support of Mullah Omar's brother and son, which seemed to solidify his position.
"People who said we were a small force with an unchosen leader can now see how wrong they were about the potential and strength my people have," Mansoor told AP.
The attack on Kunduz followed months of Taliban strikes across the country at district centers, severely testing the coalition-trained Afghan forces, and those attacks continued.
"The attacks throughout northern Afghanistan indicate that Taliban militants are executing a broader northern offensive," Saagar Enjeti, an analyst for the Institute for the Study of War wrote in a report on Thursday. "This lightning offensive is likely designed to reinforce Taliban gains in Kunduz city while the ANSF counteroffensive is underway, but it is also gaining momentum faster than the ANSF is reclaiming territory. The loss of broad swaths of strategically important territory underscores growing ANSF inability to control and hold areas without the intervention of Afghan and NATO special forces."
Amnesty activists also urged government forces not to conduct reprisal killings as they moved back into the city.
"Breaking the cycle of violence and returning to the rule of law means ensuring that Afghan troops and authorities do not mete out revenge on any prisoners, which would amount to a war crime," Mosadiq said.
smith.josh@stripes.comTwitter: @joshjonsmith
---
---
---
---