Pentagon says it will send 2,000 troops to Middle East to deter Iran
---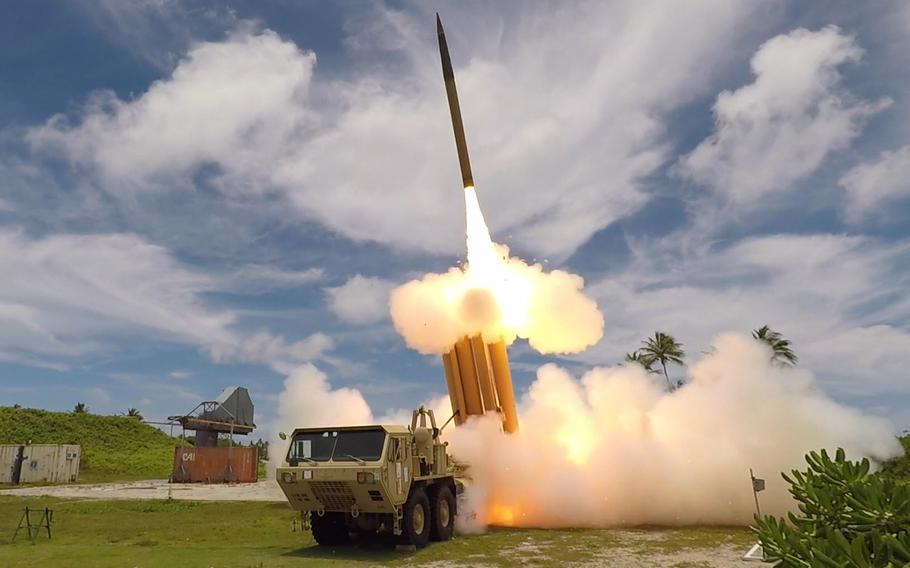 WASHINGTON — The Pentagon will send about 2,000 troops to Saudi Arabia as part of its efforts to deter Iranian aggression in the wake of several attacks attributed to the regime or its proxy forces in recent months, the Defense Department announced Friday.
The new deployment largely consists of fighter jets and air defense capabilities and follows the deployment of other troops last month to bolster Saudi defenses after September attacks that devastated two key Saudi oil facilities. Defense Secretary Mark Esper on Friday called out Iran for those Sept. 14 drone and cruise missile strikes, claiming evidence at the site proves Tehran was to blame.
"It is clear that the Iranians are responsible for the recent attacks on Saudi Arabian oil facilities," the defense chief told reporters Friday at the Pentagon. "Our international partners agree, including the United Kingdom, France and Germany, who have said so publicly."
Esper urged those and other "like-minded" nations to provide additional defensive capabilities to the Middle East to deter Iranian aggression. He issued a stern warning to the Iranian regime, which has repeatedly denied involvement in the attacks on oil facilities and tankers in the region.
"Do not strike another sovereign state, do not threaten American interests, American forces, or we will respond," Esper said, directed at Iran. "Do not mistake our restraint for weakness. If you [do], you will regret that."
The new troops will include two fighter jet squadrons, an air expeditionary wing to control those fighter operations, two Army Patriot missile batteries and one Army Terminal High Altitude Area Defense, or THAAD, system, the Pentagon said. It did not immediately identify which units would deploy or when they would be sent to Saudi Arabia.
The Patriot batteries join one that was sent last month to Saudi Arabia in response to the oil facility attacks. Patriot batteries typically operate six launchers that shoot defensive surface-to-air missiles designed to protect against short-range ballistic missiles, cruise missiles and aircraft. The THAAD system, also a surface-to-air defensive system, protects against short-, medium-, and intermediate-range ballistic missiles, destroying them as they near their target.
Esper had said previously he had placed those air defense units on prepare-to-deploy orders in the event they were deemed necessary. He said Friday he had spoken earlier with Saudi Crown Prince Muhammad bin Salman, who had requested additional military support.
The United States has also pledged to bolster military support to the United Arab Emirates mostly with equipment, but it has not announced plans to deploy new troops there.
In all, Esper said he has approved an increase of about 3,000 U.S. troops in the Middle East in recent weeks, primarily to Saudi Arabia, aimed at deterring Iran. He said more troops had been notified they could be deployed.
"The U.S. military has on alert additional Army, Navy, Marine and Air Force units to quickly provide increased capability in the region if necessary," he said. "... We have a full timeline of additional forces that can flow into theater. We are taking this one step at a time."
Currently, the United States has 60,000 to 80,000 troops stationed around the U.S. Central Command area of responsibility, which includes the Middle East and southwest Asia. That includes about 14,000 troops in Afghanistan, 5,200 in Iraq and 1,000 in Syria, according to defense officials.
The new deployment also comes as the USS Abraham Lincoln aircraft carrier and the other ships in its strike group near the end of their planned deployment. The Lincoln, which has remained in the Middle East since it was rushed into the region after Iranian provocations in May, departed Norfolk in April, but it is scheduled in the coming weeks to head to its new homeport in San Diego.
Defense officials said Friday the aircraft carrier's deployment had not yet been extended, but they did not rule out that possibility. Esper would have to sign off on such an extension. He declined to comment when asked about the ship Friday.
The U.S. Naval Institute's news wing reported this week that the U.S. Navy has no other aircraft carrier available to backfill the Lincoln in the Middle East, if its seven-month deployment is not extended. A Pentagon spokesman on Friday declined to comment on aircraft carrier planning, citing security concerns.
dickstein.corey@stripes.com Twitter: @CDicksteinDC
---
---
---
---