Pentagon: ISIS could be defeated in Mosul in days
by
Corey Dickstein
June 29, 2017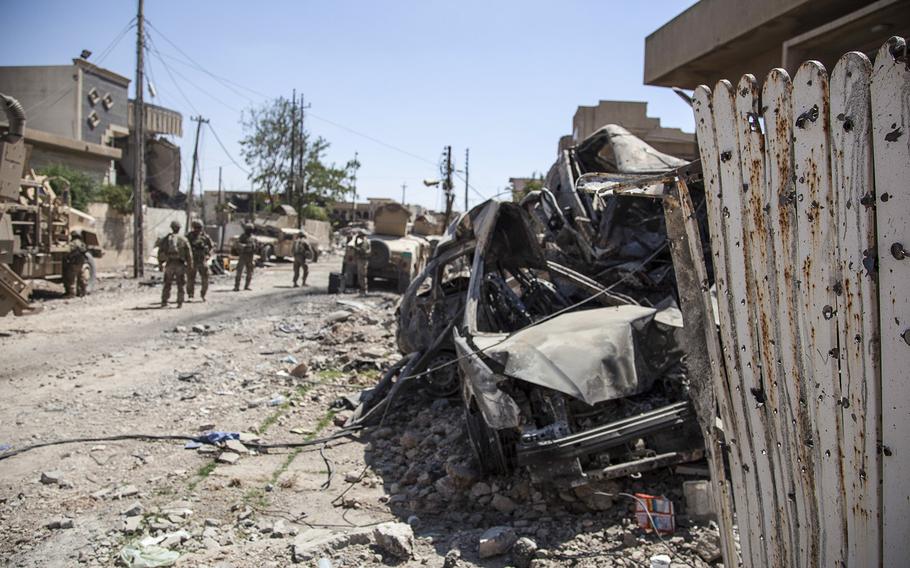 WASHINGTON — Iraqi forces who fled in droves three years ago amid the Islamic State's blitzkrieg across northern Iraq could declare victory within days in Mosul, once a stronghold for the terrorist group, a U.S. military official said Thursday.
Only a few hundred ISIS fighters remained in two tiny sections of West Mosul as Iraq's elite Counter Terrorism Service captured the areas around the al-Nuri Mosque compound in Mosul's Old City during a dawn push into the remaining one to two square kilometers that the terrorist group still controls, said U.S. Army Col. Ryan Dillon, a spokesman for the U.S.-led anti-ISIS coalition.
The 845-year-old mosque, which ISIS destroyed last week, was the site where Abu Bakr al-Baghdadi, ISIS's supreme leader, announced the formation of a caliphate in Iraq and Syria three years ago.
With the push into the last terrorist-controlled sections of Mosul, Iraqi Prime Minister Haider al-Abadi said Thursday that ISIS's days in Iraq were numbered.
"We are seeing the end of the fake [ISIS] state, the liberation of Mosul proves that," he wrote on Twitter.
"We will not relent, our brave forces will bring victory."
As of Thursday afternoon, ISIS fighters still controlled a small section of the Old City and a hospital compound to the north, Dillon said.
But both remaining strongholds are surrounded and Iraqi forces have made steady advances in recent days. As fighting continues, he said an announcement of the liberation of Iraq's second largest city from terrorists was "imminent."
"They are closer to days versus weeks on an announcement," Dillon told reporters at the Pentagon. "We look very much forward to that."
The fall of Mosul has taken more than eight months of often intense fighting, but it represents a "significant and symbolic" victory for the Iraqis and the Operation Inherent Resolve coalition, Dillon said.
Nonetheless, thousands of ISIS fighters remain in Iraq in at least three other strongholds in Hawijah, Tal Afar and al-Qaim.
The Iraqi government must soon decide where it intends to fight ISIS next.
Dillon said the United States and the coalition would continue to provide Iraq the necessary support to free those areas from ISIS rule.
Hawijah is a town of about 100,000 people roughly 80 miles southeast of Mosul. ISIS has controlled the town since 2014 and U.S. officials believe at least some of the group's leadership fled there last year as Iraqi forces neared Mosul.
Tal Afar, about 40 miles west of Mosul, has also been controlled by ISIS since 2014.
Iraqi-government controlled popular mobilization forces, consisting primarily of Shiite militias, have been fighting ISIS around that town for several months though the terrorist group retains at least several hundred fighters there, according to U.S. officials.
Al-Qaim rests on the Euphrates River on Iraq's border with Syria.
Like much of the Euphrates River Valley in Syria, ISIS has controlled the town since 2014.
The terrorist group still controls the border area between al-Qaim in Iraq and Abu Kamal in Syria, and American officials believe most of the group's senior leadership has moved into that region as U.S.-backed Syrian Democratic Forces have assaulted deeper into Raqqa, ISIS's self-declared capital city in Syria.
Dillon declined to speculate how long the offensive in Raqqa might take or when ISIS would be completely annihilated in Iraq.
"There are plenty of ISIS fighters to be defeated still," he said. "We will continue to support and stand shoulder-to-shoulder with our partners for these fights."
dickstein.corey@stripes.com Twitter: @CDicksteinDC