Pentagon: Hundreds reported potential chemical weapons exposure
by
Jon Harper
November 7, 2014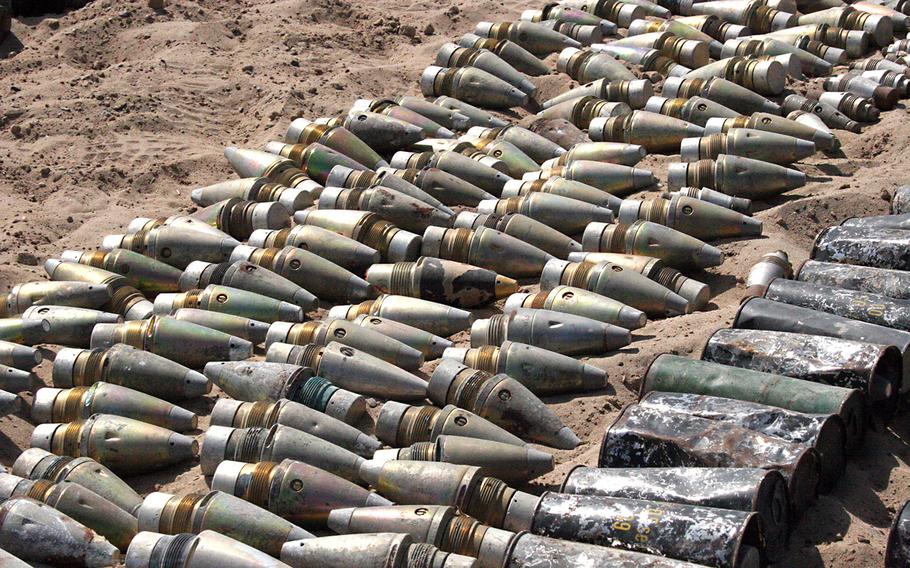 WASHINGTON — A review ordered by Secretary of Defense Chuck Hagel has found that 734 U.S. troops who deployed to Iraq and Afghanistan reported potential exposure to chemical warfare agents, according to the Pentagon.
The probe was launched after The New York Times reported last month that while American servicemembers found no evidence of an active program to produce weapons of mass destruction, many were exposed to degraded chemical weapons from the 1980s while serving in Iraq between 2004 and 2010. Iraq had a robust chemical weapons program during the 1980s and used them against Iranian troops as well as Iraqi Kurds.
The Times initially reported that 17 servicemembers had been exposed to sarin or sulfur mustard agent that had been hidden or used in makeshift bombs by insurgents.
On Thursday, the newspaper reported that 629 U.S. servicemembers told military medical personnel that they believe they were exposed to chemical warfare agents while serving in Iraq. The troops made the claims in a post-deployment health assessment which servicemembers fill out at the end of their combat tours, according to the Times.
Some additional number of troops have reported that they believe they were exposed to such agents in Afghanistan.
"Secretary Hagel ordered the department to examine the medical records for all servicemembers assigned to Explosive Ordnance Disposal Units where exposures were reported to have occurred, as well as the Post-Deployment Health Assessment data for all servicemembers who deployed to Iraq and Afghanistan. The review has determined thus far that 734 troops reported potential exposure. The actual extent of that exposure is not yet clear," Pentagon press secretary Rear Adm. John Kirby said in a statement late Thursday.
Col. Jerome Buller, a spokesman for the Army surgeon general, told the Times that people who reported would have received a medical consultation at the end of their combat tour.
Pentagon officials did not immediately provide details about the consultations or how health data was used after they were requested by Stars and Stripes.
The Defense Department is now offering more medical assessments.
"All current servicemembers identified through this process, who may have been exposed to chemical warfare agents, will be afforded DoD medical evaluations as appropriate, or at their request, to determine their actual level of exposure and identify adverse health impacts," Kirby said.
He pledged that the Pentagon will work with the VA to try to help former servicemembers who may have been exposed.
"If the servicemember has separated from the service, DOD will provide the Department of Veterans Affairs with all necessary information and documentation to verify exposure to ensure these veterans are afforded the appropriate services and disability benefits that may be available to them through the VA," he said.
Veterans who believe they were exposed can also call a Pentagon hotline at 1-800-497-6261 to report their concerns.
The Army's Public Health Command is reviewing all of the reported cases, according to DOD.
The Times reported that it was not clear why the military did not compile the data sooner, follow up with veterans who reported ill health effects, or inform troops and VA officials about the risks of exposure.
The Times also reported that some troops were ignored or ordered not to further discuss their chemical-related health concerns after they initially reported them.
harper.jon@stripes.com Twitter: @JHarperStripes