Pentagon determining whether Islamic State has weapons from US airdrop
by
Jon Harper
October 21, 2014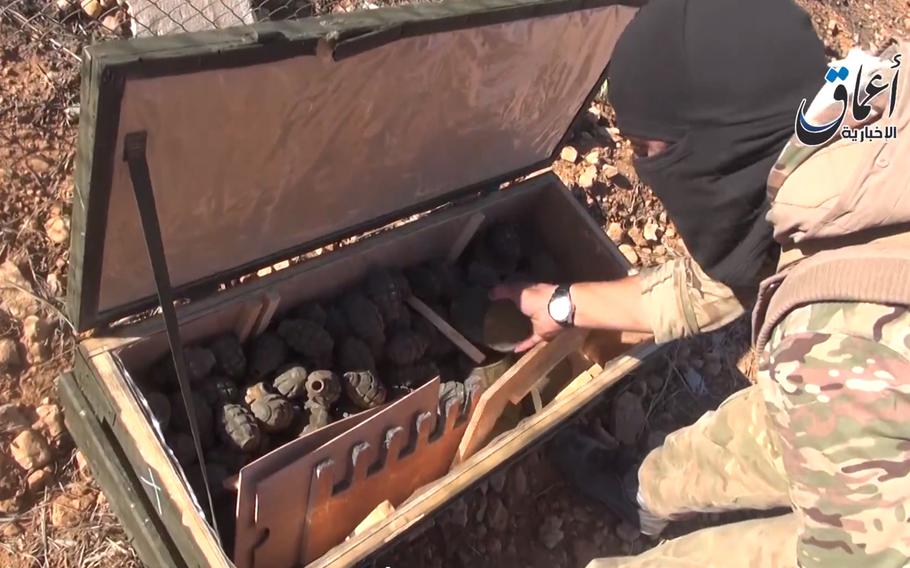 WASHINGTON – Officials are trying to determine whether a bundle of weapons intended for Kurdish forces has ended up in the hands of the Islamic State terrorist group, according to the Pentagon.
A video surfaced Tuesday on YouTube that seemed to show Islamic State fighters looking through boxes of weapons that were airdropped by the U.S. military in the vicinity of the Syrian town of Kobani, where Kurdish fighters are under siege by the militants. In the video, a parachute is attached to the bundle of supplies.
"We're still taking a look at [the video] and assessing the validity of it. So I honestly don't know if that was one of the [bundles] dropped, and whether … the contents of it are, in fact, in the hands of ISIL," Pentagon press secretary Rear Adm. John Kirby told reporters, using an acronym to refer to the Islamic State.
"They are certainly … the kinds of material that was dropped … so it's not out of the realm of the possible in that regard," he said.
On Sunday, U.S. Central Command announced that it had airdropped small arms, ammunition and medical supplies to resupply beleaguered Kurdish forces who have been defending Kobani.
The weapons and supplies were provided by Iraqi Kurds and delivered by a U.S. C-130 aircraft.
Officials have said they're only aware of one bundle of the 28 dropped that didn't make it to the Kurds. On Monday, CENTCOM said it had destroyed that bundle in an airstrike to prevent it from falling into enemy hands.
On Tuesday, Kirby said the Pentagon is "pretty confident" that no other bundles went off target, but couldn't rule out the possibility, or that the Islamic State recovered the one that missed the mark.
Kirby said it's unclear at this point if additional resupply drops will be needed.
In addition to supplying the Kurds, the U.S. has conducted more than 130 airstrikes near Kobani against Islamic State targets. Officials estimate the strikes have killed "hundreds" of militants and destroyed "scores" of their vehicles.
Officials assess that the Kurdish forces still control a majority of the city, although the Islamic State still has a significant presence in the area.
"They have definitely -- combined with our airpower -- have slowed ISIL's advances on the town and stunted … their ability to threaten it," Kirby said.
But he cautioned that people shouldn't be overly optimistic about the ultimate outcome of the battle.
"The town could still fall," he said.
harper.jon@stripes.com Twitter: @JHarperStripes
---
---
---
---