Part blimp, part kite: Military testing Helikite for use over Afghan skies
---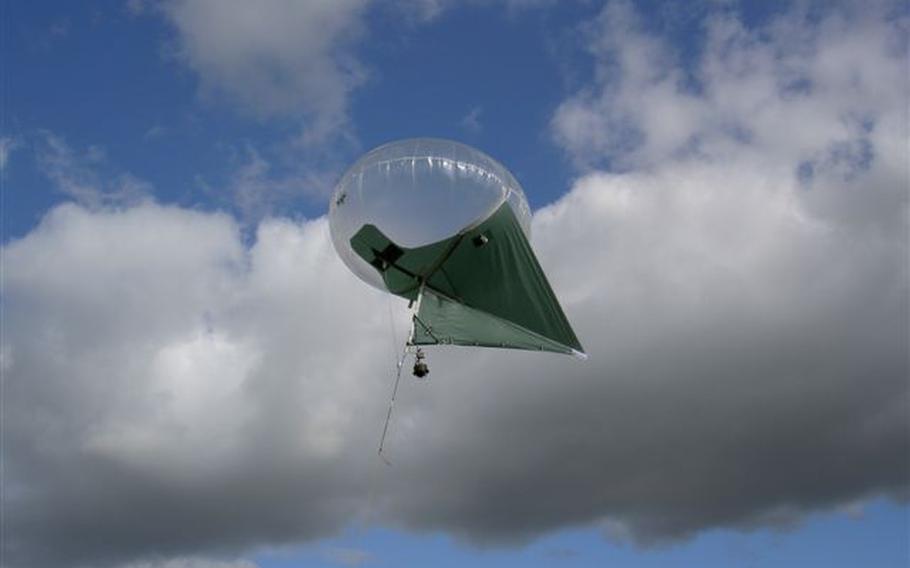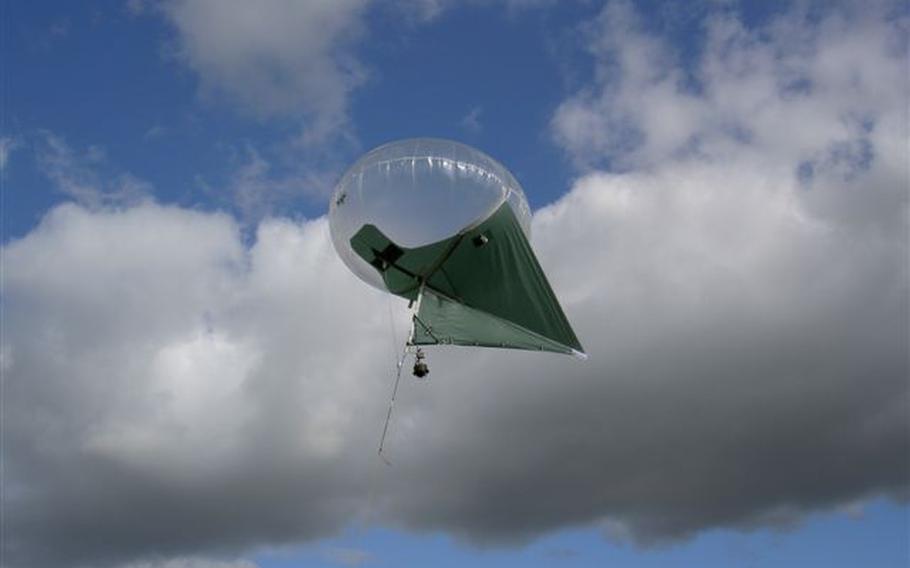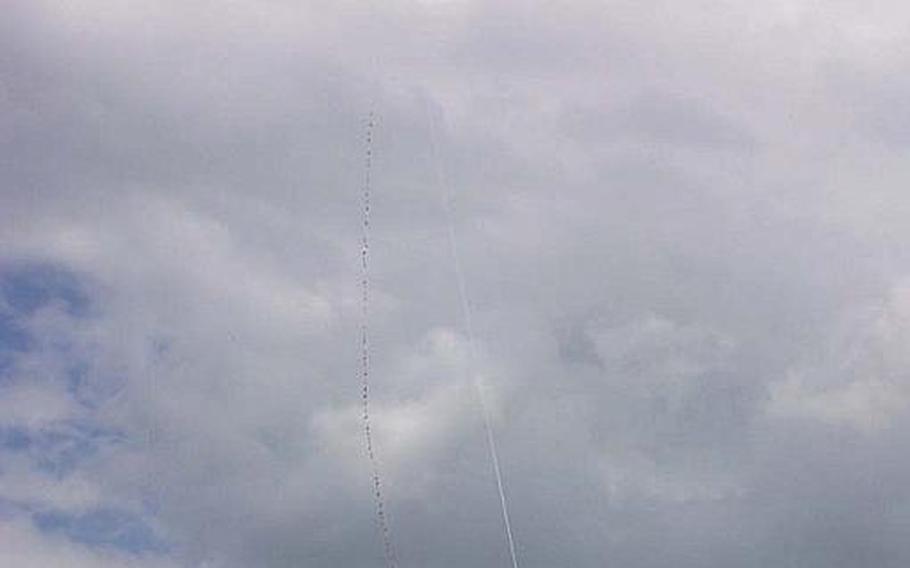 This story has been correctedYOKOTA AIR BASE, Japan — The U.S. military is testing high-tech "battle kites" as a method of lifting communications and surveillance equipment above isolated bases in Afghanistan.
The battle kites aren't designed to get involved in dog fights. They are built to fly over forward operating bases that are too small to support the large aerostat blimps familiar to troops at larger facilities such as Kandahar Air Field.
The blimps are useful tools for soldiers guarding the bases because they carry communications equipment, cameras and night-vision devices that can zoom in on any suspicious activity — they can even watch for trouble near friendly forces operating nearby.
But many of the bases in Afghanistan are too small to sustain the larger aerostats, according to Maj. Peter Moore, product director at the Army's Fort Belvoir, Va.-based Rapid Equipping Force. "We are looking at small, more tactical aerostats that can be used at those small bases," he said.
The Helikite — an aircraft that combines the properties of a kite and a blimp — is one of several small aerostats that the Army is testing, he said. Officials will look at how long it takes to launch and recover the vehicles, how they perform in windy conditions and how well training programs for personnel operating the vehicles work.
In addition to surveillance, small aerostats can be used to set up mobile phone networks on remote battlefields, said Sandy Allsopp, the owner of British firm Allsopp Helikites, whose aerostat is also being used by the Air Force, the Navy and the British Army.
In remote places in Afghanistan, cell phone coverage is patchy at best. But with the help of small aerostats hoisting communications gear, the military could set up its own networks allowing soldiers with special SIM cards for their smartphones to send maps and information to each other on secure channels, Allsopp said.
Helikites — which look like large kites strapped to the bottom of helium-filled balloons — have far superior performance in high winds to balloons or other aerostats such as the blimps, he said.
"Cigar-shaped blimps can cope with some wind but they are very long and can't lift much," Allsopp said. "Helikites can be small and still cope with high wind and go very high."
A typical Helikite can lift five times as much gear as other types of aerostats that are the same size, he said.
For example, to lift a camera in 37 mph winds, soldiers would require a blimp containing 400 cubic meters of helium. They could do the same job using a Helikite — which gets lift from both its helium and its wind-catching kite section — using only 35 cubic meters of helium, Allsopp said. That's a big advantage for soldiers operating in a place like Afghanistan, where it is expensive and difficult to transport supplies and equipment to far-flung bases, he said.
Helikites range in size from 6-foot aircraft capable of lifting small cameras or radios, to 24-foot aircraft that can lift up to 66 pounds of equipment. Plus, the kites can fly as high as 6,000 feet, well out of range of rocket-propelled grenades and small-arms fire, he said.
A key advantage is cost, Allsopp said.
"You could spend $10 million on one UAV or buy 200 ($50,000) Helikites," he said.
David Johnson, of the Center for Advanced Defense Studies in Washington, said he expects to see more of the small aerostats over battlefields as the military expands its network of unmanned vehicles."The goal is to have a permanent eye in the sky over threats," he said.
Small aerostats fill a niche in a network that includes satellites and more sophisticated unmanned systems such as the Global Hawk, Johnson said.
"It is a low-cost alternative to building something more permanent or building more bandwidth on our satellites," he said.
CorrectionThis article originally stated the 24-foot Helikite can lift 33,000 pounds of equipment. The correct number is 66 pounds.
---
---
---
---