Osama bin Laden killed in Pakistan
by
Leo Shane III
May 2, 2011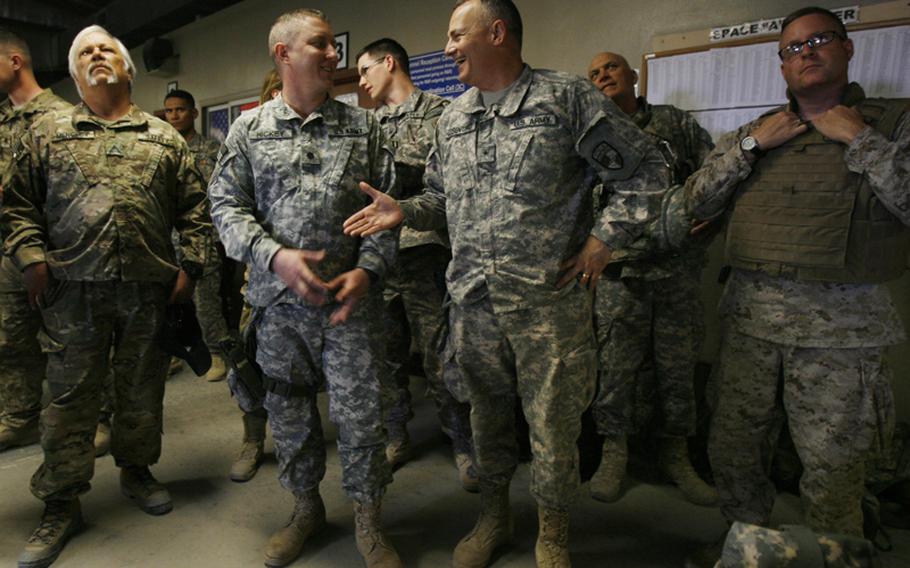 WASHINGTON — Osama bin Laden, the mastermind behind the Sept. 11, 2001, killings of nearly 3,000 Americans, has been killed at a Pakistan hideout, the White House announced late Sunday.
White House officials said the killing of bin Laden was the culmination of intense focus by intelligence officials since President Barack Obama took office, and proof of America's promise to relentlessly protect its citizens.
In his speech late Sunday night, Obama said that he was briefed on a possible lead on bin Laden's whereabouts in August, and intelligence operatives spent the last eight months zeroing in on details of the al-Qaida leader.
"Today, at my direction, the United States launched a targeted operation against that compound in Abbottabad, Pakistan," Obama said. "A small team of Americans carried out the operation with extraordinary courage and capability. No Americans were harmed. They took care to avoid civilian casualties. After a firefight, they killed Osama bin Laden and took custody of his body."
White House officials said that bin Laden's body "is being handled in accordance with Islamic tradition," but would not give further details. Reporters later indicated that bin Laden's body had been buried at sea, perhaps to avoid the creation of a shrine to the al-Qaida leader.
Senior administration officials said they had been monitoring the compound in Abbottabad since last September. The area is a wealthy suburb of Islamabad and home to a number of retired Pakistani military officials. Abbottabad is deep inside northern Pakistan, some 15 miles north of the capital of Islamabad and 15 miles west of the contested area of Jammu and Kashmir, also claimed by India.
The compound where bin Laden was killed was built about six years ago and featured an unusual amount of security for the area: 12-foot-high walls, secured entry gates, concealed and protected terraces inside. Officials said the home's footprint was eight times larger than other homes in the area, and valued at more than $1 million.
White House officials would not say how long bin Laden had been hiding there, but military officials began preparing for a raid in mid-March. A senior defense official called the action a "surgical strike" that the U.S. team had practiced numerous times.
"Shortly after taking office," Obama told the nation, "I directed Leon Panetta, the director of the CIA, to make the killing or capture of bin Laden the top priority of our war against al-Qaida, even as we continued our broader efforts to disrupt, dismantle and defeat his network.
"Then, last August, after years of painstaking work by our intelligence community, I was briefed on a possible lead to bin Laden. It was far from certain, and it took many months to run this thread to ground. I met repeatedly with my national security team as we developed more information about the possibility that we had located bin Laden hiding within a compound deep inside of Pakistan. And finally, last week, I determined that we had enough intelligence to take action, and authorized an operation to get Osama bin Laden and bring him to justice."
Five people were killed in the assault: Bin Laden, his adult son, two other men described as associates of the al-Qaida leader, and a woman "used as a human shield by one of the men in the assault," according to a senior administration official. Bin Laden "did resist the assault force and was killed in a firefight."
Two other women at the compound were injured, officials said, but no outside civilians or local law enforcement were involved. The entire raid took less than 40 minutes, and the team destroyed the compound (after evacuating other people living there) and a damaged U.S. helicopter as they left the mission.
"Tonight," Obama said, "we give thanks to the countless intelligence and counterterrorism professionals who've worked tirelessly to achieve this outcome. The American people do not see their work, nor know their names. But tonight, they feel the satisfaction of their work and the result of their pursuit of justice."
Officials said the helicopter was disabled by a mechanical problem, but they would not elaborate. A second helicopter was used to evacuate everyone from the site.
Military officials would not confirm if special forces were involved in the assault, or other details of the mission. They did say that the assault was designed to minimize civilian casualties, a complex goal considering the suburban location of bin Laden's hideout.
Troops downrange gathered around televisions as details rolled out. Many celebrating; some were more circumspect.
"All I'm thinking about," said Brig. Gen. Tom Cosentino at Bagram Airfield in Afghanistan, "are the bodies we pulled out of the Pentagon and the Twin Towers."
Congressional officials were informed of the details just a few hours before Obama's speech. As word of bin Laden's death spread around Washington, D.C., hundreds began gathering around the White House before the national address, celebrating in the streets and chanting "U.S.A.! U.S.A.!"
Stars and Stripes reporter Laura Rauch contributed to this report.
Twitter: @LeoShane
---
---
---