Officials: No indications Taliban shot down US F-16 that crashed near Bagram
---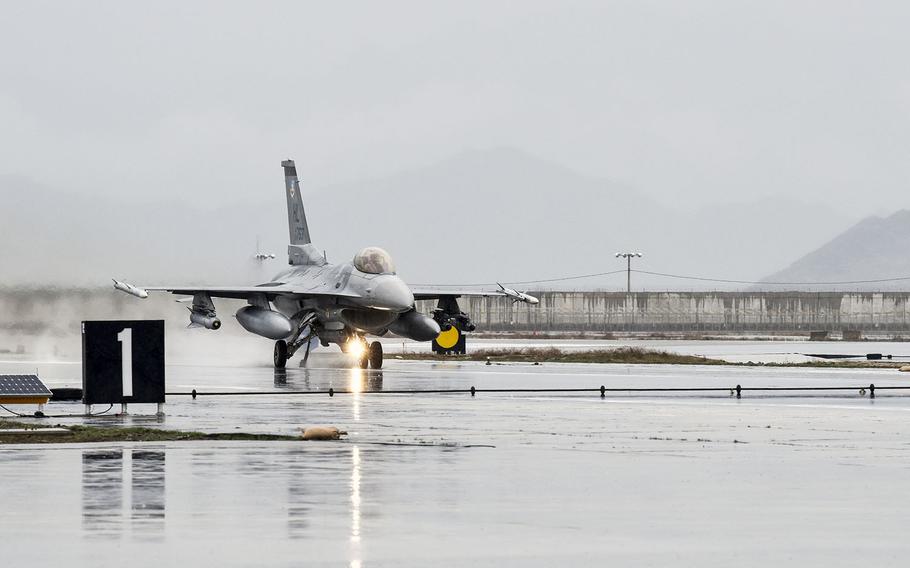 KABUL, Afghanistan — There is no evidence enemy fire caused a U.S. F-16 to crash on takeoff from Bagram Air Field late Tuesday, officials said.
The pilot ejected safely.
The Taliban claimed to have shot down the aircraft and that there were casualties.
Capt. Bryan Bouchard, spokesman for the 455th Air Expeditionary Wing, said that was not true.
"I can definitely refute that," he said. "There were no indications this was from hostile fire."
Bouchard said the pilot was taken to the Craig Joint Theater Hospital, and "for all intents and purposes is fine."
Defense Department spokesman Peter Cook said Tuesday that the plane crashed during takeoff at about 8:30 p.m.
Bouchard said the crash site was still secured as of Wednesday afternoon and that an investigation could take weeks or months to conclude.
This was the second incident at Bragram this week. On Monday, a 22-year-old Afghan was shot outside Bagram Air Field by a member of the U.S.-led coalition. That incident is being jointly investigated by U.S. forces and Afghan national and local police, said Brig. Gen. Charles H. Cleveland, spokesman U.S. Forces-Afghanistan.
The governor of Bagram district in Parwan province, Abdul Shuqoor Qudoosi, said the young man killed was approaching the base when he was warned off by a member of the U.S.-led coalition in a guard tower.
The Associated Press reported the servicemember was an American. Coalition officials would not confirm the nationality.
Bagram Air Field is roughly 35 miles north of the capital Kabul. It is the largest U.S. military base in Afghanistan.
Stars and Stripes reporter Tara Copp contributed to this report.
---
---
---
---