Obama to keep 5,500 American troops in Afghanistan into 2017
By
Josh Smith Corey Dickstein
October 15, 2015
---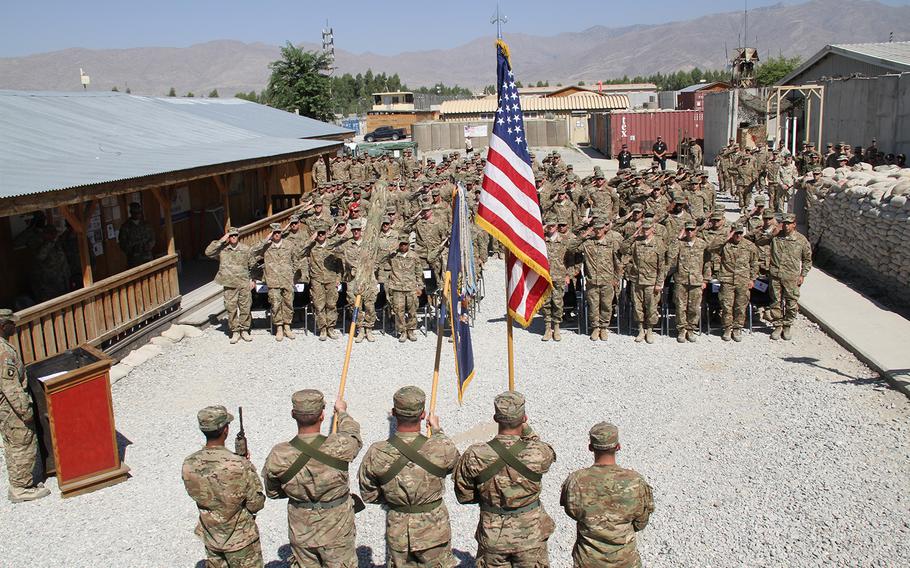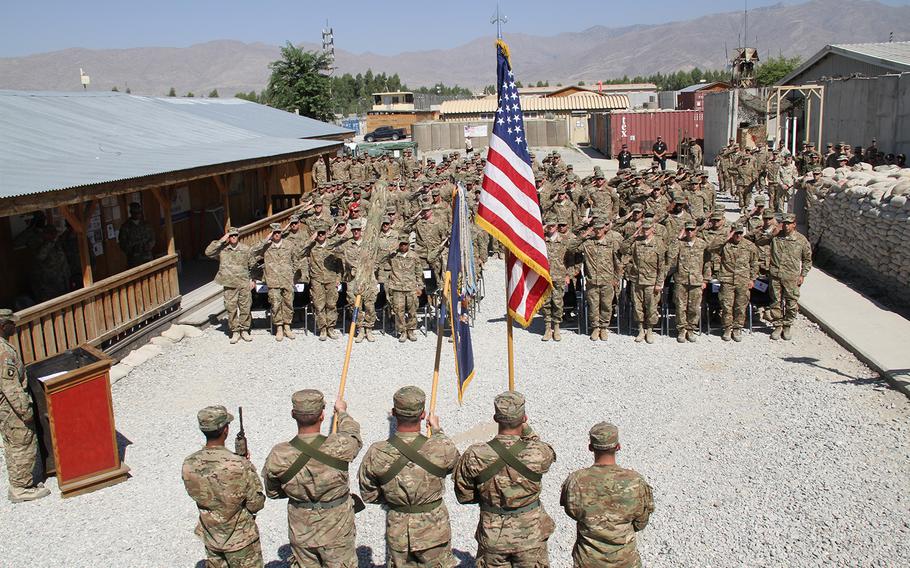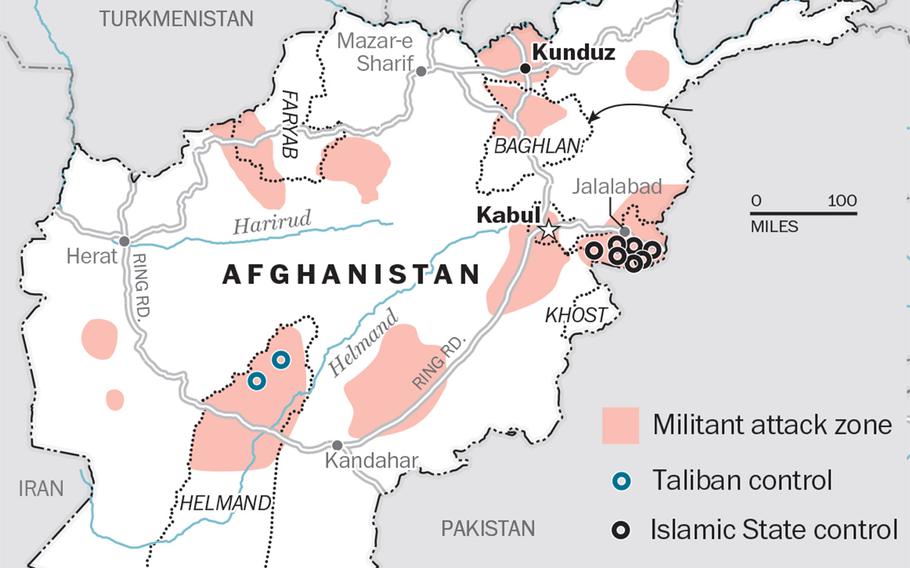 WASHINGTON — Thousands of U.S. troops will remain in Afghanistan through the conclusion of Barack Obama's presidency, a major shift in policy he announced Thursday to help ensure the country does not slip back into control of extremist groups.
With the Taliban on the offensive and casualties rising among Afghan security forces and civilians, Obama said he would keep 5,500 troops in Afghanistan into 2017, leaving future decisions about the American efforts there to his successor.
"While America's combat mission in Afghanistan may be over, our commitment to Afghanistan and its people endures," Obama said, eluding to America's ending of Operation Enduring Freedom in December. "As commander-in-chief, I will not allow Afghanistan to be used as a safe haven for terrorists to attack our nation again."
Obama's new plan calls for a force of 9,800 troops to remain there through most of next year, continuing their two-fold mission to advise and assist Afghan forces and target the remnants of al-Quaida. The troops will operate from several U.S. bases including in Bagram, north of the capital Kabul; in Kandahar, in the country's south, and in Jalalabad, in the country's east.
Obama's original plan would have seen all but a small, embassy-based contingent of troops withdrawn from Afghanistan by the end of next year. But recent gains by the Taliban, including the brief capture of Kunduz in the country's north, worried military leaders, who in recent months have advised Obama to leave a larger presence in the country.
"Given what's at stake in Afghanistan and the opportunity for a stable and committed ally that can partner with us in preventing the emergence of future threats and the fact that we have an international coalition, I am firmly convinced that we should make this extra effort," he said, acknowledging the American public has grown weary of the longest war in its history.
The Afghan forces progress has been slower than the U.S. had hoped when it ended the American role in combat operations at the end of last year.
Obama said the Afghans, who now have sole responsibility for the security of their country, will benefit from the continued presence of U.S. advisers "this fighting season and into next fighting season."
"Afghan forces are still not as strong as they need to be," Obama said, speaking late Thursday morning at the White House flanked by Vice President Joe Biden, Defense Secretary Ash Carter and Chairman of the Joint Chiefs of Staff Marine Gen. Joseph Dunford. "They are developing critical capabilities – intelligence, logistics, aviation, command and control."
The president's decision will allow the Afghans ample opportunity to master those capabilities and give the U.S. "the chance to finish what we started," Carter said Thursday afternoon during a Pentagon news briefing.
Congress respondsBut several Republican lawmakers expressed their doubt that Obama's new plan would be successful.
"While this new plan avoids a disaster, it is certainly not a plan for success," said Rep. Mac Thornberry, R-Texas, who chairs the House Armed Services Committee. "Given the troubling conditions on the ground in Afghanistan and the other security problems in the region, keeping 9,800 troops there through at least 2016 is necessary to our security interests."
Sen. John McCain, R-Ariz., called for the indefinite halt of any drawdown.
"It is highly unlikely that a force level of 5,500 troops was recommended as the best professional judgment of our senior military leaders and commanders on the ground in Afghanistan," said McCain, who chairs the Senate Armed Services Committee. "The bottom line is that 5,500 troops will only be adequate to conduct either the counterterrorism or the train and advise mission, but not both. Our military commanders have said that both are critical to prevent Afghanistan from spiraling into chaos."
Carter insisted Obama's entire national security team -- including Carter, Dunford and Army Gen. John Campbell, the top U.S. commander in Afghanistan -- was consulted in making the decision "based on the conditions on the ground."
"We did a lot of homework on this, and it's the reason for that troop level," Carter said. "… This is our best estimate now of what we should be planning for and budgeting for in 2017."
A 'solemn decision'Keeping an American presence in Afghanistan – where more than 2,200 U.S. servicemembers have perished since 2001, including 25 in the last year – was a difficult decision, the president said.
"It's the most solemn decision that I make," Obama said. "I know the wages of war in the wounded warriors I visit in the hospital and in the grief in Gold Star families. But as your commander-in-chief, I believe this mission is vital to our national security interest and to preventing terrorist attacks against our citizens our nation."
It was not immediately clear Thursday what effect the president's announcement would have on troop rotations in Afghanistan.
Christine Abizaid, the deputy assistant secretary for Defense for Afghanistan, Pakistan and Central Asia, said how the Department of Defense fills out the additional 5,500 slots "across the U.S. forces is something we're going to leave room for our commanders to decide in consultation with the service chiefs."
Abizaid said the department did not yet have details on how services' deployment cycles would be affected, but that "this is a more significant commitment than we were planning on."
Support for Afghan governmentAfghan President Ashraf Ghani has been among those calling for a continued U.S. commitment. The rise of Islamic State-linked militants has added to the concerns that the country could descend into chaos.
Obama said he spoke Wednesday to Ghani and Afghan Chief Executive Abdullah Abdullah and reasserted the U.S. commitment to a stable, peaceful Afghanistan.
"Governance and development remain the foundation for stability and progress in Afghanistan," Obama said. "We will continue to support President Ghani and the national unity government as they pursue critical reforms. … Efforts that deliver progress and justice for the Afghan people will continue to have the strong support of the United States, and we cannot separate the importance of governance with the issues of security. The more effective these reforms happen, the better off the security situation is going to be."
Analysts said the announcement was expected.
"The essential reality is that Afghanistan is not able to stand alone, neither militarily nor financially," said Emily Winterbotham, a research fellow with the Royal United Services Institute in London. "There were already signs earlier this year that there could be a slight shift in policy. And obviously there have been discussions among other NATO states as well, although it's not clear at this point what direction they're taking."
NATO mission could continueObama's announcement could mean the continuation of the NATO Resolute Support mission, which was widely expected to conclude at the end of 2016. With about 13,000 troops, the post-combat NATO mission has focused mainly on training Afghan forces.
In May, allies agreed once Resolute Support ended, the mission would transfer to civilian leadership with a much smaller military presence, marking a milestone for NATO's longest military commitment in history.
NATO Secretary-General Jens Stoltenberg welcomed the plan and said the alliance would soon decide about the future scope of the Resolute Support mission.
"This important decision paves the way for a sustained presence by NATO allies and partners in Afghanistan," he said in a statement. "The significant U.S. contribution will be an important factor as we consider the way ahead."
The initial U.S. drawdown plan, involving only a 1,000-strong embassy force, would have essentially forced an end to the larger NATO effort, as allies depend on the U.S. for key support such as airlift.
At a meeting of NATO defense ministers in Brussels last week, leaders indicated support for continuing the campaign in Afghanistan, which switched last year from a combat mission to one focused on training.
While U.S. forces continue to conduct airstrikes and take part in select combat operations, allies in Europe have not talked publicly about such a role for their troops.
NATO publicly distanced itself from more aggressive U.S. efforts to help Afghan troops in desperate battles with the Taliban in Helmand province. American warplanes conducted 63 airstrikes on suspected al-Qaida training camps in Kandahar in a massive operation that ended Sunday. Airstrikes also have continued to play a role in defending provincial capitals in several provinces, including in Kunduz, where a U.S. strike killed at least 22 medical staff and patients at a Doctors Without Borders hospital.
German Foreign Minister Frank-Walter Steinmeier on Thursday welcomed Obama's announcement, saying Germany also plans to continue with its mission in Afghanistan.
"The international community can't abandon Afghanistan and must continue to support the country in the fight against the Taliban," Steinmeier said in a release, which stopped short of offering specifics on troop contributions.
Mixed response from AfghansMembers of the Afghan military community, who are at the front lines of the war and who have worked closely with American troops since 2001, generally express support for a more robust continued U.S. presence. American warplanes are seen as a coveted resource, and the security forces are largely funded by the United States.
"We are seeing that the Taliban are mostly looking to fight, not to negotiate, so it is important to have foreign forces with our army," said former army Maj. Mohiudin Nazari.
As long as the insurgency continues, international military aid will be needed as a back-up, he said.
Other Afghans are more skeptical of American motives.
"(The American troops) are not for Afghanistan; they are here for their own goals," said Qari Bashar, a resident of Kabul. He is convinced the ongoing conflict, despite years of foreign intervention, is proof that the United States has no interest in ending the war.
"Increasing or decreasing the number of foreign or Afghan forces does not matter, because no one wants peace in this country," Bashar said.
In an English-language statement released online earlier Thursday, the Taliban said they were not surprised by talk of an extended American military mission. Obama's previous promises, the statement said, were merely political posturing.
"These assertions are made time and again merely to reduce intensity of anger and hatred of Afghans against occupation and to deceive their people and the world," the Taliban statement said.
The group said only after the "nefarious" occupation ends it be willing to "initiate meaningful negotiations."
Zubair Babakarkhail and Stars and Stripes reporters Tara Copp, John Vandiver and Steven Beardsley contributed to this report.
dickstein.corey@stripes.comTwitter: @CDicksteinDC
smith.josh@stripes.com Twitter: @joshjonsmith
---
---
---
---