Obama nominates Army vice chief of staff to command ISAF
---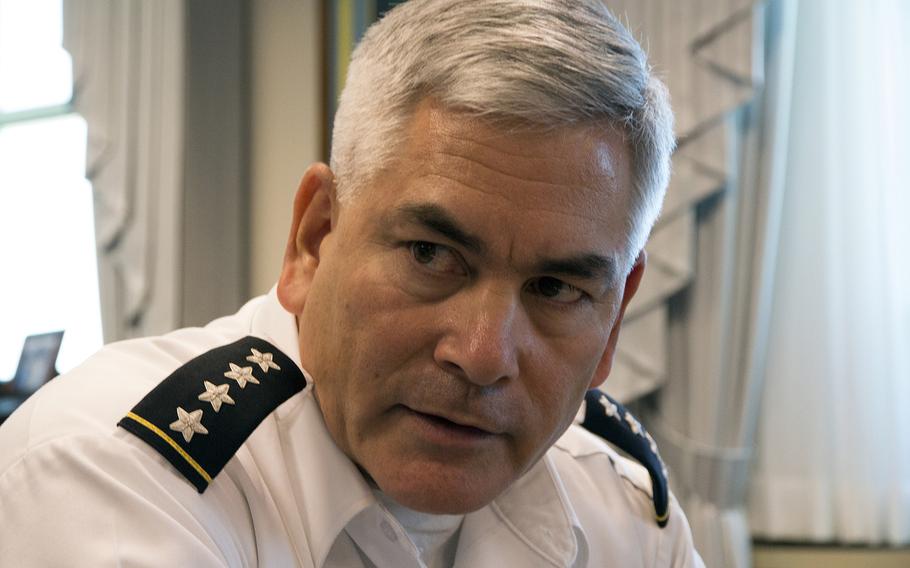 WASHINGTON — President Barack Obama has nominated Army Gen. John F. Campbell to command NATO's International Security Assistance Force and U.S. Forces Afghanistan.
If confirmed by the Senate, Campbell will likely be the final U.S. commander of NATO combat troops in Afghanistan. Combat operations there are scheduled to end Dec. 31. Earlier this month, the current ISAF commander, Gen. Joseph Dunford Jr., was nominated to lead the Marine Corps as commandant.
Congress determines the timing of the confirmation, and a Pentagon spokesman said he would not speculate on when the changeover would occur. But with just six months until the NATO mission ends, important issues are unresolved. Afghanistan's recent presidential election has yet to produce a winner, leaving plans for a post-2014 advisory and counterterrorism mission up in the air.
RELATED: More Stars and Stripes coverage of Afghanistan
While both candidates remaining in the runoff election have said they would sign a bilateral security agreement with the United States, guaranteeing immunity from the Afghan justice system for U.S. troops, the Obama administration and Pentagon have said a complete withdrawal will result if the successor of Afghan president Hamid Karzai likewise balks at signing the agreement.
The importance of continuing the mission to train and support Afghan security forces was highlighted in recent days by the collapse of the army of Iraq, left on its own after an inability to reach an accord on immunity for U.S. troops led to their full withdrawal in 2011.
Campbell, commissioned as an infantry officer in 1979, rose to his current position as vice chief of staff of staff the U.S. Army in 2013. Previously, he commanded the 101st Airborne Division in Afghanistan from 2010 to 2011 along with Combined Joint Task Force 101. Before that, he served in Iraq as deputy commanding general for maneuver of Multinational Division-Baghdad, which included the 1st Cavalry Division and 4th Infantry Division.
Obama also on Tuesday nominated Adm. Bill Gortney, commander of U.S. Fleet Forces Command, to helm U.S. Northern Command and NORAD. Gortney, a fighter pilot, served as Director of the Joint Staff at the Pentagon from 2010 to 2012 and commanded U.S. Naval Central Command/U.S. 5th fleet from 2008 to 2010, among other assignments.
Army Lt. Gen. Joseph Votel, currently commander of Joint Special Operations Command, would receive a fourth star and become commander of U.S. Special Operations Command if approved by the Senate. Previously, Votel served as deputy commander of the Joint IED Defeat Organization at the Pentagon and as deputy commanding general of the 82 Airborne Division and Joint Task Force 76 in Afghanistan.
"All three are highly qualified officers who have devoted many years of service to their country," Secretary of Defense Chuck Hagel said in a written statement. "If confirmed by Congress, they will be outstanding successors to Gen. (Charles) Jacoby, Gen. Dunford, and Adm. (William) McRaven, who have all been exemplary and highly effective commanders. I join the president in thanking all these leaders for what they have done and will continue to do for both our nation and our men and women in uniform."
---
---
---
---