'No sadness' as U.S. troops leave Iraq
by
Geoff Ziezulewicz
December 18, 2011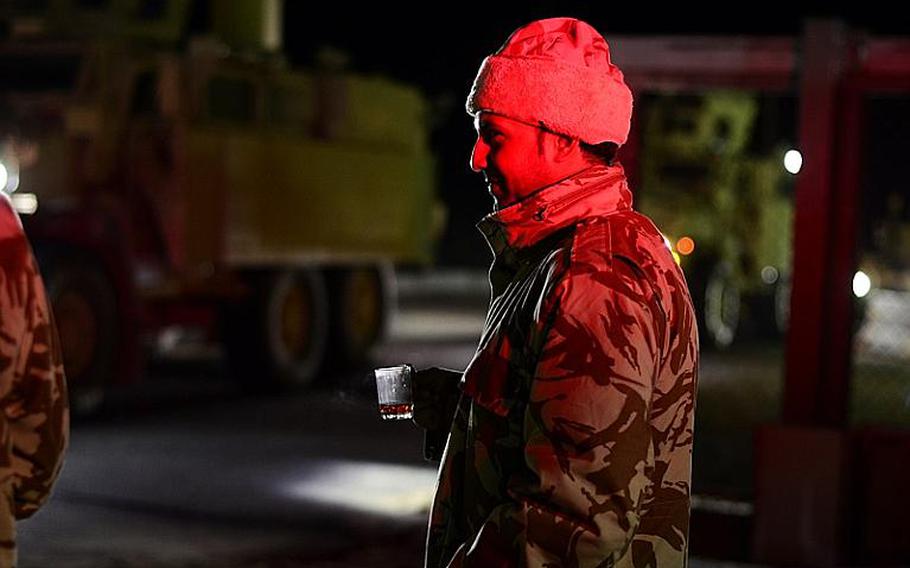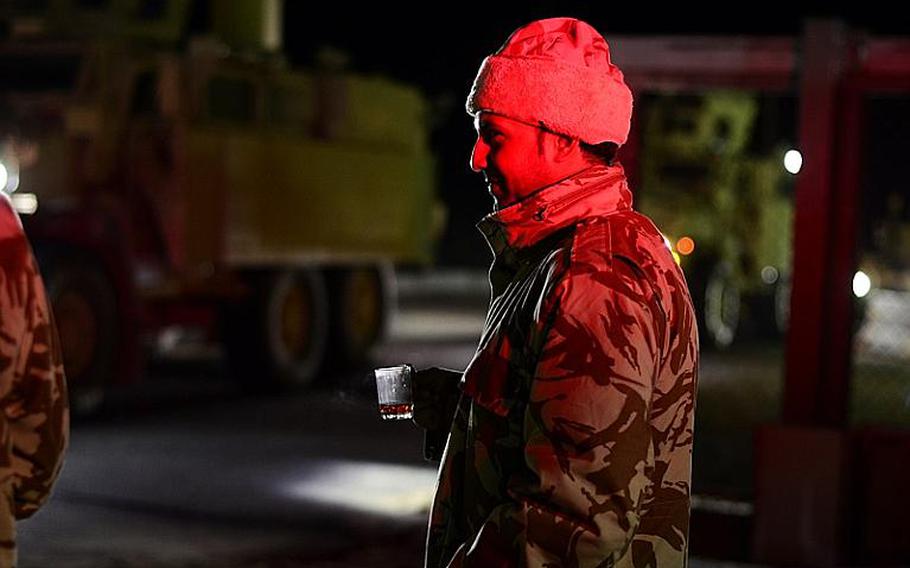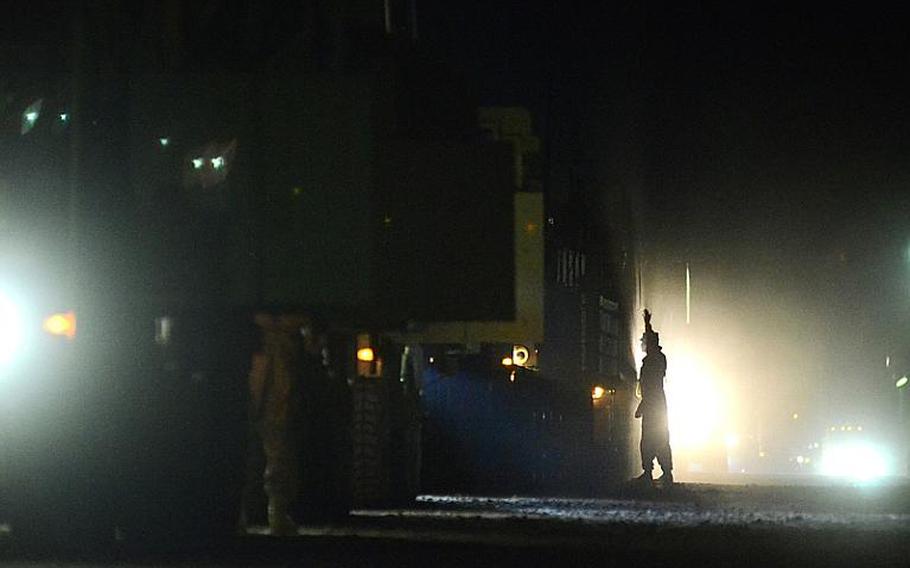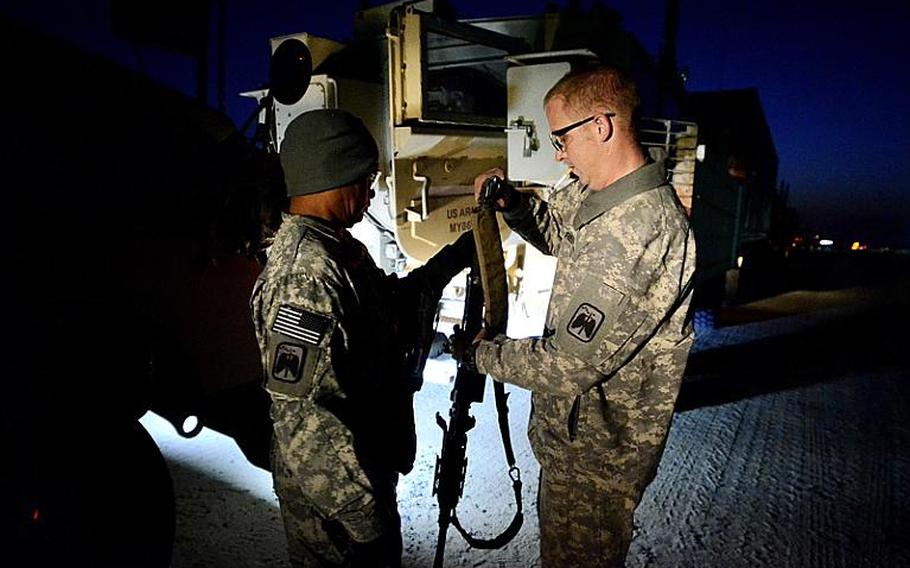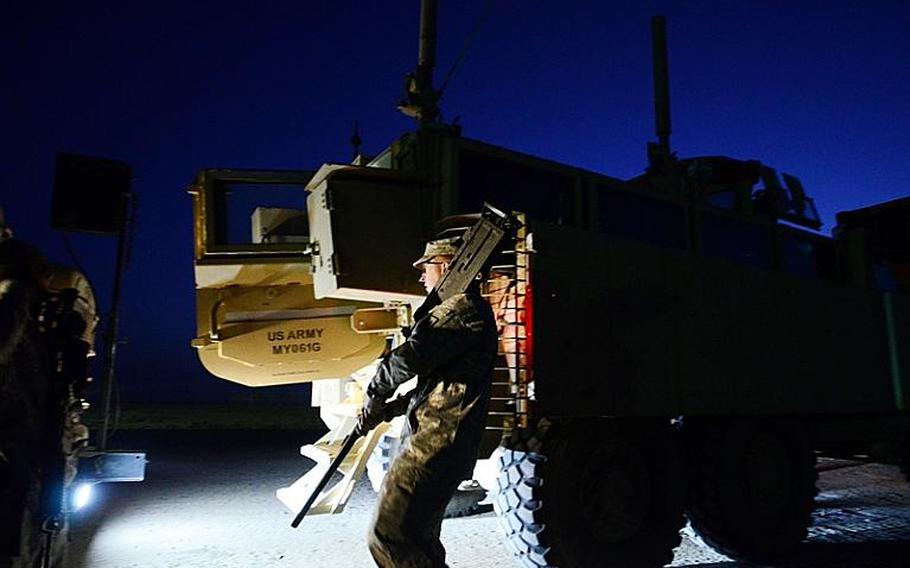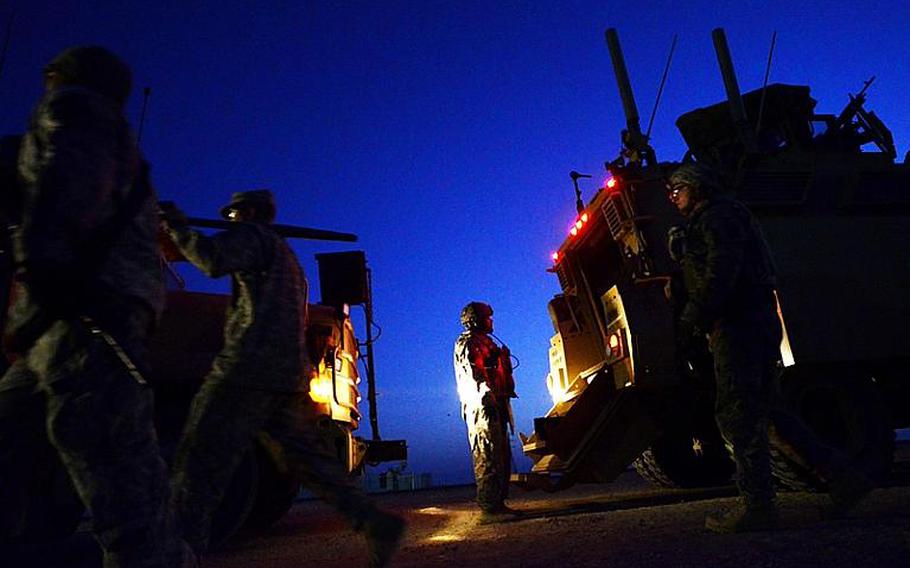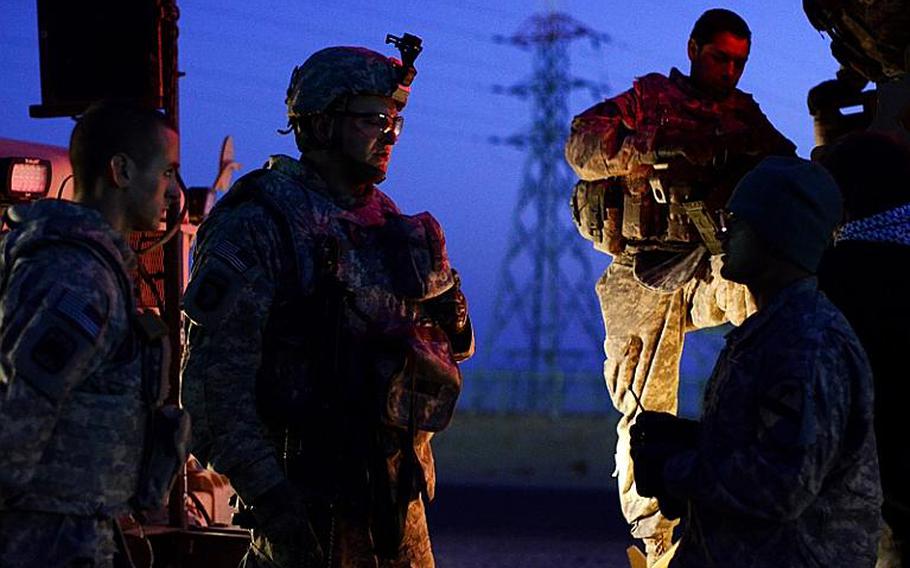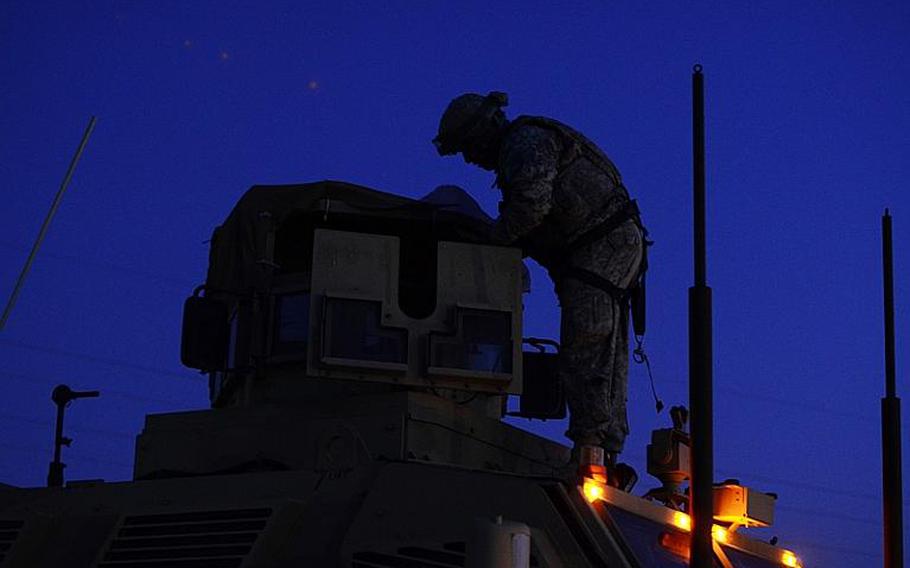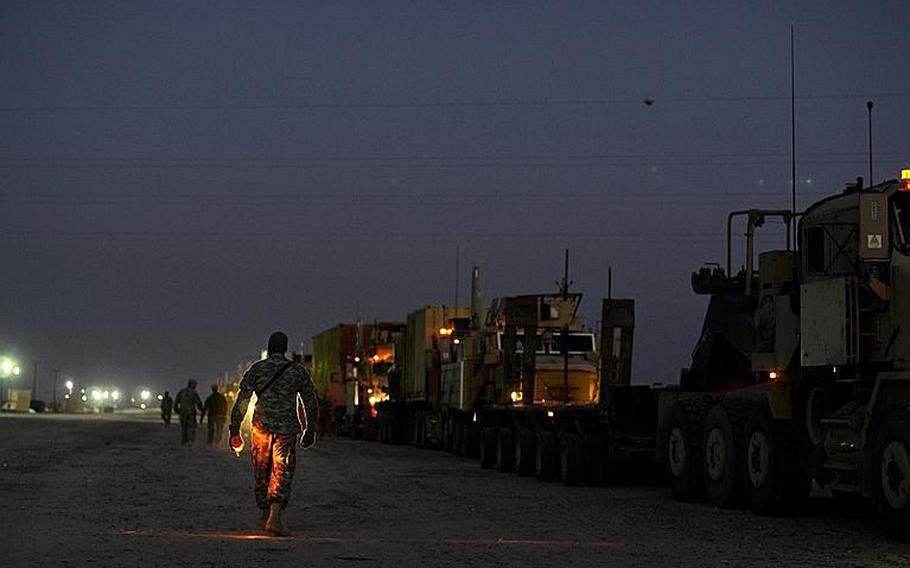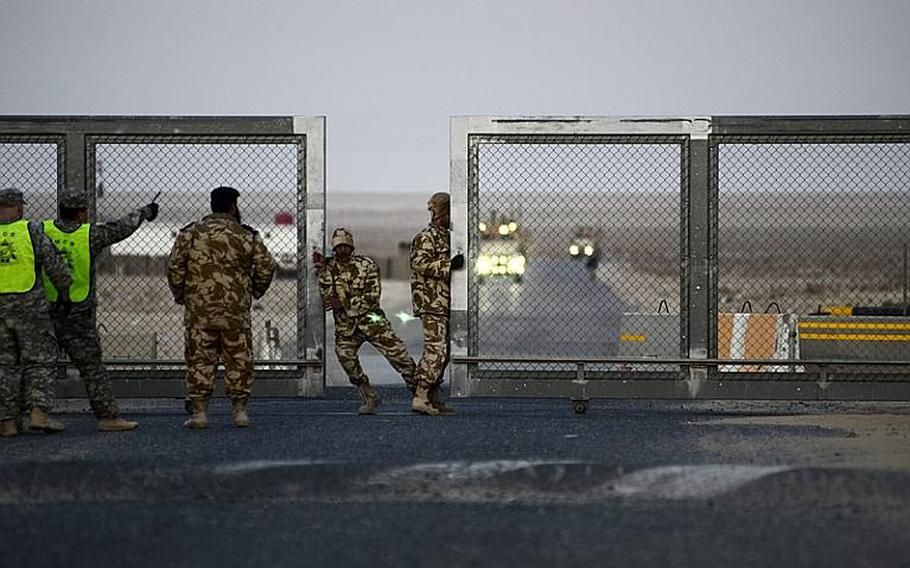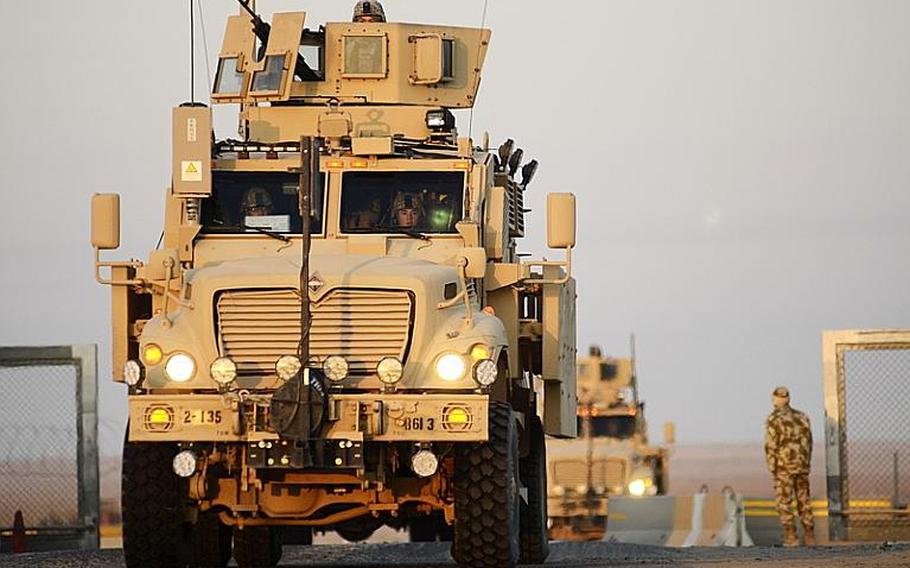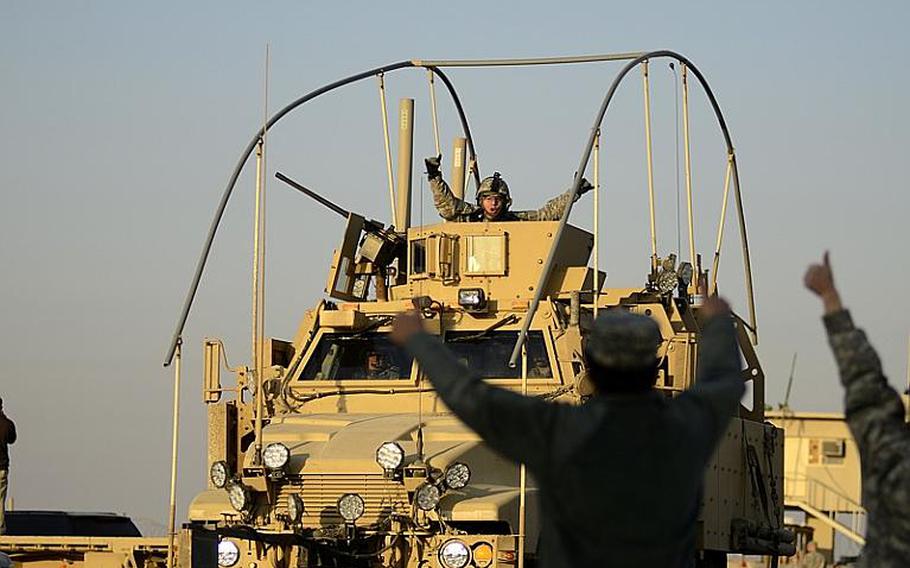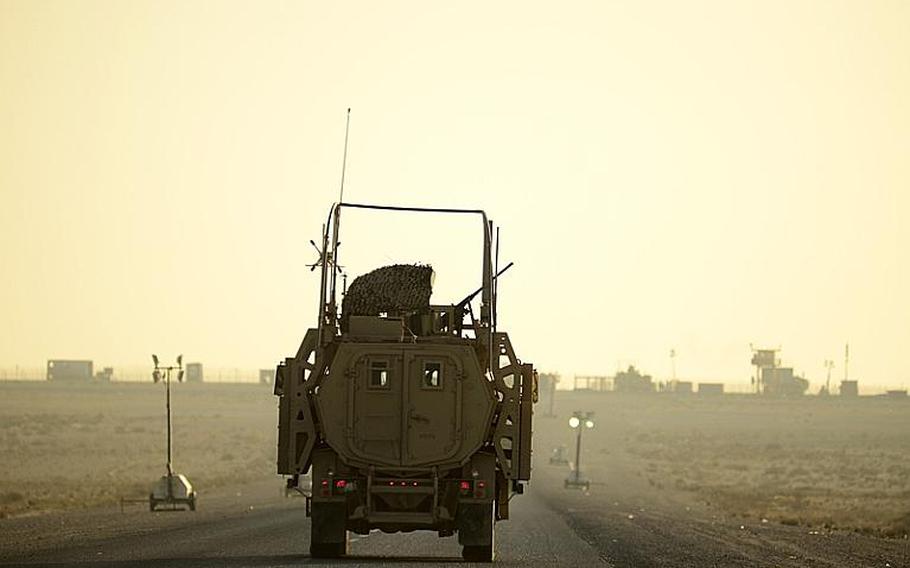 KHABARI CROSSING, Kuwait — With little fanfare, the last U.S. troops in Iraq rolled through an open gate at the Kuwaiti border Sunday, officially marking the end of the Iraq war.
Multiple convoys mostly carrying soldiers with the 1st Calvary Division's 3rd Brigade began rolling through the Khabari crossing in the early hours Sunday after a journey from Contingency Operating Base Adder in southern Dhi Qar province, the last U.S. military installation to close its gates in Iraq. Some trucks honked, most were met with cheers from the U.S. troops at the border.
It was a decidedly low-key end to the nearly nine-year war, one that took nearly 4,500 American lives and that of an estimated 100,000 Iraqis as well.
The arriving soldiers paused at the large no-man's-land-style border crossing to clear their weapons and get fuel. A host of media were on hand to chronicle the event.
Despite fears voiced by some military officials about the potential for a final catastrophic attack by insurgent forces, the convoys were largely uneventful, a good thing for 1st Lt. Ryan Towson.
Most of the soldiers, especially the younger guys, may not realize Sunday just how significant their last drive out of Iraq was, he said.
"But over the next few days and weeks, they'll realize what they accomplished," he said.
Back at Kuwait's Camp Virginia, 27-year-old Spc. Dorian Johnson said he felt the history of that morning's ride.
It was the Charlottesville, Va., native's second deployment to Iraq, this time around with the brigade's special troops battalion.
"Deploying the first time, it's a deployment," he said. "The second time, closing it down, you see how you helped to get (the Iraqis) on their feet. When we're conducting route clearance, we're seeing the (Iraqi army) doing route clearance."
Spc. Daniel Albert said he also noticed a change this time contrasted with his first deployment from 2008 to 2009.
"We saw them exercise their right to protest," said Albert, of Killeen, Texas. "It was pretty cool."
There was no wistfulness for either man after crossing into Kuwait.
"No sadness," Johnson said.
"No sadness at all," Albert added. "I get a two-year break to see my son. I'm good to go."
For Sgt. Donald Clark and other soldiers of the special troop battalion's Charlie Company, this was not an easy year in a supposedly pacified Iraq.
On his fourth Iraq tour, Clark and his men were based at Contingency Operating Site Garry Owen in eastern Maysan province, north of Basra and right up against the Iranian border. It was an area heavily influenced by Iran and Sadrist loyalists.
The route clearance mission involved finding a lot of roadside bombs, and being hit by even more, he said.
"This time it was a little more difficult," Clark said of this route clearance mission compared with his 2007 deployment.
Clark and two of his men were injured by roadside bombs during the past 11 months, both traditional improvised explosive devices and the more sinister explosively formed penetrators, or EFPs.
"They were really hiding them a lot better this time," he said. "They found us more than we found them."
While being deployed so much builds camaraderie, Clark said he misses his wife and their "two furry kids." The significance of his final roll out of Iraq wasn't lost on Clark.
"The first time I came in I drove in soft Humvees up to Baghdad," he said. "For me it's a good feeling and a huge turnaround." Nearing the end of his first yearlong deployment, and safely back in Kuwait on Sunday morning, Pfc. Josh Johnson said his concept of a combat tour had been turned on its head over the past 11 months.
The 20-year-old Truckee, Calif., native also spent his time in Iraq doing route clearance, encountering and dodging EFPs.
June and July were particularly rough, he said, with insurgents finding new ways to launch EFPs at his truck. Johnson said he took to leaning as far back in his driver's seat as he could when driving past shacks, just in case.
"My view on being deployed has changed dramatically," he said. "You don't really take a lot of things into consideration back in the States. You really think about your life. I did. A lot."
Rolling into Kuwait on Sunday was great, Johnson said.
"I was thinking about the first day we showed up in Kuwait" 11 months ago, said Johnson, who was in 5th grade when the war began. "And now we're back here. Now that we're here we don't have to worry about much of a threat now."
In the end, Johnson said he thinks it was time for the U.S. to go.
"We've been in war a very long time," Johnson said. "We've been training the (Iraqi army). I'm thankful for the war is ending. They're ready to defend themselves."
Geoffz@estripes.osd.milTwitter: @Stripes_GeoffZ
if(typeof(dstb)!= "undefined"){ dstb();}
if(typeof(dstb)!= "undefined"){ dstb();}
if(typeof(dstb)!= "undefined"){ dstb();}
if(typeof(dstb)!= "undefined"){ dstb();}
if(typeof(dstb)!= "undefined"){ dstb();}