Nearly 300 Afghan police were killed in past month
by
Alex Pena pena.alex@stripes.com
July 1, 2013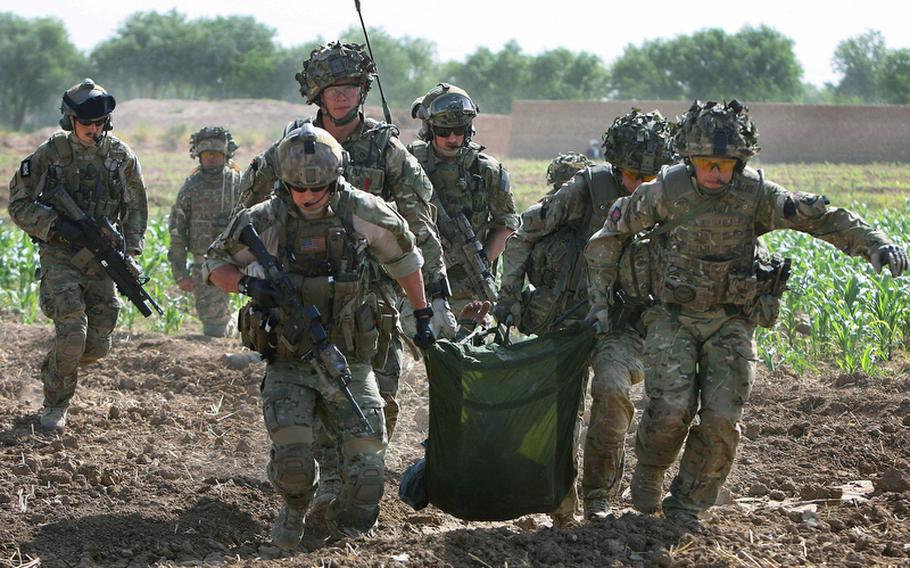 KABUL — Operations by Afghan security forces increased last month and so did the number of casualties they suffered, a spokesman for the Ministry of Interior said Monday.
During the past month, 299 Afghan police were killed in fighting with insurgents, and 618 were wounded — a 22 percent increase from the same period last year — spokesman Sediq Sediqqi reported.
The numbers were given at a joint press conference between NATO and the Ministry of Interior, the first such joint event since Afghan government forces assumed responsibility for security across the entire country two weeks ago.
In June, Afghan police forces conducted 387 operations, Sediqqi said.
"This is our answer to the Taliban's spring offensive. We have police officers present all over the country now, so this is one of the reasons," he said referring to the higher numbers of casualties.
Sediqqi also noted that 753 insurgents were killed and 300 arrested during the same period. In addition, 180 civilians died in the fighting, he said.
In contrast, casualties among the NATO-led international forces are currently at a 5-year low, an ISAF spokesperson confirmed.
Despite June being the deadliest month for foreign troops in the past nine months, with 27 deaths, 17 of those Americans, there have been only 78 coalition casualties in 2013. In comparison, 2009 was the other lowest period in the past 5 years, with 135 — 2010 was the highest with 285 reported casualties.
"The fact that ISAF casualty numbers are down, is a result that our Afghan partners are now in the lead and they are the ones confronting the enemy," said Brig. Gen. Heinz Feldmann, spokesman for the international coalition.
On Monday, ISAF reported that the Afghans had thwarted a would-be suicide bomber outside the headquarters of the National Directorate of Security in Kabul. The attacker was wearing a military uniform and was shot dead by guards outside of the main office, a report said.
The country's capital has been the target of multiple attacks in the past few weeks, most recently at the presidential palace, and the main airport complex before that.
"For insurgents, Kabul is a target. They will always want to hit it, because they know they will get the media attention," Sediqqi said.
He also said that the Afghan people were proud of the Afghan forces' casualties, stating that they were giving their lives for the unity of their country.
He said he had full confidence in the ability of the army and police to continue thwarting enemy attacks.
"We still have 18 months to address these challenges," Sediqqi said. "We are stronger than them, and we can easily confront them, and face them."
pena.alex@stripes.com Twitter: @AlexanderMPena