Navy taking part in Persian Gulf mine countermeasure exercise
---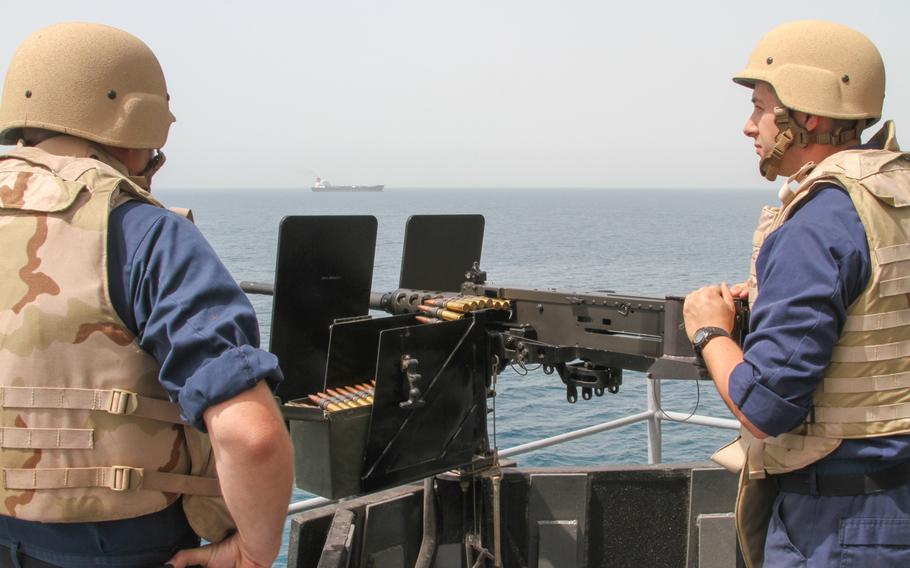 ABOARD THE USS PONCE IN THE PERSIAN GULF — An international mine countermeasure exercise involving 41 countries is underway in the Persian Gulf, involving approximately 6,000 sailors and 35 ships.
The two-week exercise is to build on interoperability in mine-clearing operations, drawing from lessons learned during a similar drill eight months ago.
Navy officials say this exercise is designed to be more complicated than the last one, and involves more participants. Part of the intent is to take advantage of new technology acquired in the last year, according to Vice Adm. John Miller, commander of U.S. 5th Fleet.
The timing of the exercise coincides with new actions from the U.S. Department of Treasury to block Iranian attempts to circumvent international financial sanctions and sell its oil on the international market, along with new sanctions from the U.S. State Department on four Iranian nuclear support companies.
But despite the political tensions between Washington and Tehran, Miller insists that the exercise does not target Iran.
"This is a defense exercise. It's not focused on any one nation or any one entity," said Miller, who said the event will take place in international waters and pointed out that mines can also be used by "non-state actors."
Miller said he feels "very comfortable" the right posture is being taken to not provoke Iran.
"The message is very simple, maritime security is important to everyone on the planet," he explained. And the participation of so many countries would seem to emphasize that point. Navy officials tout this exercise as the biggest of its kind, because the threat posed by sea mines around the world is on the rise.
Miller said the importance of mine countermeasures is evident, in that so many nations with tight budgets - including the U.S. - made the investment and committed to take part in the exercise.
"I think if we woke up tomorrow and we read a news report that said there were mines somewhere in the Arabian Gulf or in the Red Sea... virtually every nation on the planet would be watching the clock, and the question they would ask first, is how long it would take to clear those mines," Miller said.
---
---
---
---