Navy's USS Bataan quietly visits Bahrain for brief port visit
by
Joshua Karsten
February 19, 2020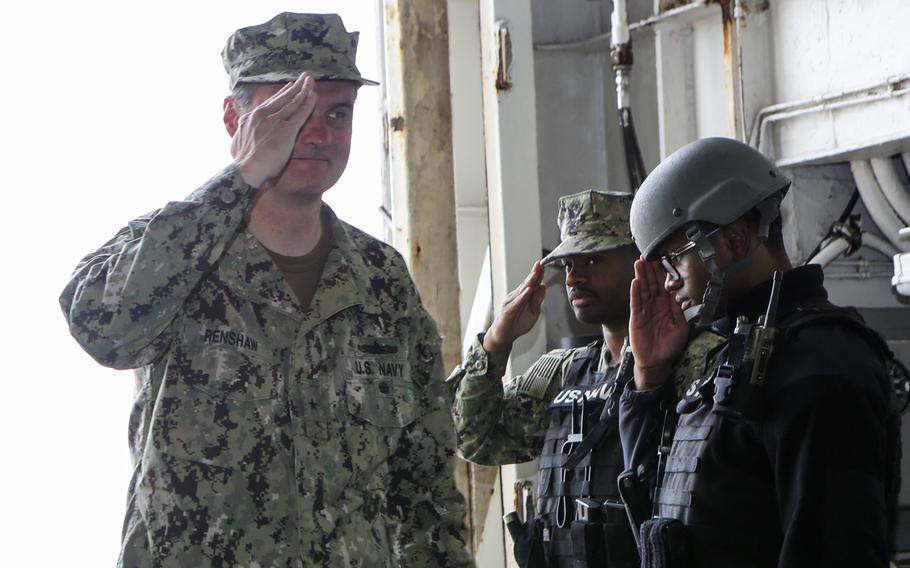 MANAMA, Bahrain — The USS Bataan pulled into Bahrain over the long President's Day weekend, but it doesn't appear the crew had much time off.
The amphibious assault ship left the island Monday after transiting the narrow Strait of Hormuz last week, making it the first "big deck" Navy vessel to do so in 2020.
Bataan's crew of over 3,000 sailors and Marines sailed for the Middle East early last month, after increased tensions with Iran led the Navy to cancel the ship's participation in a Morocco-based exercise. The ship also stopped for a port visit and training in Aqaba, Jordan, last month.
U.S. 5th Fleet officials did not immediately respond for comment regarding the Bahrain stop, but a routine visit – such as the aircraft carrier USS Abraham Lincoln's visit in November – typically sees an influx of service members flooding base establishments. That wasn't apparent during Bataan's visit.
The main hint of the stop came from Navy pictures of a Monday visit from 5th Fleet's second-in-command, Rear Adm. Curt Renshaw, at Khalifa Bin Salman Port.
Photos released Tuesday said that Bataan and its embarked 26th Marine Expeditionary Unit are in the region "to reassure allies and partners and preserve the freedom of navigation and the free flow of commerce in the region," which is a standardized Navy statement used for most major deployments.
The crew did have enough time to release a series of Valentine's Day messages on their Facebook page.
The port visit comes after tensions in the region following the January killing by the U.S. of Iranian Maj. Gen. Qassem Soleimani, and retaliatory rocket attacks on an air base in Iraq that left more than 100 U.S. service members with traumatic brain injuries.
Bataan and its amphibious readiness group includes 2,500 Marines, the transport dock ship USS New York and the dock landing ship USS Oak Hill, officials said in a Feb. 12 statement.
karsten.joshua@stripes.comTwitter: @joshua_karsten