NATO recommits to Afghan mission, expands role in Iraq
By
Corey Dickstein John Vandiver
July 9, 2016
---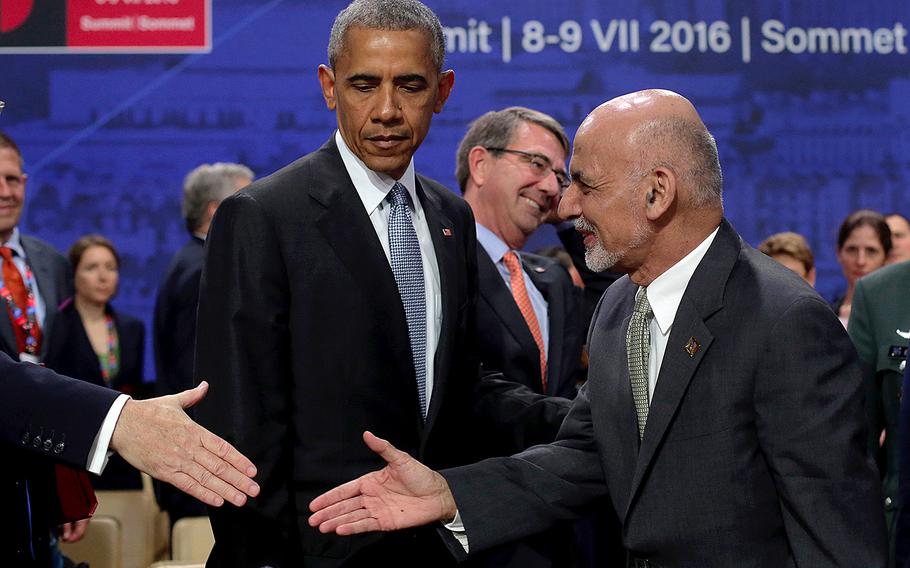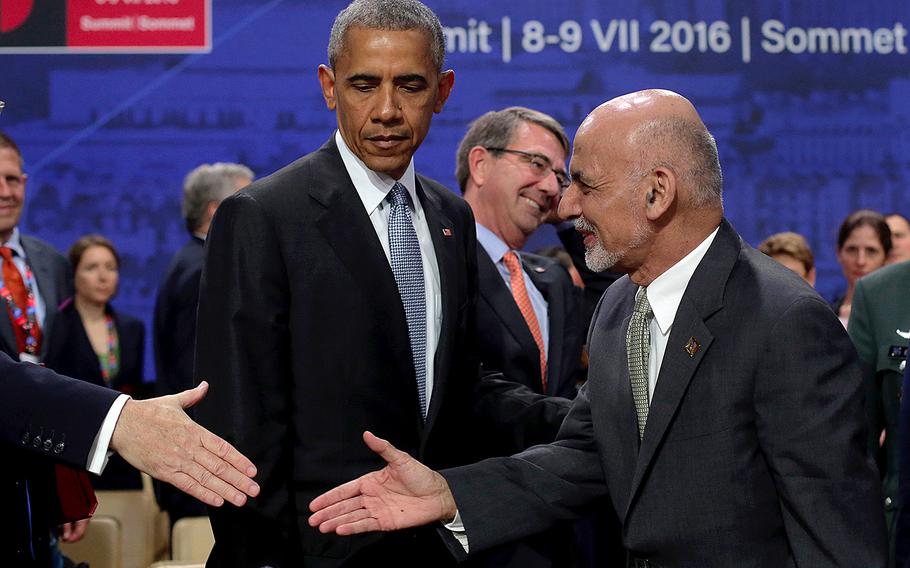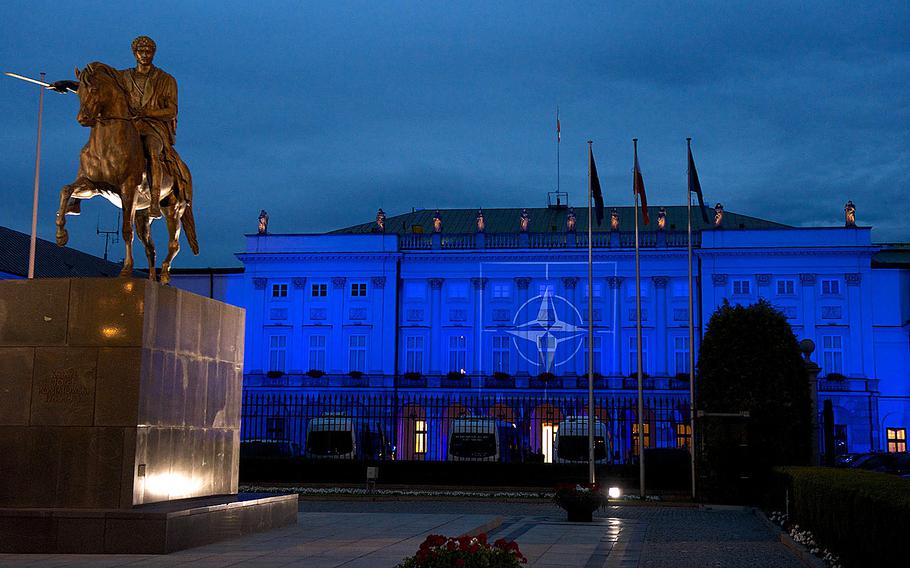 WARSAW, Poland — NATO will hold troop levels steady in Afghanistan as part of a plan to extend its mission there into 2017, but unlike some U.S. troops on the ground, allies will not return to a combat role in the war-torn country, NATO's top official said on Saturday.
Allies also will take on a more formal role in the U.S.-led campaign against the Islamic State group, with NATO set to launch a training mission inside Iraq and deploy AWACS surveillance aircraft to provide direct support to coalition forces.
The moves came at the end of two days of talks in Warsaw where, after focusing on threats to NATO's east, allies turned their attention Saturday to instability on its southern doorstep.
U.S. President Barack Obama praised the NATO commitments that he said showed their "clear commitments" to securing an increasingly unstable world that faces issues including terrorism in Europe and the U.S. and the largest migration crisis in Europe since World War II.
"This is a pivotal moment for our alliance," Obama told reporters at the end of the summit.. "In the nearly 70 years of NATO perhaps never have we faced such a range of challenges all at once — security, humanitarian, political."
During talk among NATO's heads of state, including Obama, allies pledged to continue funding the Afghan military and police through 2020, a key priority for Washington which picks up most of the $5 billion tab, which Obama said sends "a very strong message of our enduring commitment to Afghanistan."
For Obama, the continued presence in Afghanistan and the fight against the Islamic State means he will likely to leave office as the only commander in chief to be at war for the full eight years of a two term presidency.
There were 180,000 troops in Iraq and Afghanistan when Obama took office. Only a fraction remain, but the battles in the Middle East have no end in sight, something Obama says is a function of a complex fight.
"Our message is clear, Afghanistan doesn't stand alone and we are committed for the long haul," NATO Secretary-General Jens Stoltenberg told reporters. "It is too early to provide exact (troop) numbers, but based on what has been committed in this meeting today, we can say troop level s will be about the same in 2017 as it is in 2016."
NATO's long-expected decision to extend its training and advisory campaign, know as Resolute Support, comes on the heels of a decision by Obama to maintain higher-than-planned troop levels in the country. The U.S. will retain 8,400 troops in Afghanistan next year, instead of reducing them to 5,500 by the end of 2016, as originally planned.
The meeting went better than expected, according to senior officials in Obama's administration, who said they were concerned issues across the world — such as terrorism and migration crises — could jeopardize commitments from the 39 NATO ally and partner nations that contribute nearly 6,000 troops to the non-combat Resolute Support mission.
NATO has committed more than 12,000 troops to continue the 18-month-old mission to train, advise and assist Afghan security forces through 2017, the administration officials said, speaking anonymously to discuss ongoing planning.
The U.S. will again provide the bulk of the force, committing roughly 6,700 of the American 8,400 troops who will remain in Afghanistan to the NATO operations, the officials said. The remainder will focus on the U.S. ongoing unilateral counterterrorism mission Operation Freedom's Sentinel, which targets al-Qaeda and the Islamic State group. Some troops will serve both missions.
The moves are in response to concerns over the Afghan military's ability to manage security in the country, where the Taliban remains entrenched and on the march in some sectors despite 15 years of war.
The chief concerns for NATO are continued progress among Afghanistan's roughly 352,000 Afghan military and police forces in areas where they've developed very slowly such as intelligence, command and control, aviation and logistics.
Maintaining NATO's presence of more than 12,000 troops, the officials said, would ensure training would continue at the corps and ministerial level.
"It is clear the Afghan security forces have made tremendous developments in many areas such as planning operations," one of the officials said. "What they need is our continued commitment to support them in these areas they still need help."
But the Afghan troops continue to take high numbers of casualties as the combat Taliban insurgents largely in the country's south and east. Last year, their first year leading the fight, they suffered their highest casualties of the war.
To help their partners, U.S. forces were recently granted more flexibility to fight alongside Afghan troops and conduct airstrikes, a signal that the combat mission still continues in practical terms for many American servicemembers despite the emphasis on training and advising.
The new authority, which must be directly cleared by the Army Gen. John Nicholson, the top U.S. and NATO commander in Afghanistan, has been used several times in recent weeks, U.S. Defense Secretary Ash Carter told reporters. He said they were clearly going "to make a difference."
What is not clear is how long NATO and U.S. troops will remain in the country, where they've been since just months after the 9/11 terror attacks in 2001.
"There's no reason to speculate on how long (NATO's mission) will continue ... that's why we've committed through 2017," Stoltenberg said. "We will have to assess the situation next year and decide what to do with our military presence."
Ending the combat mission at the conclusion of 2014, he said, was a positive start.
"I think it is extremely important to understand we (NATO) ended our combat mission at the end of 2014, because over several years we have built up Afghan forces," Stoltenberg said.
The coalition did pledge the majority of the money needed to fund the Afghan forces through 2020.
NATO allies and partner countries pledged about 90 percent of the $1 billion the U.S. asked them to supply, the administration officials said. They remained hopeful the remaining 10 percent would be allocated in the near future. The U.S. provides about $3.45 billion to funding the Afghan forces and Afghanistan contributes about $421 million.
In Iraq, NATO will soon deploy a team to Baghdad to start the training mission, providing strategic advice and support for security sector reform.
Moving NATO trainers from Jordan directly into Iraq, Obama said, will allow them to "be even more effective."
NATO also will assist other member states interesting in sending teams of advisers to Iraq, serving as a central hub for force generation.
Meanwhile, allies also agreed to develop a new intelligence center in conjunction with Tunisia, a frontline state as the Islamic State group spreads into northern Africa.
"We will shortly begin providing support for Tunisian special operational forces," Stoltenberg said.
Stoltenberg also said NATO is prepared to provide advisory support to Libya is called upon.
Instability in Libya, which has become a failed state in the years since NATO's 2011 intervention to help topple Moammar Gadhafi's regime, is part of a broader concern about instability across the Mediterranean.
A new NATO maritime mission — Operation Sea Guardian — will aim to address such concerns.
The allies also are considering ways to support European Union efforts in the Mediterranean.
"We intend to work closely with the European Union's Operation Sophia in the Central Mediterranean, building on our swift and effective cooperation with the EU to cut the lines of international human smuggling in the Aegean," Stoltenberg said.
dickstein.corey@stripes.com Twitter: @CDicksteinDC
---
---
---
---