Names of troops killed in Afghanistan helicopter crash released
---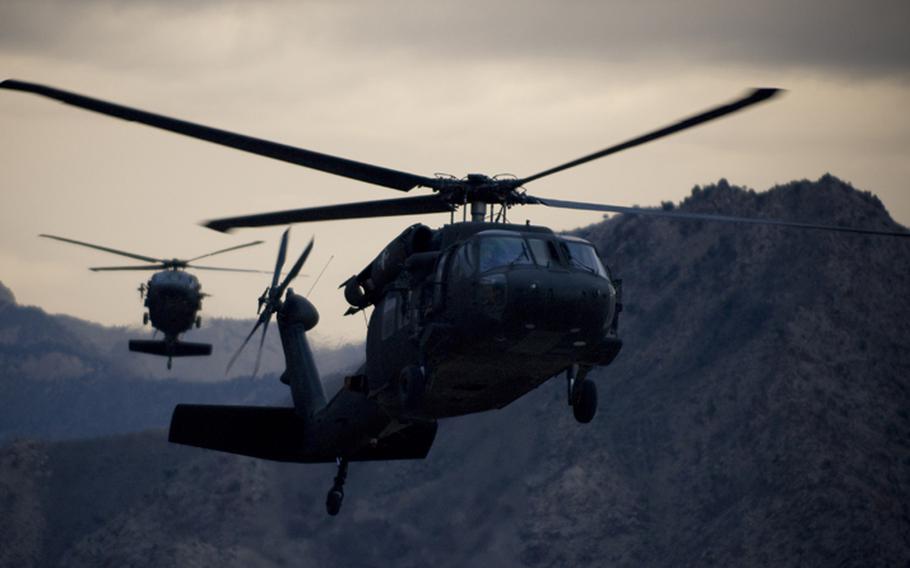 The Department of Defense on Monday released the names of the seven U.S. servicemembers who were killed when their helicopter crashed last week in Afghanistan.
Four of those who died were assigned to the 25th Infantry Division's 2nd Battalion, 25th Aviation Regiment, 25th Combat Aviation Brigade from Schofield Barracks, Hawaii. They are:
- Chief Warrant Officer Brian D. Hornsby, 37, of Melbourne, Fla.;
- Chief Warrant Officer Suresh N. A. Krause, 29, of Cathedral City, Calif.;
- Sgt. Richard A. Essex, 23, of Kelseyville, Calif.;
- Sgt. Luis A. Oliver Galbreath, 41, of San Juan, Puerto Rico.
Others who died in the crash were:
- Petty Officer 1st Class Sean P. Carson, 32, of Des Moines, Wash., assigned to an explosive ordnance disposal mobile unit in San Diego;
- Petty Officer 1st Class Patrick D. Feeks, 28, of Edgewater, Md., was a SEAL with Naval Special Warfare Group One out of Coronado, Calif;
- Petty Officer 2nd Class David J. Warsen, 27, of Kentwood, Mich., was a SEAL assigned to a West Coast-based naval special warfare unit.
The Associated Press reported that the UH-60 Black Hawk crashed during a firefight with insurgents in a remote area of southern Afghanistan, killing the seven Americans along with four Afghans - three members of the Afghan security forces and a civilian interpreter.
At the time of the crash, the Taliban claimed they shot down the Black Hawk.
Afghan officials told Los Angeles Times the crash site was in Shah Wali Kot, a volatile district where insurgents have long been active. NATO forces have not confirmed what caused the crash, saying the incident is under investigation. According to the AP, the Black Hawk was operating in support of an ongoing assault on the ground but initial indications were that it was not shot down, according to U.S. officials who spoke anonymously because the investigation was continuing.
Hornsby was serving his second deployment to Afghanistan, the Defense Department said Monday. He joined the Army in 1998 and became a helicopter pilot in 2003. Hornsby was married with two children, according to the DOD.
Krause, who joined the Army in February 2007 and became a Black Hawk pilot in June 2009, was on his second deployment, the local NBC affiliate reported military officials as saying.
Essex was the gunner for the helo and was on his second deployment, according to the Army. Relatives told the Lake County (Calif.) News that he was due to return home in November.
Galbreath joined the Army on Jan. 25, 2003, and became a UH-60 helicopter repairer in December of that year. This was his second deployment; he was married with three children, according to a report on KHON in Hawaii.
Navy officials say Carson enlisted in May 1999 and graduated from boot camp at recruit training command in Great Lakes, Ill., in August 1999. No other information was available.
Feeks enlisted in the Navy in March 2006 and was assigned to SEAL Team Three in May 2008, according to The (Baltimore) Sun. He deployed to Afghanistan last December. He deployed to Iraq in 2008 and 2010. Feeks leaves his parents, Thomas and Virginia, and his wife, Emily.
Warsen enlisted in the Navy on March 10, 2009, and served with his SEAL unit since October 2010, according to a report in the San Diego Union-Tribune. He is survived by his parents, David Warsen and Patricia Frank, and his fiancée Karlyn Deveau.
Navy Capt. Collin P. Green, commander of Naval Special Warfare Group One, said, "Our hearts go out to the family, friends, and teammates" of Feeks and Warsen.
---
---
---
---