Marines look to extend unmanned helo program in Afghanistan
by
Seth Robson
March 30, 2012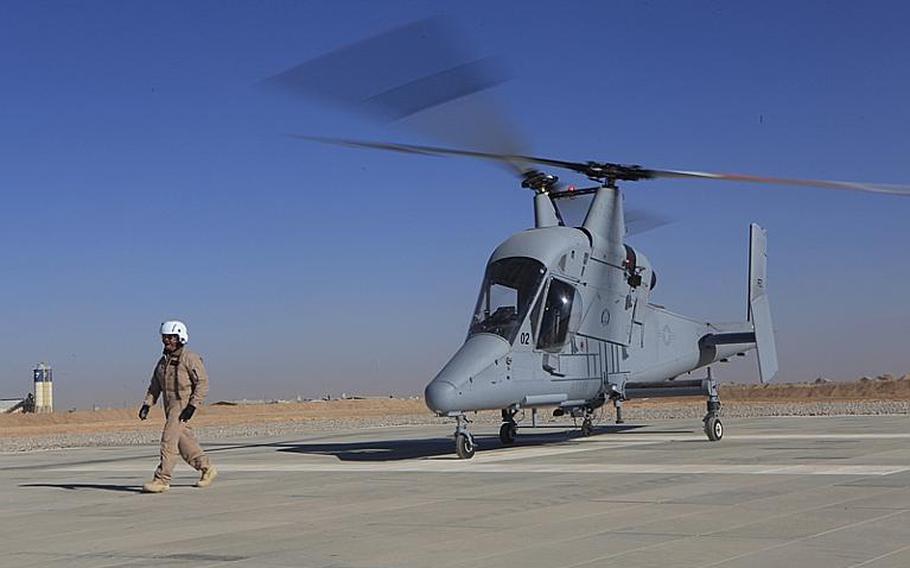 YOKOTA AIR BASE, Japan — A trial of unmanned cargo helicopters in Afghanistan has been so successful the Marine Corps wants to extend the mission.
Since December, two Kaman K-MAX unmanned cargo helicopters have flown 250 missions, moving 750,000 pounds of food, fuel, equipment and spare parts to forward operating bases in southern Afghanistan, according to Marine Maj. Kyle O'Connor, 38, the officer overseeing the downrange drone trial. The helicopters have delivered some 400,000 pounds of goods this month alone.
"Initially it was a six-month deployment, but they are working to try to extend that in theater because of the success rate we have had so far," O'Connor said.
The unmanned K-MAX, built by Kaman and Lockheed Martin, can carry up to 6,000 pounds of cargo at sea level, according to Dan Spoor, Lockheed Martin aviation systems vice president. Using a carousel system, the K-MAX can fly to four locations, drop supplies at each within a 10-meter (33 feet) circle and return to base using GPS coordinates, Spoor said before the aircraft deployed to Afghanistan.
Some missions have been canceled due to high winds, but the drones have delivered cargo in dust storms that would make manned missions dangerous due to low visibility, O'Connor said.
"The advantage of the K-MAX is that there is no pilot," he said. "We can fly in dusty conditions and land in zones that would brown out other helicopters because there is no pilot who needs to see."
During dust storms the K-MAX operators guide the drone above the dust until it reaches the drop zone, then press an automatic landing button that sends the craft down into the haze to deliver its load.
"We can land the aircraft manually but we typically do it automatically," O'Connor said. "It goes down into the zone and delivers the cargo and goes back up into the air. Once the dust settles, the cargo will be there on the ground and the helicopter will be flying back home."
The aircraft have required little maintenance and do not appear to have come under fire from insurgents, he said.
If the aircraft have been targeted, the insurgents must "have been lousy shots because we haven't had any damage," O'Connor said. "No bullet holes or anything like that."
O'Connor recommended the Marines acquire and deploy a fleet of unmanned helicopters.
"We can move cargo without putting any Marines, soldiers or airmen at risk," he said. "If we had a fleet of these things flying 24-7 we could move cargo around and not put people in jeopardy."
The K-MAXs will soon be joined in Afghanistan by three Boeing A160 Hummingbird drone helicopters.
According to The Fayetteville Observer newspaper, the Army will send three of the drones to Afghanistan in May or June to carry out intelligence, reconnaissance and surveillance missions using high-resolution cameras.
---
---
---