Marine corporal is reclassified as 1st to die in Operation Inherent Resolve
by
Jennifer Hlad
October 28, 2014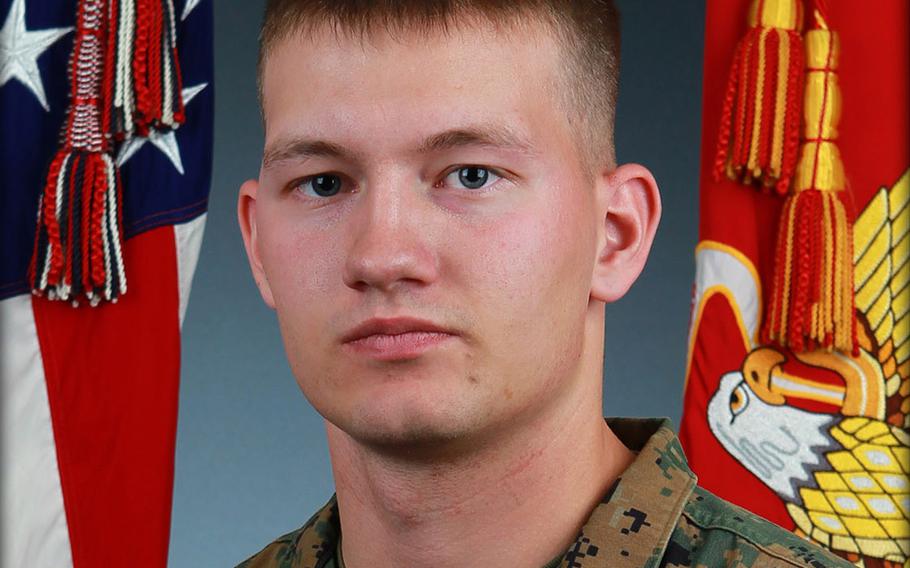 The death of Marine Cpl. Jordan L. Spears has been reclassified to indicate he died in support of Operation Inherent Resolve, the Department of Defense announced Tuesday.
Spears, 21, and another aircrew member bailed out of an MV-22 Osprey when it lost power shortly after take off from the USS Makin Island on Oct. 1. Navy and Marine Corps teams rescued the other Marine but were unable to find Spears. He was presumed lost at sea after the search ended. The pilot of the Osprey regained control and returned to the ship.
The plane was operating in support of the mission in Iraq and Syria, Navy officials said at the time. But the operation had not yet been named, so Spears' death was classified as a non-global war on terrorism casualty, according to the DOD.
On Oct. 15, more than two months after the U.S. began launching air strikes against the Islamic State, the Pentagon named the operation Inherent Resolve.
Ten days later, Lance Cpl. Sean P. Neal, 19, died in a "non-combat related incident" in Baghdad. Neal's death was described by some media outlets as the first death of an American servicemember since Operation Inherent Resolve had been named, and others as the first death of a servicemember in the fight against the Islamic State, which prompted the Marines to look into reclassifying Spears' death, a Marine spokesman said.
"It's the right thing to do," Capt. Eric Flanagan said.
Spears, of Memphis, Indiana, was assigned to Marine Medium Tiltrotor Squadron-163, Marine Aircraft Group 16, 3rd Marine Aircraft Wing, based at Marine Corps Air Station Miramar, Calif.
Neal, of Riverside, Calif., was assigned to 2nd Battalion, 7th Marine Regiment out of Twentynine Palms, Calif.
The DOD launched investigations into both deaths; neither investigation is complete.
hlad.jennifer@stripes.com Twitter: @jhlad
---
---
---