Manbij, where US troops were killed Wednesday, has long been a site of tensions in Syria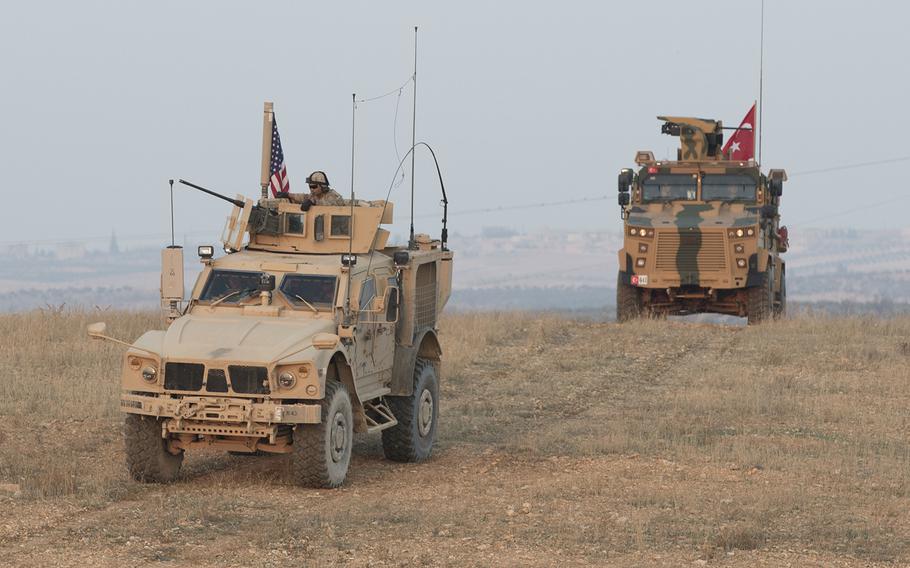 WASHINGTON — Manbij, the small city in northern Syria where two American servicemembers were killed Wednesday, has long been a hot spot of violence and a source of tensions between the U.S. and NATO ally Turkey.
Manbij is just west of the Euphrates River and some 20 miles south of the Turkish border. It has been held by the Kurdish-dominated Syrian Democratic Forces since mid-2016, when they expelled Islamic State militants from the city with the help of the American military. But even since the terrorist group was defeated there, Manbij has proven the deadliest location for American troops in Syria, where, as of Wednesday, at least three U.S. servicemembers have been killed.
In addition to the Wednesday bombing, which was claimed by ISIS and killed the American troops and an untold number of others reportedly at a local restaurant, one of two other U.S. servicemembers killed in action in Syria since the U.S. began operations there in 2014 died in Manbij last year.
Army Master Sgt. Jonathan J. Dunbar, a Delta Force operator, was killed alongside a British commando on March 29, 2018, in a blast from an improvised bomb, also claimed by ISIS, during a mission to capture or kill a high-value target in the area. Five other U.S. servicemembers were injured in that attack, Pentagon officials said at the time.
Pentagon officials said a Defense Department civilian and a contractor — both Americans — also were killed in the Wednesday attack. But officials said they could not immediately confirm the ISIS claim that the group orchestrated the attack
Several hundred of the roughly 2,000 American troops operating in Syria, who all have remained in that country to date since President Donald Trump unexpectedly ordered their withdrawal last month, have operated in the area of Manbij since the assault to take it back from ISIS began in the spring of 2016. U.S. officials regard the city as strategic for its location — they have set up several bases around the city, including locations to train local security forces — and because they consider it a model of how local Syrians can govern themselves.
After the city's fall to ISIS, the U.S. and Syrian Democratic Forces installed a local group to govern the mostly Arab city: the Manbij Military Council, which has taken responsibility for the security of the area.
But even before the offensive to reclaim Manbij from ISIS was launched, Turkey strongly has opposed the presence of U.S.-backed Kurds. The Turks consider the SDF's primary source of fighters, the People's Protections Units, or YPG, an extension of the Kurdistan Worker's Party, a terrorist organization known as the PKK.
Turkey, and Syrian rebel groups backed by Turkey, have long warned they would eliminate any Kurdish elements operating around Manbij regardless of whether they were supported by the U.S. That threat has prompted the U.S. throughout much of the past two years to conduct overt patrols around Manbij in which U.S. troops drive armored vehicles with large American flags displayed.
Those patrols largely were successful, a U.S. defense official said Wednesday. Despite occasional skirmishes and exchanges of fire between Kurdish fighters and Turkish-backed fighters in the area, the American presence kept violence from escalating.
In November, the U.S. and Turkey began conducting joint patrols around Manbij. Those operations were designed to calm tensions between the NATO allies as part of a road map established between the two nations to ensure stability around the city, U.S. and Turkish officials have said.
More recently, Turkish President Recep Tayyip Erdoğan and President Donald Trump have discussed establishing "security zones" spanning 20 miles into Syria from Turkey's border, which would reach Manbij. Pentagon officials declined to discuss what such zones would look like or accomplish.
It also remains unclear how long American troops would remain in Manbij and Syria overall. Trump initially wanted all American troops removed from the country within 30 days, officials have said, which prompted former Defense Secretary Jim Mattis' resignation last month.
Charles Lister, a senior fellow at the Washington-based think tank the Middle East Institute, predicted via Twitter that the deaths could speed Trump's pullout. Trump declared ISIS defeated last month, even as fighting has continued in Syria.
"ISIS is now *demonstrably* not defeated," Lister tweeted Wednesday of the Manbij attack. "But Trump's gut says 'get the hell out…'"
dickstein.corey@stripes.com Twitter: @CDicksteinDC